Yes, a Square Root Sign Spurred a Police Search
Russ Chastain 01.15.19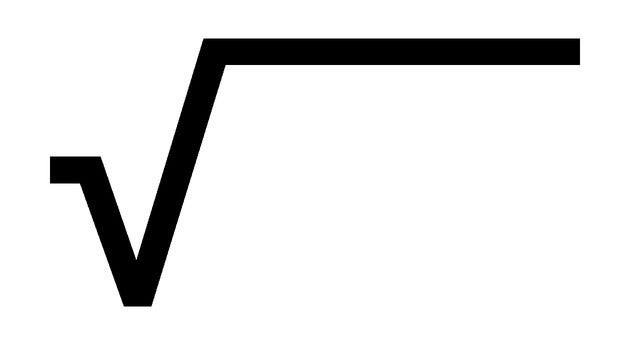 You know how old stuff keeps coming around on social media feeds? Seems like that's been happening more and more lately. But that doesn't mean the stories aren't worthy of thought and consideration. Take for example the story of the square root symbol.
In February 2018, NOLA reported that in Louisiana, police actually searched a student's home in search of firearms after an in-class discussion of the square root symbol.
KSEE reports the Allen Parish Sheriff's Office searched the home of a student at Oberlin High School after some classmates interpreted his comments as a possible terrorist threat last week. No weapon or evidence of any threat to was found.

Allen Parish School District Superintendent Michael Doucet told KATC that it was a false rumor that started with a poorly judged joke between two students solving a square root problem in math class.

"The students were working together, and a student made a math symbol of a square root sign, which kind of looks like a pistol. And he was helping a weaker student, and the student says, 'Well, that looks like a pistol!' And he just made a comment [like] 'let's just get to work before I shoot you with a pistol," Doucet said.

According to Doucet, the comment then spread throughout the school like gossip, and grew into a rumor that the student was planning to carry out a mass shooting…
Police searched the student's home, where they found no guns or any evidence that he had any access to guns. Authorities also wrote there was no evidence the student had any intent to commit harm.
NOLA:
'The student used extremely poor judgment in making the comment,' the Allen Parish Sheriff's Office wrote on Facebook. 'But in light of the actual circumstances, there was clearly no evidence to support criminal charges.'

'He committed no crime. He was the victim of the ole morphing of information [phenomenon],' Allen Parish Sheriff Doug Hebert added in a KATC interview.

The Allen Parish School Board will determine if any disciplinary action is required.
So just because some kid makes a wisecrack, the police (and apparently a judge) consider it just cause to invade a family's privacy to determine whether they own guns.
And what if they had owned guns and had some in the house? What other infringements would they have been subjected to?
When will common sense once again break out in the world? Soon, I hope… because each day seems to take us farther and farther away from it.