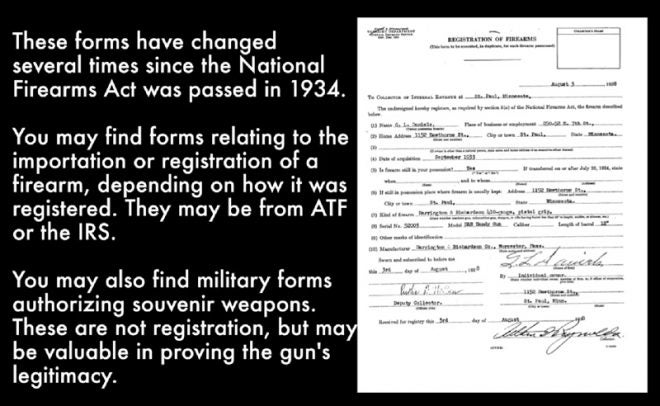 In a new video titled. "I Found a Machine Gun: What Should I Do?" we hear from Ian of Forgotten Weapons on exactly that subject. He joins retired Master Sergeant John Keene of Morphy Auctions to educate folks on what to do if you run across a fully-automatic firearm which may or may not be registered with the USA government.
Maybe grandpa brought back a sweet machinegun as a keepsake from his warfare abroad, and it's found in the attic after he's dead and gone. Did he register it?
Take photos of the gun and all the markings on it, determine the actual model of the firearm, and contact BATF to see if it's been registered.
After a good bit of discussion, Keene ensures us that the BAT "is not out to get you." That said, he does relate a scenario in which the BATF showed up and stole — er, I mean "took possession of" someone's fully-automatic firearms due to vagaries in the registration of two, and lack of registration of the third.
If your gun isn't registered, they say, it will be taken from you and destroyed. And that sucks… but the bottom line is, they won't toss you in jail. And staying out of jail is good!
In some cases, the gun may not be registered and will therefore be taken… but you can keep parts and just hand over the receiver, if you do it correctly.
It's information worth knowing… enjoy the video.