101-Year-Old Bertha Vickers Bags 2 Deer with 1 Shot
Russ Chastain 01.29.19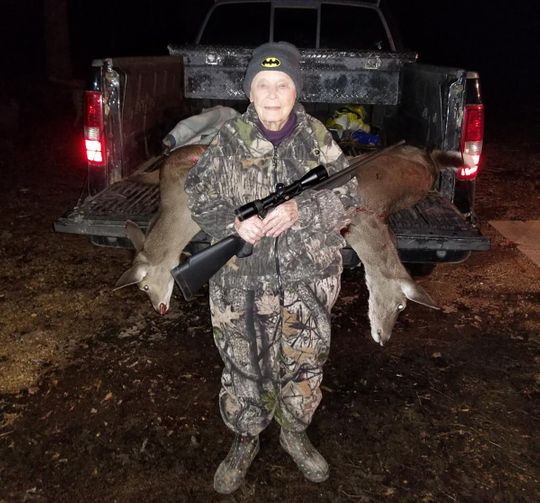 Remember the 100-year-old woman we recently posted about, who still hunts deer and was befuddled that anyone would be impressed by her killing a doe at age 99? Well, she's still at it — and at age 101 she got herself a twofer — as in, two deer with one shot!
The article outlines Bertha Vickers' deer season, describing how it hadn't started well. Her 243 hadn't treated her well, so she went hunting with a borrowed rifle.
It hadn't been the best deer season for Bertha Vickers of Morgantown.

She had opportunities to harvest deer on three occasions from a blind that relatives built for her, but she didn't get the kill shot on any of them.

Vickers was happy with the blind and its location, but not with her .243 caliber rifle.

"It's a real good place to sit, but after I had bad luck, one of the boys brought me another gun," Vickers said. "It's a 7mm-08. I'd seen the gun shoot and knew it would hit."

But again, she had trouble. Vickers wasn't able to cock the gun, so she tried a workaround. That didn't work either, so her granddaughter took the gun, cocked it, and shot the deer.
After celebrating her birthday in January 9, she got another chance to hunt.
[When a deer] came in view from her position in her blind, she decided to watch and wait.

"I decided to wait for a bigger one," Vickers said. "Before long, a bigger doe came out and I shot.

"Then I saw two deer on the ground. It shot plum[b] through both of them. They both dropped right there. They didn't take another step. I knew it was back there, but I didn't realize it was that close to her where it could get shot."
Bertha's grandson skinned the deer for her, and she kept a few steaks. The rest of the meat was shared with her family.
And Bertha isn't planning to hang up her rifle anytime soon.
When you're as old as I am, you naturally think each one could be your last one, but I'm going to go as long as I can. I enjoy it. I love being outside.
Good on ya, Bertha! Keep on keepin' on.