Industry Range Day finds at SHOT show
Oleg Volk 01.29.19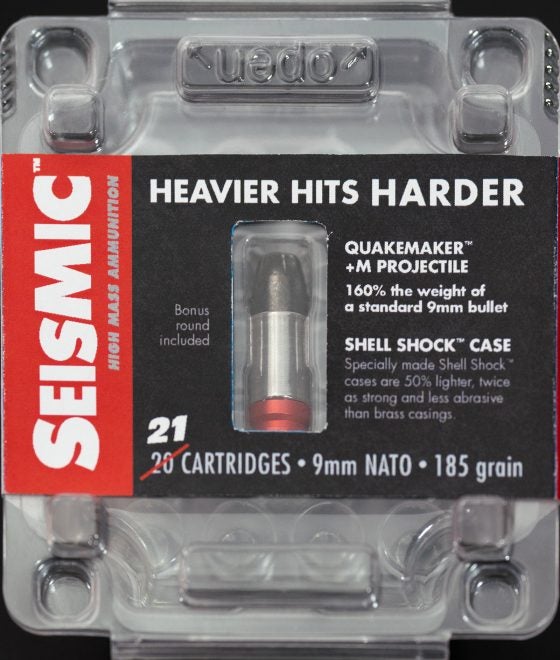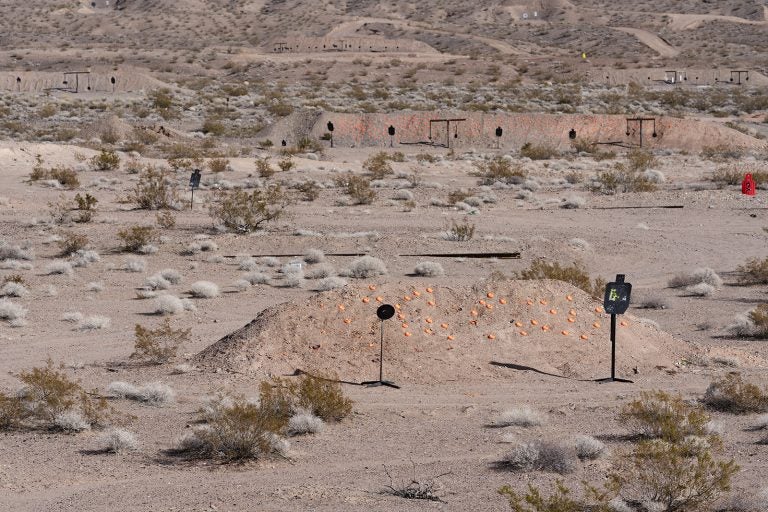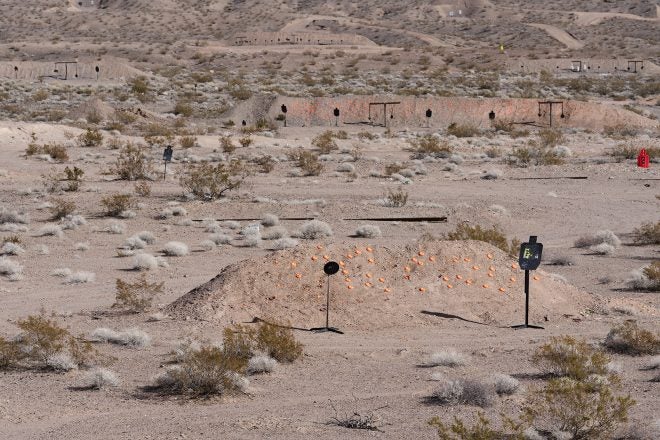 Held at Boulder Rifle and Pistol Club in the wind-swept Nevada desert, Industry Range day is the first opportunity for most journalists to actually try the next best thing since the last best thing. Sometimes, you try a plain utility grade shotgun and say "I must have this!", and sometimes you set down a beautifully crafted, very expensive pistol after a shot or two and walk away wondering how it could suck that badly. It's very useful to have range time before writing about something. And doubly so when trying 1000-yard rifle/optic/ammo combinations to see if they actually enable you to connect at that distance.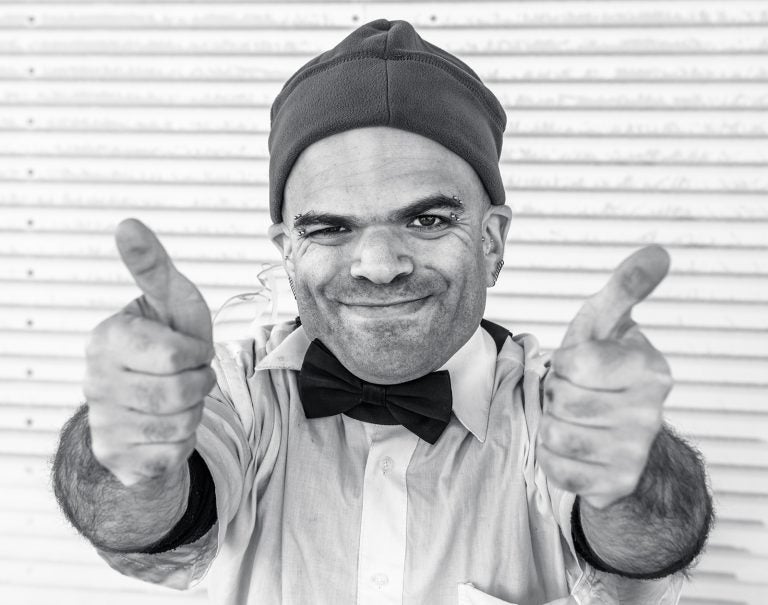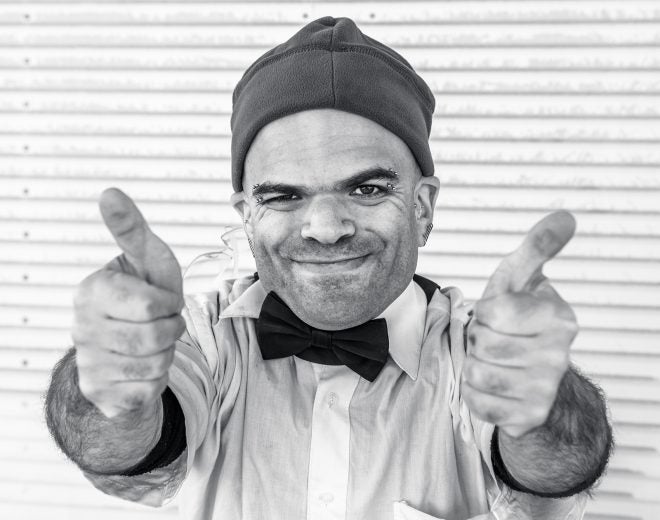 This year, same as last, I had the company of Hollywood actor and all-American gun fan Sammy the Dwarf. He stays up on the industry news better than most gun writers, so I had a constant stream of insights on the latest developments.


One of the first stops: Fightlight. Their MCR belt-fed AR upper now has a 12.5″ barrel option for those who would use it as a close quarters cave-clearing tool. It worked reliably, with no visible muzzle flash and plenty of noise.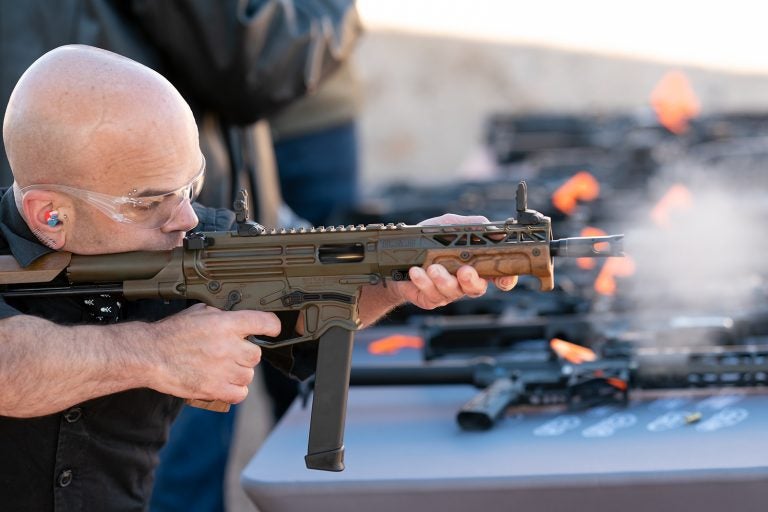 This highly sculptured Battle Arms BAD-GS dedicated 9/40 SBR lower combined with the short upper was one of many short PCCs on display.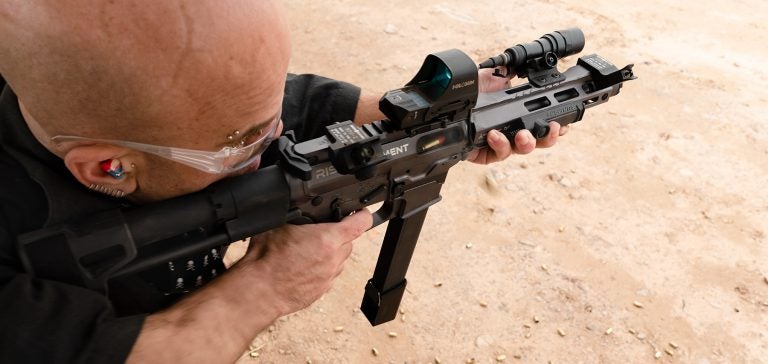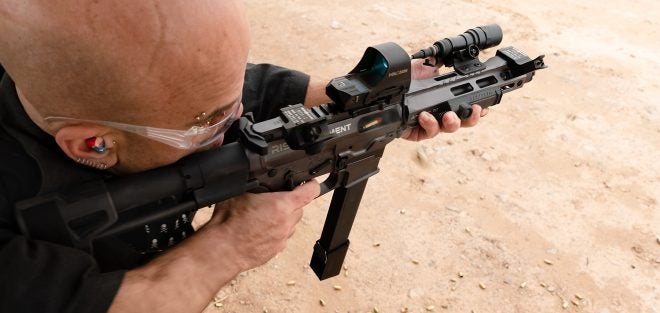 Glock magazines have won decisively as the standard feeding device. In recognition of popularity of the long-barreled 9mm, Federal introduced a carbine-optimized load.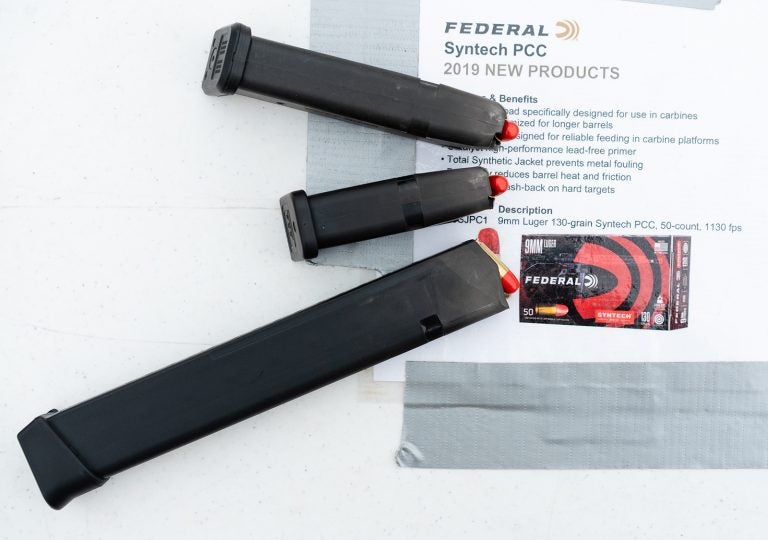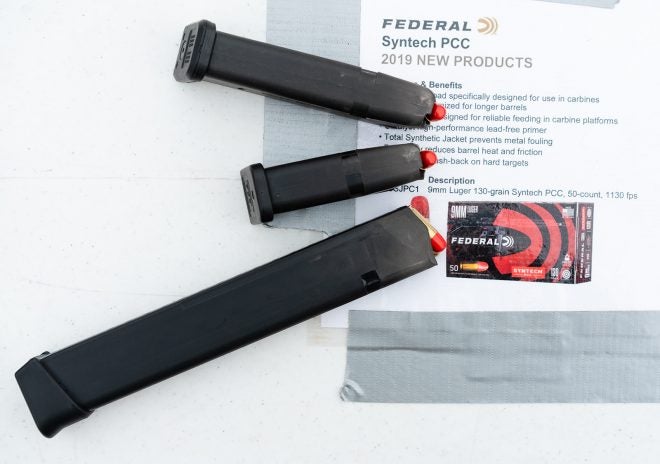 While Glock magazines are the most ubiquitous, Scorpion EVO3 fans just got a logistical boost from Magpul with a 35-round magazine (shown here without the final production stippling). It's a slightly less expensive alternative to the factory 30-rounders.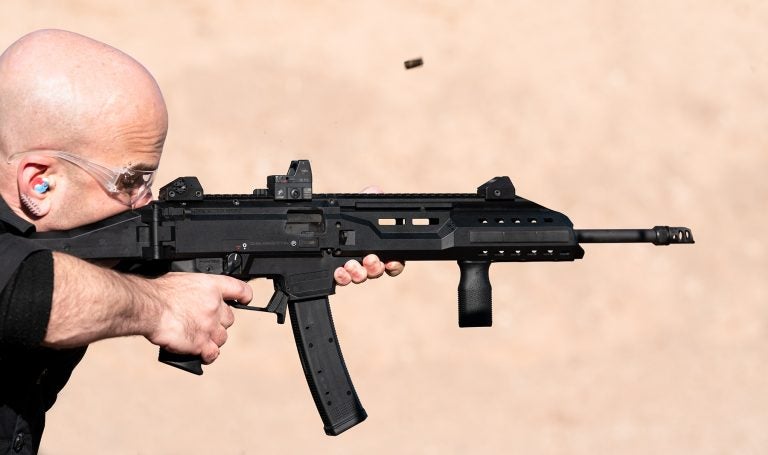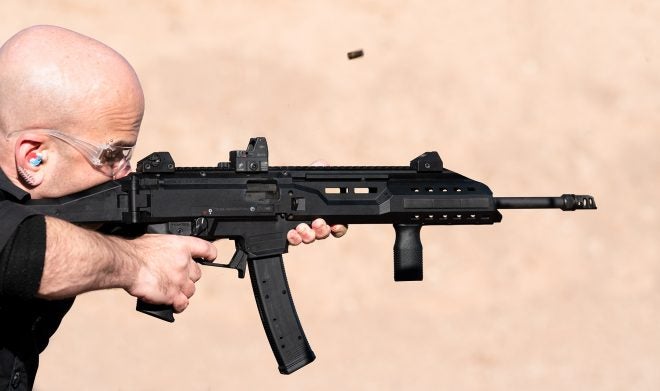 Most PCCs on display  were configured as braced pistols, such as the examples below.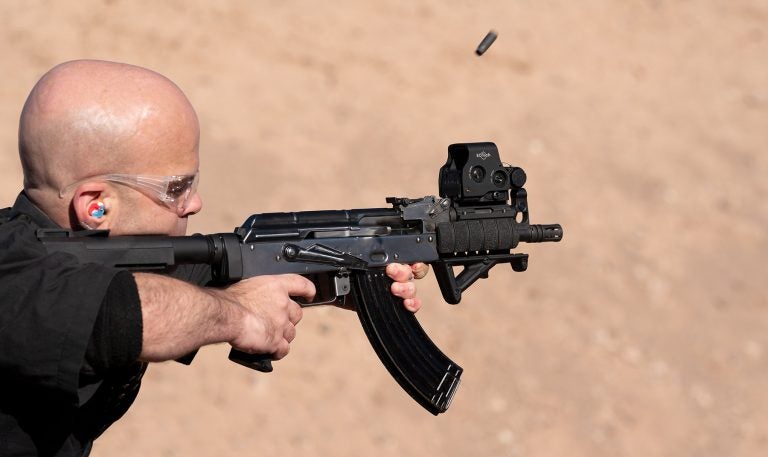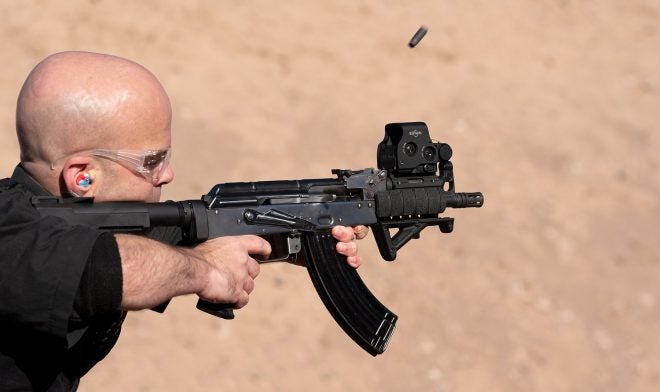 One of United Defense AK103X configurations, this 6″ pistol was surprisingly controllable. Having the sight placed far forward and relatively low velocity due to the super-short barrel probably helped, but UD mainly credit their lower-mass bolt carrier. For people who prefer a little more bullet speed, a longer 12.5″ version is also available.
Sometimes, you encounter things that just aren't seen outside of movies. For example, an open bolt automatic shotgun, the Atchisson USAS12, complete with drum magazines. It was very controllable.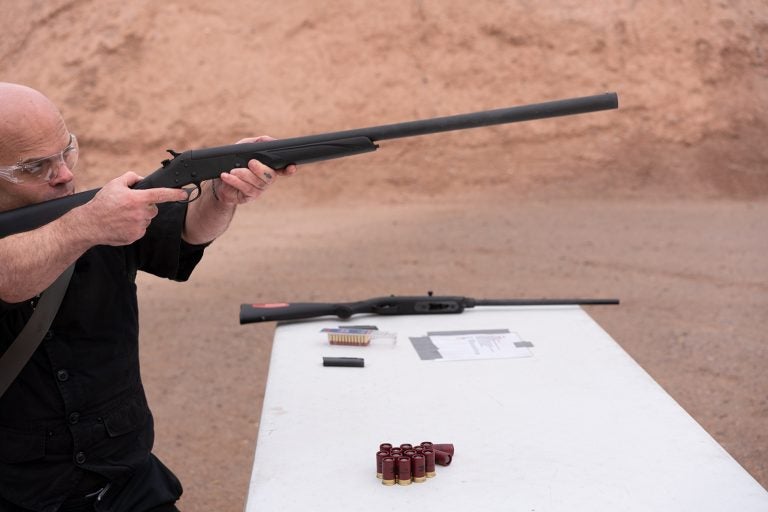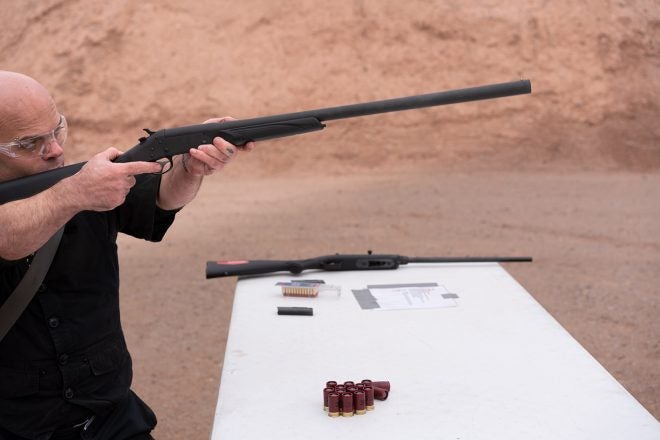 Absent the recoil-reducing advantages of open bolt design, even the new Savage single shot 12ga can be comfortable to fire with new Federal Shorty shells. While 1oz 1200fps is about the same as the full length reduced recoil load, felt recoil was quite mild. Despite rudimentary sights and long freebore, this load was quite accurate at the 30 yard range.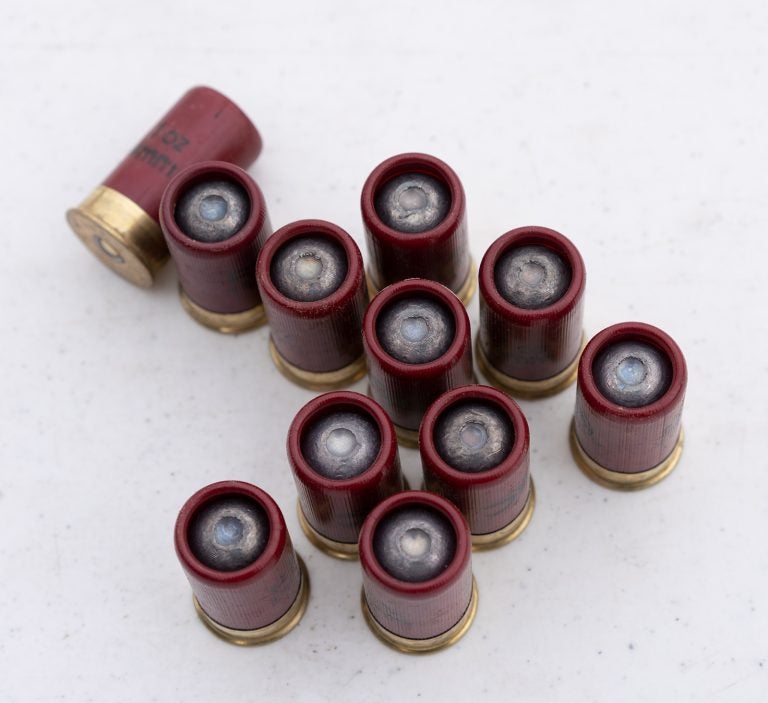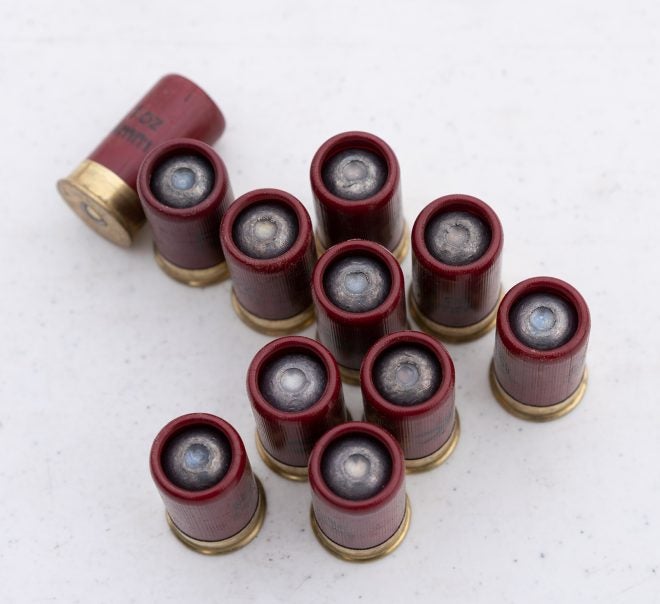 #4 buck and #8 birdshot are also coming. KSG and WInchester 1300 can cycle these unmodified, Mossberg shotguns can with a small add-on part.
Another way to reduce recoil is with gas operated autoloading. Armscor VR80 shotgun features a thumbhole stock that can be replaced with standard AR15 furniture. Mild recoil and good ergonomics combined with 5, 10 or 19 shot magazines make it a competition favorite.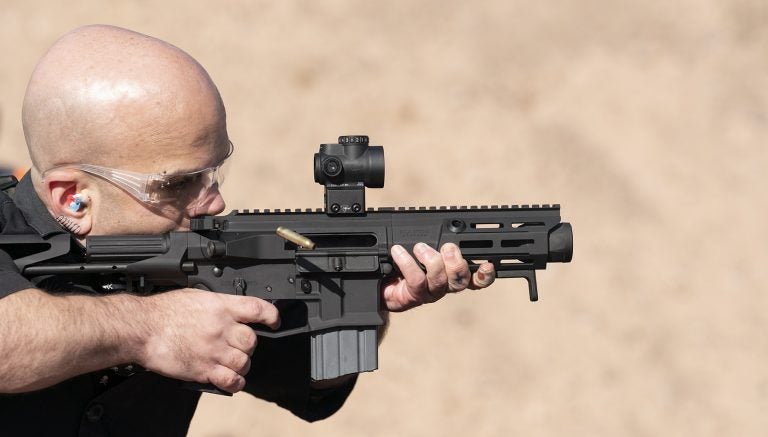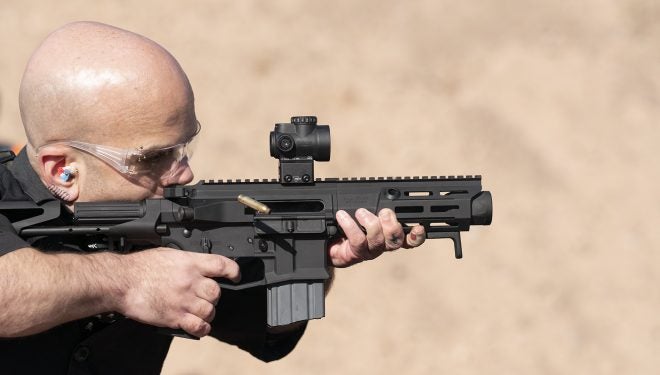 Maxim Defense PDX .223 impressed by having no visible muzzle flash from the 5.5″ barrel!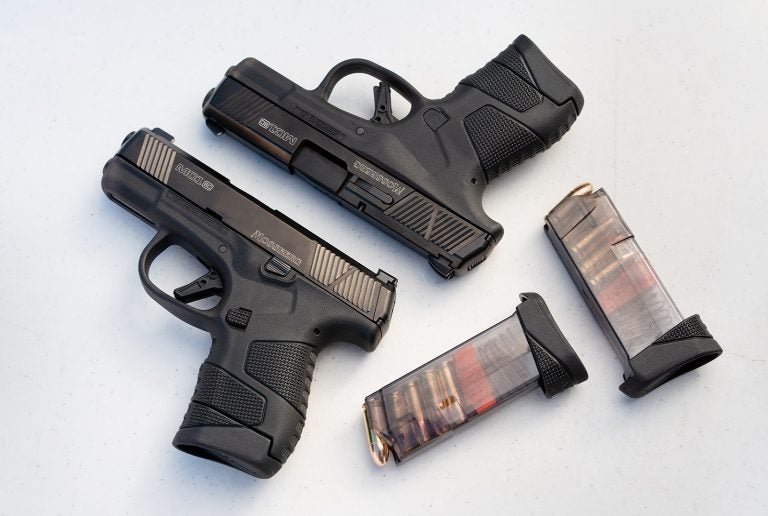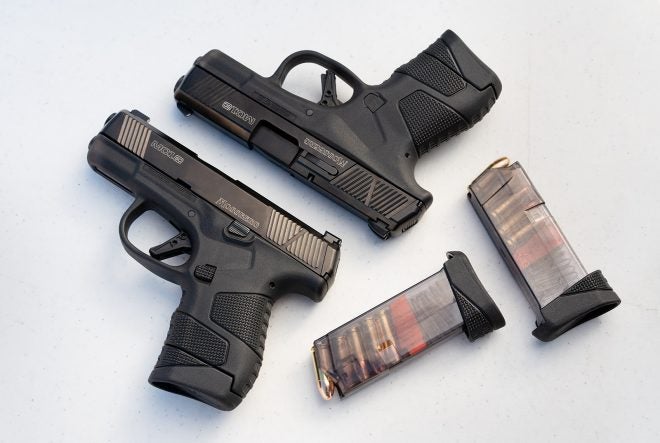 Mossberg MC1sc, the subject of so much pre-show speculation, turned out to be one the best new designs. Very ergonomic, lightweight and slim, it comes with one of the best triggers among subcompact pistols, definitely the best trigger for a striker-fired design. It's available with a flush-fitting 6-rounder or a 7-shot magazine with a finger rest. MC1sc is available with plain or night sights, and with an optional red laser. In my test firing, it was 100% accurate on small ten yard plates with both or either hand, never short cycling even when held fairly loosely. Felt recoil was similar to a full size Glock, which is remarkable in itself. Magazine release is reversible. Mossberg hit a home run with this inexpensive gun!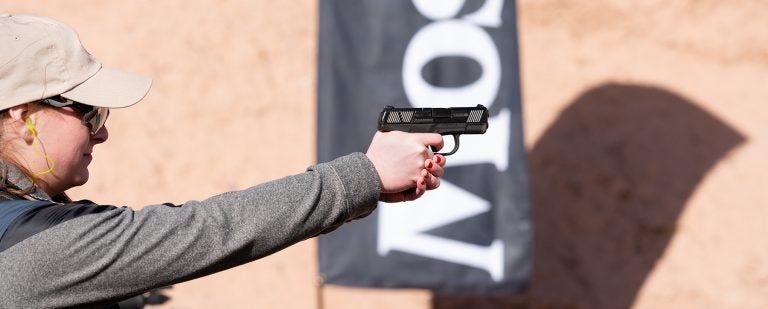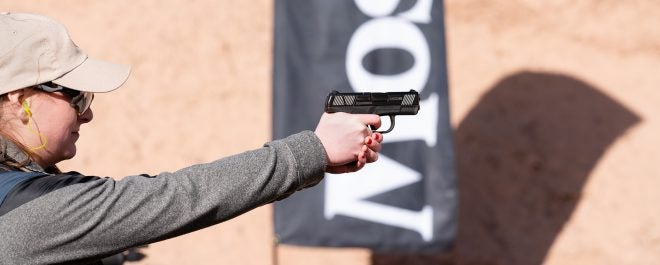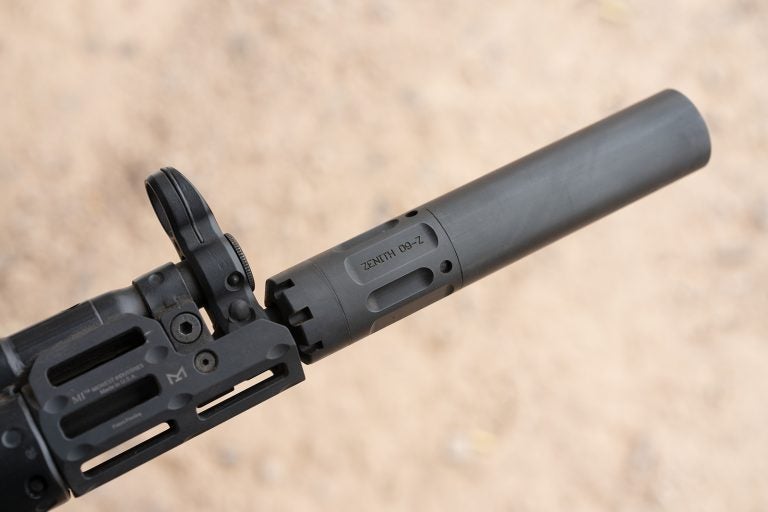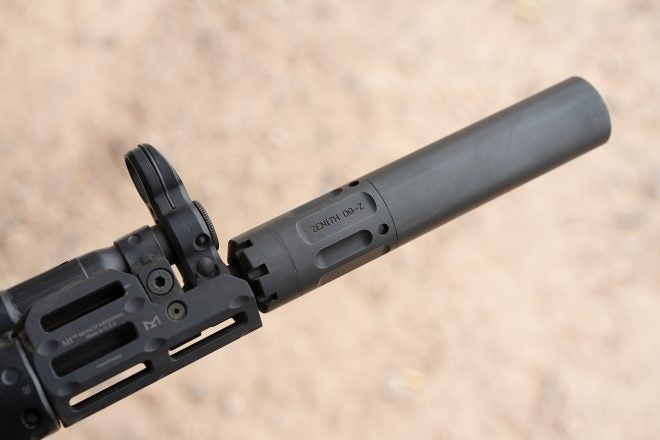 Predator Suppressors make this D9-Z for Zenith. Designed on principles almost opposite of the standard baffles, with separation of unburned powder from gas in mind, this suppressor was impressively quiet while producing no blowback at all.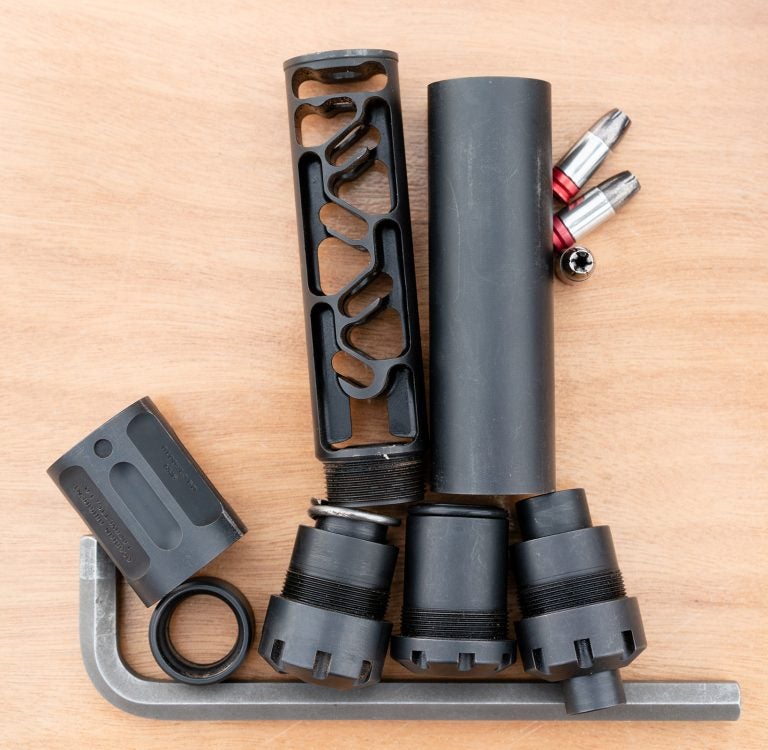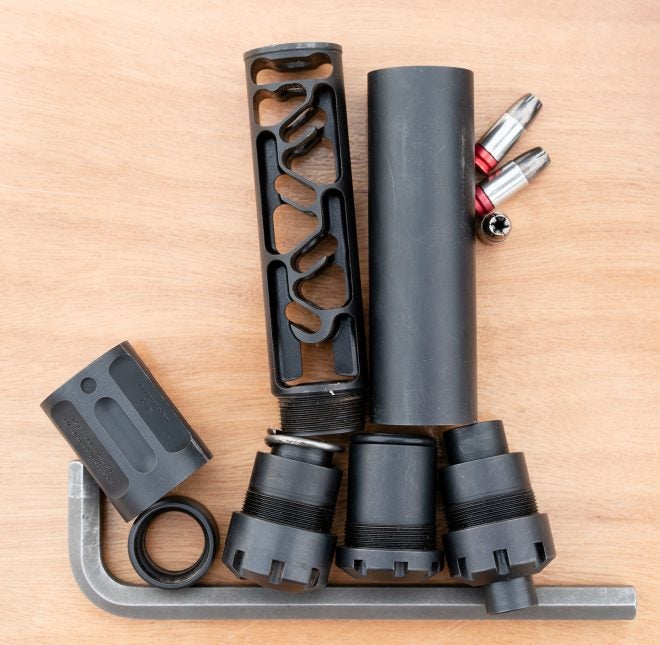 Bases for all kinds of muzzles are available. I would recommend it in conjunction with Seismic 185 grain plated hollow points. Having tested the pre-production samples, I can attest that this cartridge works well: it fed in all weapons, shot very accurately and has very consistent terminal performance. I am not sure how Seismic managed to make a very long bullet that stabilizes with standard twist 9mm barrels, but we got 2.5MOA from MPX carbine and 2MOA from Angstadt Arms AR.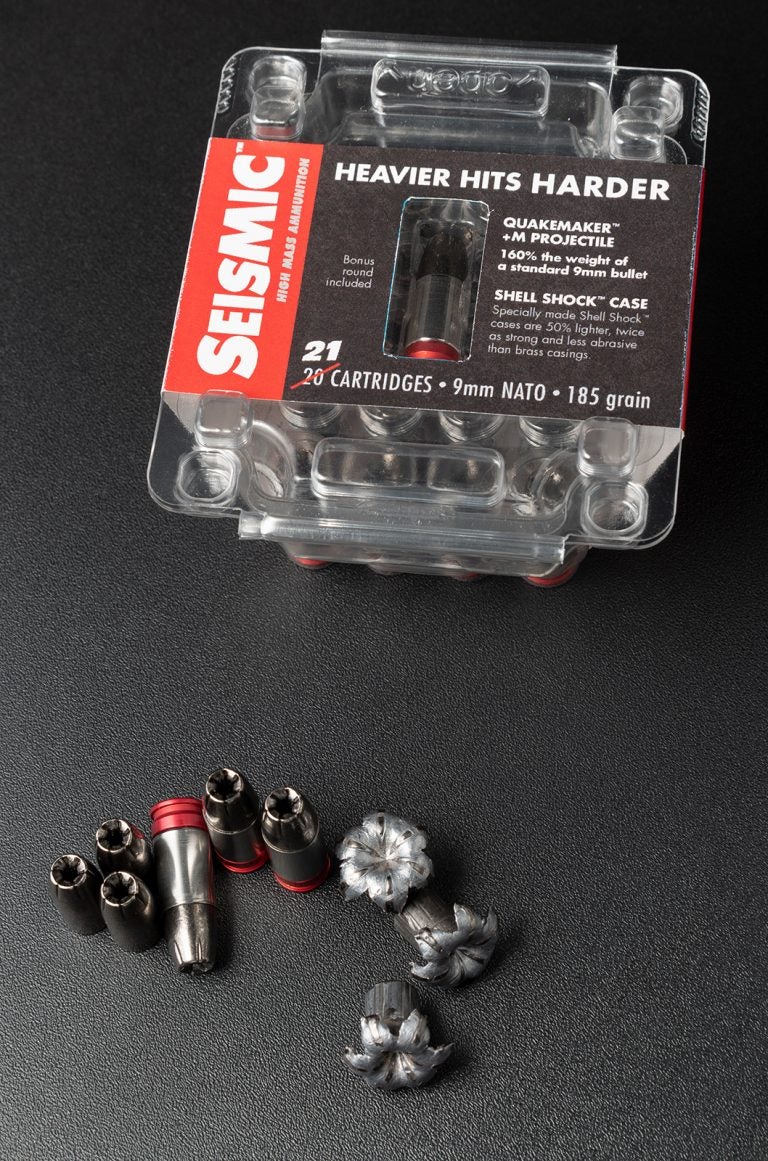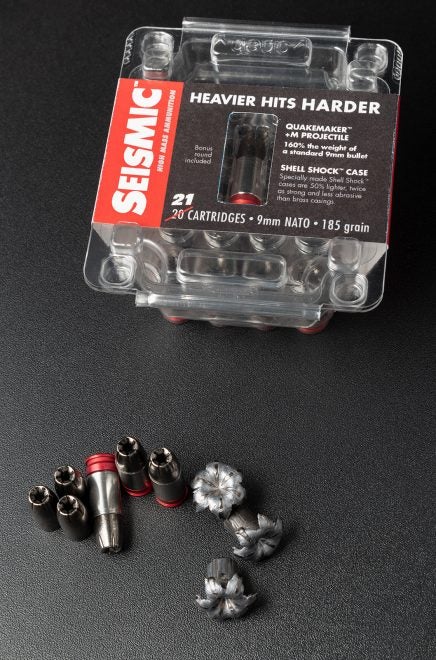 Packaging claims aside, I am not sure that this 950fps performs better than the top 124/147 grain loads on people, but it's definitely superior on hogs, while significantly quieter suppressed.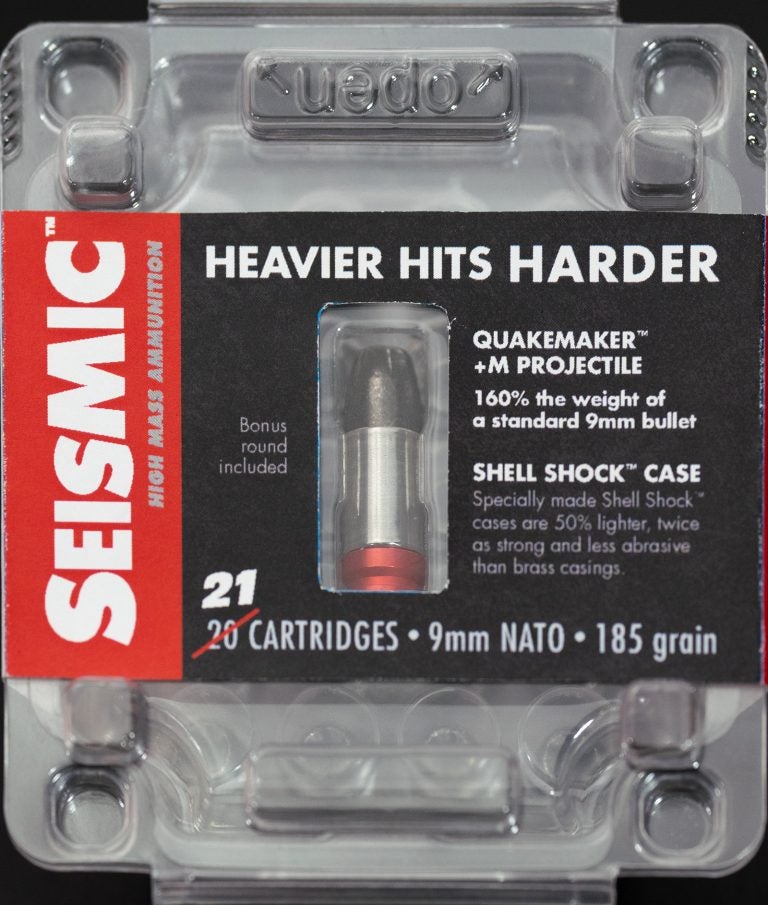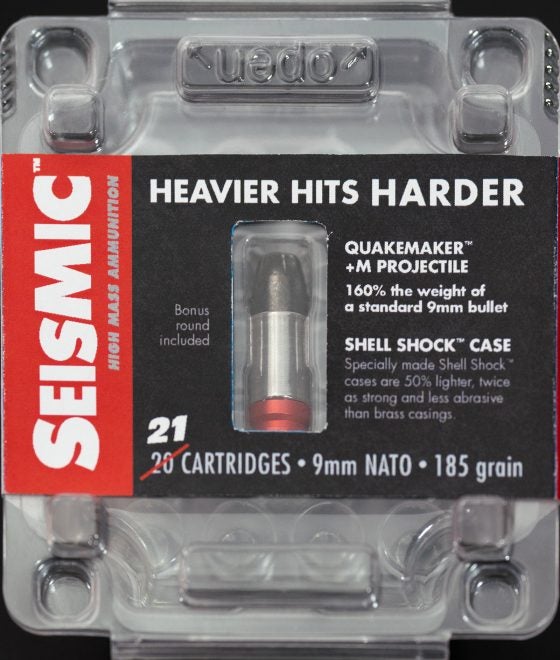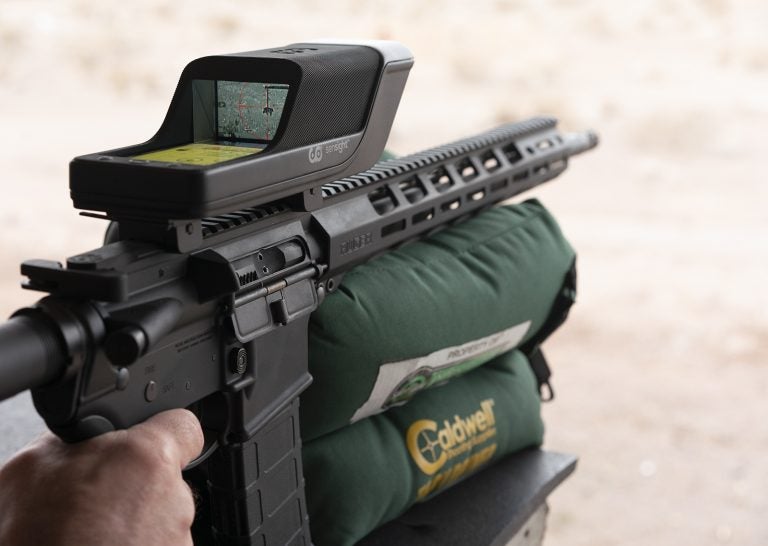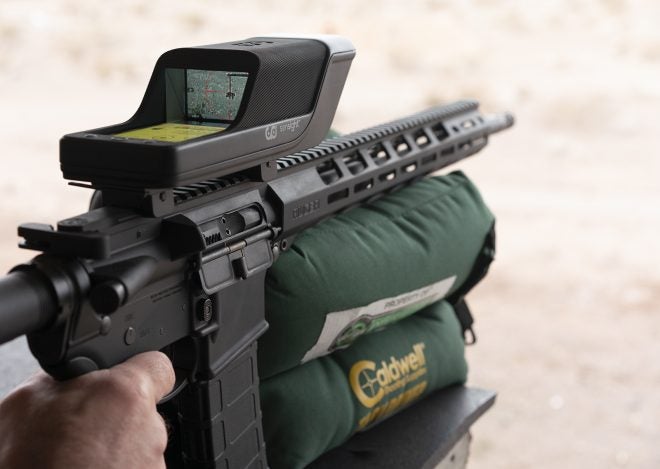 Israeli Sensight is small and seems simple enough in operation to be viable in the field. This combination rangefinder, ballistic calculator and vision enhancer looks very promising. Reticle is automatically adjusted based on the weapon in use and target distance, wind, and other factors. Much of its operation can be conducted from the forend controller, so that both hands remain in the firing grip on the weapon. Sensight uses two cameras, one for daylight and one for low light. Like most digital night vision, it depends on IR assist for complete darkness. It can transmit sight picture to external devices, like cell phones, and also can record video. The only limitation seems to be the magnification, about 3x optically. Detail degrades considerably when digital zoom is used.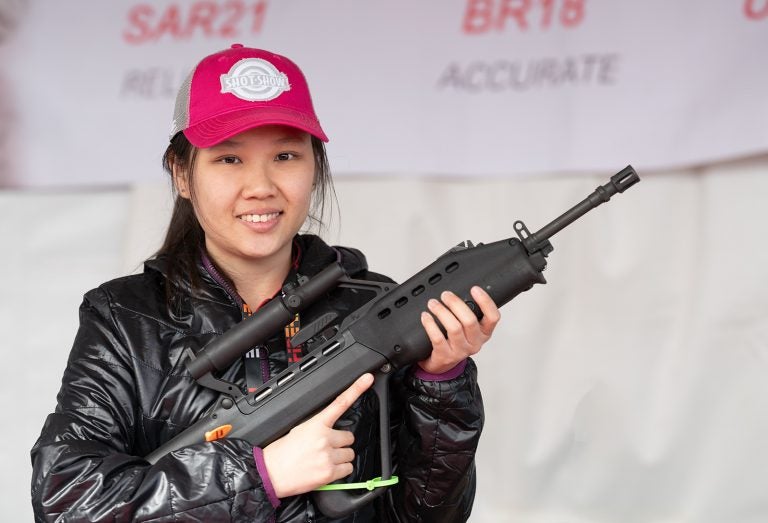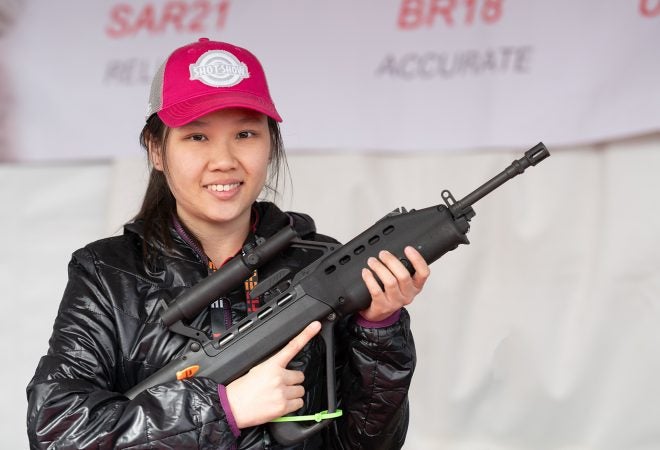 Some finds were totally unexpected. I got to shoot SAR21 years ago, and was surprised to find its maker showing newer models, like forward-ejecting BR18, with the eye to serving US government customers. Hopefully they will find a way to make these available to the rest of us as well.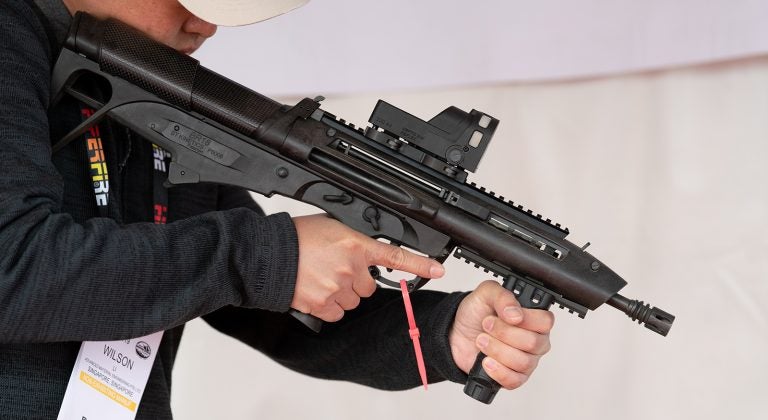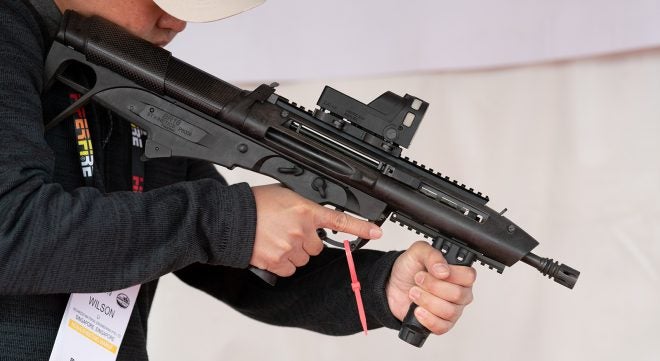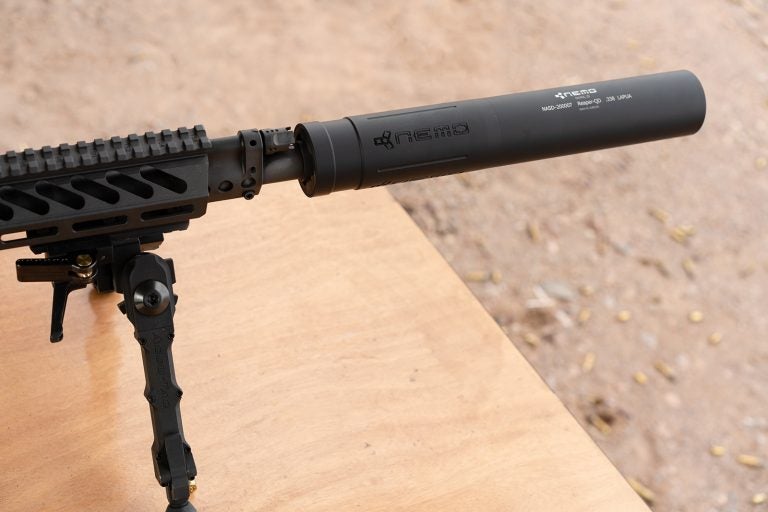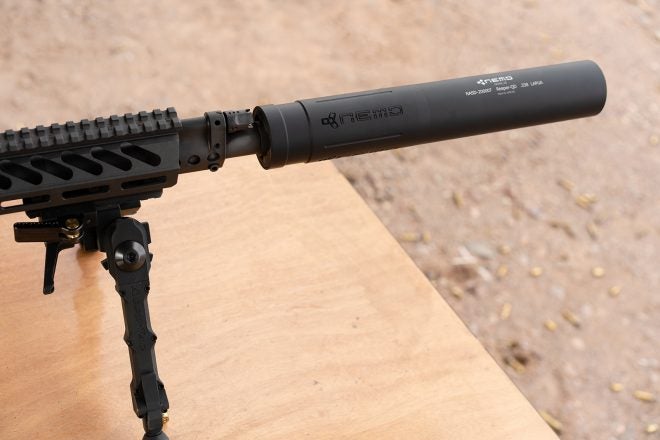 Nemo had their high power AR line, with the impressively effective 338 Lapua rated sound suppressor. High accuracy and lack of either recoil or blast from Nemo 300 Win Mag rifle produced this kind of expressions: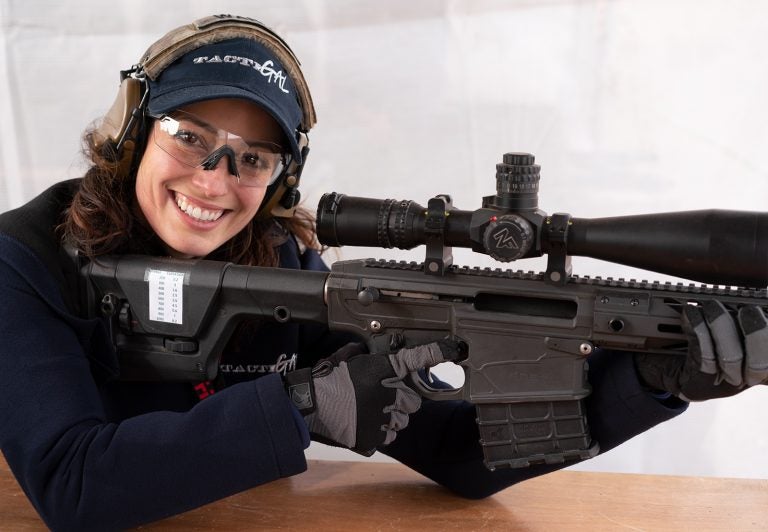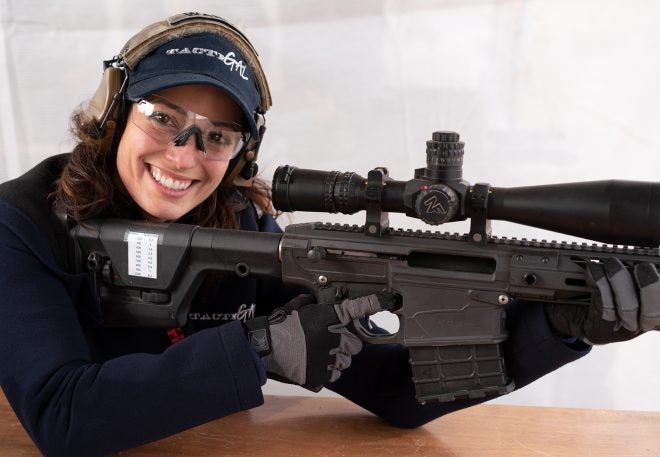 And finally, my theory that good guns should be obtained in pairs ("one for each hand") has been one-upped by Sammy. "Two for each hand" is his minimum!