Morakniv Craftline 746 Knife First Impressions
Kevin Felts 01.29.19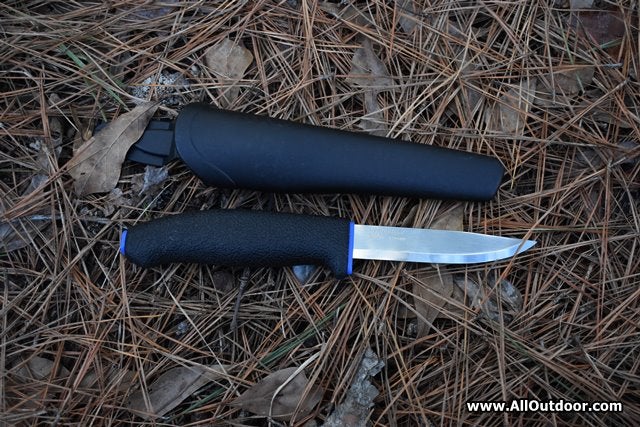 In this article, we will be looking at the Morakniv Craftline All-Around 746, and talking about our first impressions.  Why first impressions rather than a full review?  This gives us time to use the knife around the farm before taking it into the field.  It also gives us an idea of how to attach the knife to MOLLE webbing, backpacks… etc.
According to the Morakniv website, the company offers knives with three different types of steel – Carbon, Stainless, and Laminated carbon steel. Some descriptions on the stainless knives state they will not work with a ferro rod fire starter.  From my tests, the 746 throws a spark just fine with my ferro rod fire starters.
Belt Loop
A number of knife sheaths made by Morakniv have a belt clip that works wonderfully.  However, for some reason, the Craftline 746 has a very narrow belt loop that measures just 1/16 inch wide and X 1 1/2 inches long.  This is a closed loop rather than a clip.
Being just 1/16 inch wide means chances are the belt loop will not fit most belts.  How many belts out there measure 1/16 of an inch or less?  Probably not very many.
One nice thing is the belt loop can be clipped to another Morakniv.  A lot of Morakniv sheaths have a button on the outside of the sheath.  The 746 can clip to the outside of another knife, or on a small button.
All of this means straight from the factory the Morakniv Craftline 746 will not attach to MOLLE webbing; unlike the Companion, Robust, Basic 546, and Basic 511, which can be clipped to MOLLE webbing.  The small belt loop that is only 1/16 of an inch wide severally limits how this knife can be carried.
Specifications
Weight with sheath: 4.10 ounces
With without sheath: 3.05 ounces
Overall length: 9 1/16 inches
Blade length: 4 1/16 inches
Handle length: 5 inches
Blade material: Stainless Steel
Sharp from the factory: Yes.  While not razor sharp, the blade had a nice edge straight from the factory.
Lanyard hole: No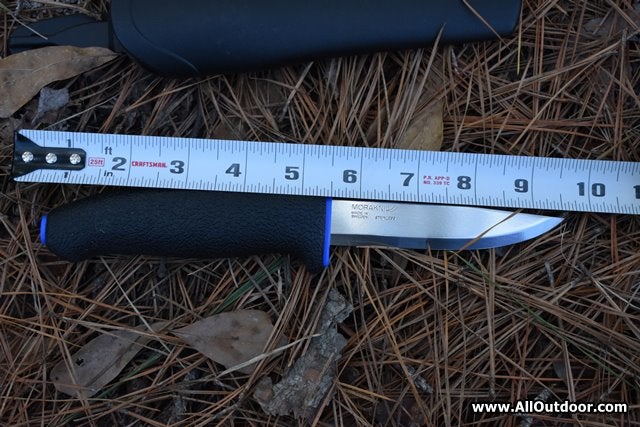 Something I like about the 746 over other types of of Moraknivs is the grip.  The 746 has a nice textured grip that feels much better than other Moraknivs in its price range.
Final Thoughts
There are several things to appreciate about the Morakniv 746.
For one, the knife sits low in its sheath.  For those of us who like to have a knife mounted outside the pack, hopefully the reduced profile will help prevent limbs and vines from grabbing the handle.
While there are is not a lanyard hole, drilling a hole through the polymer handle should not be an issue.  Some people do not use lanyards, while others may.  Personally, when carrying a knife on the outside of the pack I like to attach the lanyard to the pack using a snap ring.  This is in case a limb, or vine, pulls the knife out of its sheath.
There are some aftermarket clips to help the Morakniv 746 attach to MOLLE webbing.  Chances are one of those clips will be ordered and experimented with.
Morakniv has a reputation for making good quality low cost knives. Not to say Morakniv does not make expensive knives, because they certainly do. However, if someone is looking for a good quality low cost knife for camping, skinning, bushcraft… etc, Morakniv offers a wide selection.
As of January 2019 the Morakniv 746 cost around $18, and are sold through a number of outlets.
Overall, besides the sheath, the 746 has made a good first impression and I look forward to using on numerous hiking trips.