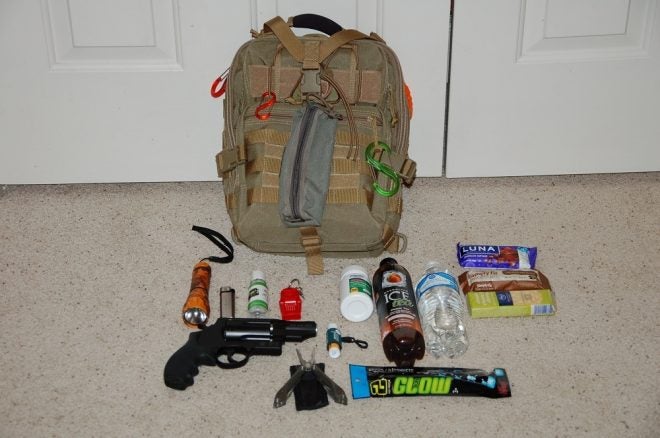 When you are headed out to the deer stand, there is a fine line between taking what you have to have and tagging along gear you may just want to have with you just in case. You can hunt well with just the bare necessities, but there is an extra measure of comfort to pack additional items. But then think beyond the basics to things you might need if you get a big buck down.
Obviously you need a deer hunting weapon. This could be a bow, firearm, rifle, pistol, muzzleloader, or shotgun. Maybe you've gone over to a crossbow. For firearms, take at least another full loading of ammo. If your rifle holds four rounds, then slip four more in your shirt pocket or ammo carrier. Same for other firearms. Take enough arrows or bolts for the job. Check your lighted nocks and don't forget your release.
Think safety. Wear your hunter orange safety vest and orange hat as required. Pack or wear your safety harness. Take a haul line to bring gear from the ground up to the stand once you're safely locked in. Take along vine and brush clippers and a limb saw in case things have grown up since you were there last.
You may want to carry a backpack with support gear. In this bag put your cell phone, binoculars, rangefinder, lens cleaning kit or lens pen, compass or GPS if needed, flashlight, trail marking tape, deer skinning knife, pocket knife, latex gloves, wool gloves, wool beanie cap, deer grunt calls, doe calls, deer scents, cover scents, handkerchief, eyeglasses, sunglasses, meds, wipes, Thermacell or insect repellant, chemical hand heaters, limb saw, micro first aid kit, scope cover, rifle or gun rain slip case, seat cushion, and rain gear. What am I forgetting? Oh, yeah, take a couple bottles of water and some nabs.
By now you are chuckling to yourself about the previous paragraph. Obviously you won't need all that gear. But have it in camp or in your hunting vehicle. If you ride to your hunting area and stand on an ATV, then some of this gear can be stored in a rack box or another bag.
Packing for the tree stand is a bit of trial and error. Take what you think you have to have, then add or subtract after each hunt. Eventually you'll get it right. Keep the rest of it handy.