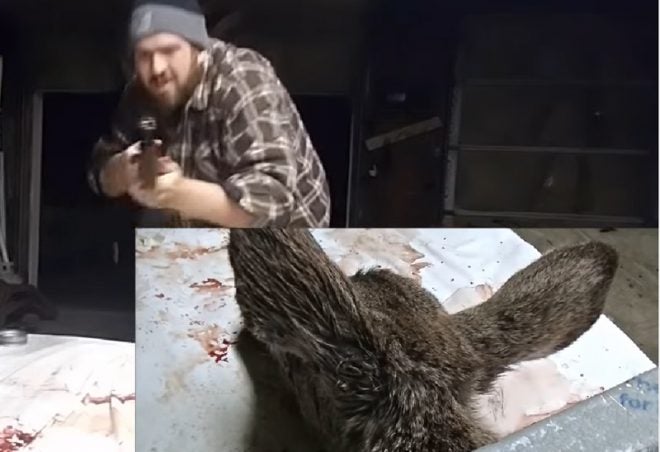 Over my decades of hunting and shooting deer, I've learned that bigger is often better. Yes, you can kill deer with small, speedy bullets, but bigger heavier bullets hit harder. And as ammo guru Ken Waters once wrote, there's no such thing as overkill. You can't kill an animal deader than dead.
That said, many deer have been slain by smallbores, and this guy decided to save the heads of a couple whitetail deer so he could shoot them with his high-speed pellet rifle. He isn't exactly a pro, but his results are certainly impressive.
He uses a .177 caliber Gamo Hunter Sport, which he tells us fires the Crosman Premier 7.4-grain pointed pellets at about 900 FPS, generating a measly 13 foot-pounds of energy. He takes aim at these deer heads — fully intact with hide and all — to see what they will do.
At short range (looks like maybe three feet) we see the pellet disturb the hair on the back of the skull of an adult whitetail doe! Impressive, to say the least. The pellet may not have exited, but it certainly made it to the opposite side of the skull with enough force to break bone.
He then backs off to 20 yards and shoots the head of a yearling doe, also with impressive results. It would have certainly killed the deer.
As he says in the video, we would all rather have a real gun to do such work, but if you have a critter in a trap and it needs to be finished off, or if you can't find ammo for your firearm. Or if you don't want to be heard and your suppressor isn't handy, maybe an airgun could help you out.
Pretty impressive, but I won't be trading in my 44 mag or 308 Win anytime soon. Check it out and let us know what you think.