The Benefits of a Silnylon Tarp and the Three Best Ones To Go With
AllOutdoor Staff 02.22.19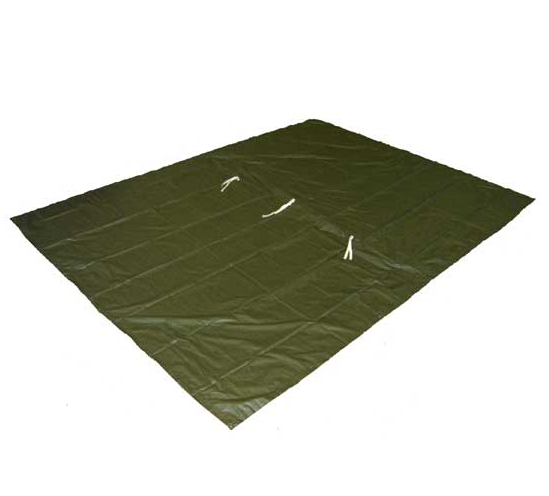 If you are looking for the most lightweight survival shelter that you can stuff into your bug out bag or backpack, there's simply no question that a tarp is a better way to go than a tent.
And while tarps themselves may have been heavier in the past, today they are much lighter than they used to be, and you can easily find durable tarps for under a pound in total weight.
Now obviously a tarp is not going to be as luxurious or protective as a tent. There's no insulation, floor protection, and os on. And learning how to pitch a tarp to create a shelter quickly is going to require a little practice on your part.
But if properly constructed, a tarp can provide you with more than adequate protection against the wind, the rain, and other elements.
Tarps also come in a variety of different materials and sizes. A six by eight foot tarp will be the best choice for a single person, while an eight by ten foot tarp will be a better option for two people.
If you are looking for the most ultralight and yet durable tarp that you can possibly go with, your best option will be a silnylon tarp. A silnylon tarp is not a brand, but rather a material. Silnylon is specifically simply a lightweight and yet tear resistant material that so gets its name because it is derived from both silicone and nylon.
In other words, it's a lightweight synthetic fabric that is used in several different kinds of outdoor gear. It's certainly not cheap, but it is definitely the lightest material for a tarp that you can go without sacrificing real durability.
If you want to throw a survival tarp in your bug out bag especially, a silnylon tarp will quite arguably be the best choice for the above reasons.  But if you don't yet know which specific silnylon tarp you should go with, we'll cover your top options now.
Here are the top three best silnylon tarps that are currently available on the market:
Campmore Silnylon Ultralight Tarp
The most popular version of the Campmore Silnylon Ultralight Tarp has dimensions of eight by ten feet with an overall weight of just thirteen ounces, although there are also seven by nine foot and nine by nine foot options as well.
The Campmore is also built entirely within the United States, and is also water resistant. It features grommets on the outside edge of the tarp, located every two and a half feet from one another.
LiteOutdoors Silnylon Tarp
The next option is the LiteOutdoors Silnylon Tarp, which is another compact, lightweight, and yet highly durable option for a tarp.
The LiteOutdoors tarp features sixteen webbing loops on the outside in addition to one in the center, giving you numerous different pitching options. The 20D silicone nylon material also means that ti is very ripstop and will also withstand sleet, rain, mud, wind, and whatever else mother nature choose to throw at it.
Another benefit to the LiteOutdoors Tarp is the fact that it can be easily set up as a hammock as well as a result of the numerous different pitch configurations.
As a backpacking tarp, a hammock, or as an emergency survival shelter, the LiteOutdoors Silnylon Tarp will be a good way to go.
Underground Quilts Silnylon Hanger Tarp
The final tarp that we will take a look at is the Underground Quilts Silnylon Hanger Tarp.  Underground Quilts designed this tarp to offer the same lightweight and durable qualities as other silnylon tarps while also being significantly more inexpensive.
As with the LiteOutdoors Tarp that we just covered, the Underground Quilts Hanger Tarp can also be easily converted into a tarp thanks to its wide array of different pitching options. It's also one of the lightest tarps that Underground Quilts has in its lineup.
Buy Your Tarp Here