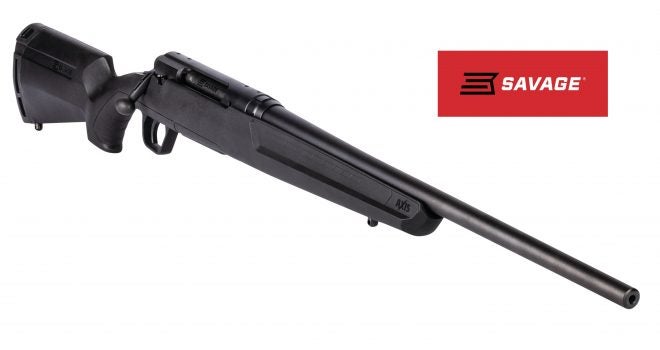 Several years ago, Savage Arms began distancing itself from its reputation as maker of 'the accurate, dependable bolt action rifle that everyone can afford.' This shift towards becoming more of an upper-echelon company meant higher retail prices for their once-entry-level 10/110 series of rifles. These days, their 110s bring a lot more than they once did. The lowest MSRP I could find on their site for a 110 is $599, with a whopping $1,325 at the top end.
To continue to serve the majority of hunters, they came out with the Axis, priced well below their 110s — but still using the headspacing method that earned Savage its stellar reputation for accuracy: The barrel locknut. Note: Don't confuse the Axis with the Axis II, which is essentially an upgraded Axis with some extras (such as the Accutrigger).
Compared with the Model 10/110 of yesteryear, the Axis has a more-convenient detachable box magazine. This makes it considerably easier to fully unload the rifle.
The Axis retails for $375, and with inflation that's not bad. 15-20 years ago it was commonplace to find new Savage 110 "package guns" in the $300 range.
Anyhow, Savage has just announced a number of improvements to the Axis line; here's a quote from the press release:
WESTFIELD, Massachusetts – February 19, 2019 – Savage's groundbreaking AXIS rifle has a new look and design for better performance. Shipments of these firearms have been delivered to dealers.

When the AXIS was introduced, it totally changed what hunters should expect from an entry-level rifle. The redesigned AXIS is even better. In addition to a fresh look with improved ergonomics, it's loaded with features that deliver Savage's legendary accuracy, including thread-in headspacing, button rifling, and a floating bolt head. The AXIS is offered in the complete spectrum of popular hunting calibers, in full-size, compact and left-hand models.
And some specs:
Rugged synthetic stock with new ergonomic design
Sporter barrel contour
Carbon steel barreled action with matte black finish
Detachable box magazine
Also available in left hand and compact models
Weaver-style two-piece bases
Recoil pad
And finally, a list of currently-available models:
Part No. / Description / MSRP
57233 / AXIS 223 Rem., 22-inch barrel / $375
57234 / AXIS 22-250 Rem., 22-inch barrel / $375
57235 / AXIS 243 Win., 22-inch barrel / $375
57239 / AXIS 25-06 Rem., 22-inch barrel / $375
57236 / AXIS 6.5 Creedmoor, 22-inch barrel / $375
57240 / AXIS 270 Win., 22-inch barrel / $375
57237 / AXIS 7mm-08 Rem., 22-inch barrel / $375
57238 / AXIS 308 Win., 22-inch barrel / $375
57241 / AXIS 30-06 Sprg., 22-inch barrel / $375
57247 / AXIS Left-Hand 223 Rem., 22-inch barrel / $375
57248 / AXIS Left-Hand 22-250 Rem., 22-inch barrel / $375
57249 / AXIS Left-Hand 243 Win., 22-inch barrel / $375
57253 / AXIS Left-Hand 25-06 Rem., 22-inch barrel / $375
57250 / AXIS Left-Hand 6.5 Creedmoor, 22-inch barrel / $375
57254 / AXIS Left-Hand 270 Win., 22-inch barrel / $375
57251 / AXIS Left-Hand 7mm-08 Rem., 22-inch barrel / $375
57252 / AXIS Left-Hand 308 Win., 22-inch barrel / $375
57255 / AXIS Left-Hand 30-06 Sprg., 22-inch barrel / $375
57244 / AXIS Compact 223 Rem., 20-inch barrel / $375
57245 / AXIS Compact 243 Win., 20-inch barrel / $375
57246 / AXIS Compact 7mm-08 Rem., 20-inch barrel / $375
57242 / AXIS Compact Left-Hand 243 Win., 20-inch barrel / $375
57243 / AXIS Compact Left-Hand 7mm-08, 20-inch barrel / $375