How to Avoid Gun Confiscation in California
Russ Chastain 02.26.19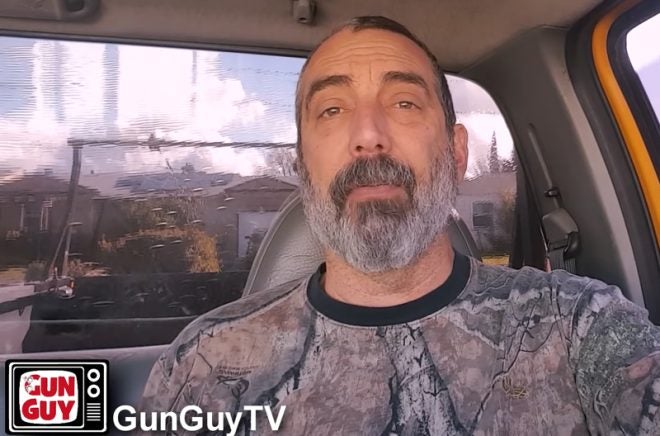 In this video, Joel Persinger of GunGuyTV offers opinions and advice to his fellow citizens living in California, following up on a recent government theft ("confiscation") of two AR pistols in San Diego. Aside from this basic and reasonable advice, he also offers some opinions and statements aimed directly at those law enforcement officers who carry out gun confiscation orders in direct opposition to their oaths.
While his advice is specifically geared towards Californians, a lot of it is common sense that applies anywhere:
If agents knock on your door without a warrant, don't open the door. You are not required to speak with them.
If you do open the door: Just say no, bid them good day, and close the door.
Do not register any guns.
If you get arrested, shut up! In his words, "You can't talk your way out of jail but you can certainly talk your way into jail for a very very long time."
When it comes to ARs in California, he tells viewers to take them apart. Store lowers and uppers separately; the uppers are only parts, because the lower is what's serialized and considered a "firearm." The lower cannot be categorized as semi-automatic or anything else, because it's just a lower receiver. Store and transport them this way.
He goes on to say that he will be storing some of his guns and shooting gun videos outside of California from now on.
When he gets on the topic of officers taking guns from their fellow Americans, he hits the nail right on the head. Some of these officers are claiming they've strongly objected to doing it, but when directly ordered they follow through with the gun theft, using the excuse that "my boss made me do it."
Joel doesn't allude to WW2, but I will. In the hearings following that war it was proven that the old excuse that Nazis and others who committed crimes were "just followed orders" does not hold water. It's invalid. And he says as much in the video.
Anything that opposes your oath to defend the Constitution of the United States of America is not okay. Period.
He's right on.
He points out that if any employee of a private company were to violate the rights of citizens, that wouldn't be okay — and the same applies even moreso to government employees who swore an oath not to do so.
Finally, the crux of the matter: Even if you do not care about guns and gun rights, you should defend gun rights — because your rights will be the next ones to go.
Need evidence? Look south to Venezuela.
Here's the video.