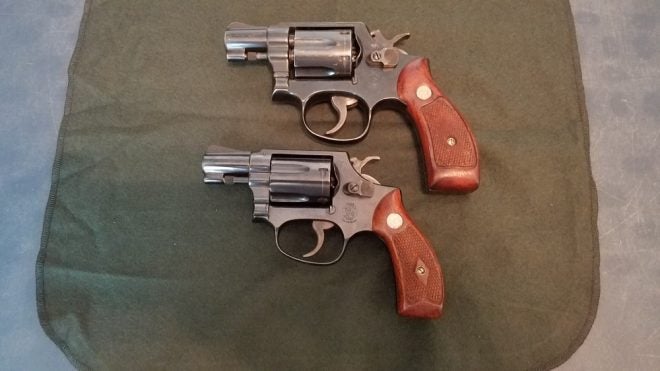 Smith and Wesson is among the most ironic manufacturers of revolvers. The company history is long and storied. It dates back to 1857 in Springfield, MA, and still resides there. Over the many years of operation Smith and Wesson was bought and sold by many investment concerns, then sold and bought a few more times.
During this whole series of company transformations, they have continued to make some of the finest revolvers, and pistols in the handgun marketplace. Smith remains highly active in the handgun marketplace with new introductions or model enhancements for each year of production.
The foundation of the Smith and Wesson revolver product lines have been based on the size of the handgun frames as designated by the company. These have included the I, J, K, L, M, N, and X frame identifications. The "I" frame was for the small .32 calibers. The "J" was for the small .38 frames. "K" designated the medium frame for .38s. The "L" was for the medium-large frame. The "M" was assigned to the small, early model Ladysmith revolvers. The "N" was used for the large frame revolvers and the "X" came for the X-large 500 line of handguns.
Though all of these frame sizes have been popular all along, in terms of recognizing a classic Smith and Wesson revolver, the "J" and "K" framed guns are probably the most widely known among them all. In the long list of named and numbered revolver models produced in these two frame sizes, two models stand out as the most universal. This would be the Model 36 in the "J" frame and the Model 10 in the "K" frame.
These models are both chambered for the .38 Special, though the 36 is the smaller with a cylinder only bored to hold five rounds. The Model 10s were larger with a cylinder to hold six rounds. A base Model 36 with a 2-inch barrel weighs only 19 ounces with fixed sights. The Model 10 in a 2-inch barrel by comparison weighs about 30 ounces. These are unloaded weights. Other barrel lengths exist.
In practical use the Model 36 is known as the Chiefs Special. The 5-shot, double action revolver was often chosen by law enforcement for undercover work. It is easily concealed in a coat pocket or an ankle holster as a backup gun.
The Model 10 series has been a premier law enforcement handgun for decades having a total production of over 6,000,000 guns. Being heavier and loaded with 6 rounds, it was a good choice for general street police work. At least until the .357 Magnum came along.
Collecting all "J" and "K" framed Smith revolvers is a good hobby. Good used specimens are still available, but they are getting harder to find all the time.