IWI Tavor 7 Status Update
Dickson 03.01.19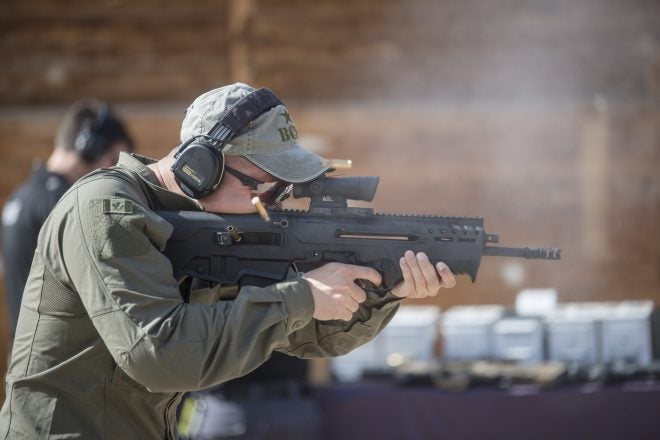 Yesterday on the IWI Tavor 7 Facebook Group, Jeremy Gresham, Director of Sales and Marketing at IWI USA posted the following update on the highly anticipated Tavor 7 7.62x51mm bullpup rifle.
Update 2.28.19

We took 3 rifles out for endurance testing.

Accuracy was checked at the start. 3 groups per rifle average around where we wanted it shooting off a lead sled , 168gr Gold Medal Match, Nightforce, Vortex, and Leupold scopes where used.

The goal was 20K through each gun under a controlled specification. At the end of a firing iteration the rifle was cooled and the firing sequence would begin again.

The Good:
Accuracy was were we wanted it. Much more consistent from where we started.

The rifles ran with no issues. I witness this first hand and my shoulder can speak to it. Over 3 days in cold and wet conditions I had ZERO failures.

The Not so good
A part was wearing abnormally which at that point we stopped to address the issue. Can't speak to it but at this point we stopped testing. This is protocol per how testing is defined. The team from Isreal was here for the testing and will make corrections. Then we will go at it again.

Closing:
Here in the states I'd say I've got more rounds through a T7 than anyone. It's a battle through and through. They just keep chewing up and spiting out 308. The accuracy has improved from the start. I have full faith that the engineering teams will get us right the best we can. To everyone that's going to ask…… How does this impact my timeline? Uncertain. What is certain is we are committed to providing the best possible product we can.
IWI USA were not present at the SHOT Show Range Day this year, but they did showcase the Tavor 7 at their booth.
We will provide more update once we get more information on an ETA.