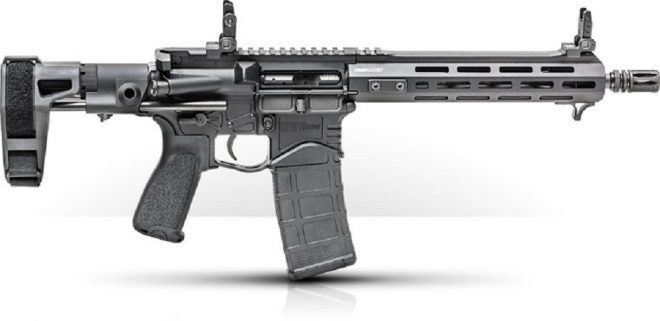 Springfield Armory has hit a Statue of Liberty pass for an end zone touchdown as if it were Tom Brady in a Super Bowl game. Too much flattery for one new gun at one time? I don't think so, and you won't either once you handle one. I have and it is definitely on the bucket list.
It should go as no surprise that these new pistol AR-15 platform firearms are the latest rage when it comes to a forearm braced weapon. While a number of these new configurations are also pistol caliber carbine types, a few more models are now being produced in the full power 5.56/.223 rifle caliber. And these are not SBRs either, being sold as legal pistols.
This new pistol format platform shooting a 5.56 is exceedingly handy and that is the first reason this new firearm will become immediately popular. For preppers, survivalists, ranchers, farmers, security services, truck drivers, and even hunters among many other applications, the SA Saint Edge is going to fill a new niche for shooters wanting compact self-protection.
The Springfield Armory Edge comes as a compliment to the SA Saint line up of AR type rifles except of course in a new pistol format package. It combines all of the most cutting edge features of the Saint rifle product line. The least of which is the Maxim Defense CQB Brace (more commonly known as an adjustable buttstock) that has 4-position adjustability. The MD Brace is made of a 7075 aluminum housing with built in QD sling mounting points.
The Saint Edge package is 28.5 inches long overall and 24.6 inches when the MD Brace is collapsed. This is 3-5 inches shorter than a conventional AR-15 rifle. Portability again is one of the best properties of this new AR pistol. The barrel is 10.3 inches, lightweight configuration that is Melonite treated. Package weight is 5 lbs., 11.5 oz.
Multi-features include a machine billet lower, optics ready rail, installed flip-up open sights, M-LOK forend with a forward hand stop, an enhanced M16 bolt carrier group Melonite treated, ambi-safety, skeletonized integral trigger guard, mid-sized charging handle, adjustable gas block for ammo tuning, A2 flash hider, match trigger, Maxim buffer system, and a Bravo Company MOD 3 pistol grip. The SA Saint Edge retails for $1559.
A word to the wise on purchasing an AR "rifle" in a currently legal pistol format. There is apparently still some discussion at ATF if these weapons really constitute being a legal pistol. Brace or not, shooters are naturally going to shoulder this gun, and that makes it a rifle. Be certain there are no rules against buying them where you reside. They could eventually be outlawed.
Handling this new AR pistol would be like dancing with Lady Gaga. You have to get your hands on it to appreciate its maneuverability. Check it out at www.springfield-armory.com.