The Kel-Tec Sub-2000- The Perfect Prepper Vehicle Gun
Dr. John Woods 03.02.19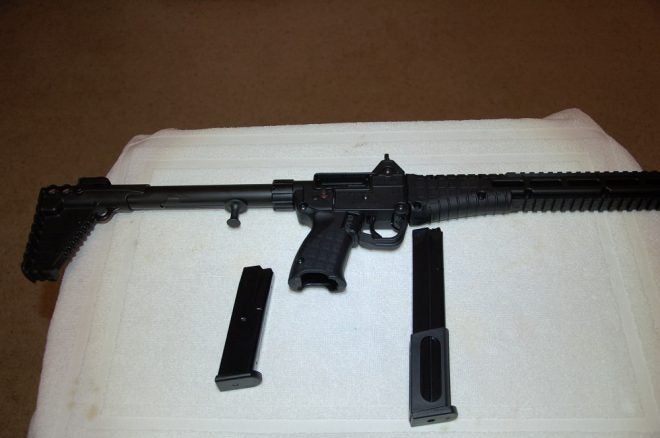 In today's world of guns there are few "perfect" ones for any given job. That is why gun users often have several different firearms available for multiple tasks. Some are easier to assign than others given that a rifle or handgun makes a pretty poor quail gun, and a shotgun is not much punk for taking down a deer for food at 300 yards.
Preppers and survivalist though often have to balance what expenditures can be dedicated to certain plan categories. Personal security and firearms is one of those categories. Many preppers only have one bolt action rifle, one AR-type rifle, a single handgun and a shotgun. Others may have ten times that inventory on hand. The search is always on for just a few guns that can satisfy the most needs.
Part of a comprehensive Every Day Carry plan is to have a firearm concealed on person, and ideally another suitable gun hidden away in the primary vehicle just in case. There has been much covered on what type of firearm is best to stow in a vehicle as a backup to the EDC gun, usually a handgun. Everything from ARs, AK, AR pistols, and such have been considered. I have one more option to offer.
The Kel-Tek Sub-2000 is one unique rifle. It is a 9mm (or .40S&W) PCR firearm that folds in the middle to reduce its storage size from 30.5 inches down to 16.25 inches. This package would easily fit under a seat front or rear in a zippered bag or discreet case. The unit weighs 4.25 pounds sans magazine. The Sub-2000 comes with open sights with a front adjustable.
The Sub-2000 is designed as four models to accept pistol magazines from Glock, Beretta, SIG and Smith. This allows compatibility between a user's select handgun and this rifle. The model I acquired is ready to handle Beretta 92 mags, because I already use and stock them. With standard double stack mags, this offers up 17 rounds. Beretta makes a 30 round, 92 mag.
The Sub-2000 is primarily of polymer construct with metal reinforcements and barrel of course. It has very good gripping surfaces with dimensions easy to grab for secure carry. The charging handle is a round pedestal knob on the bottom of the receiver tube. The safety is a positive push-bolt above the trigger. The forend rail accepts M-LOK accessories. The muzzle is threaded for a suppressor. Optics could be added forward. The butt is adjustable for length.
Preppers and personal defense interested parties should take a serious look at this gun. It is not a precision shooter or for long range. It is ideal for up close work and urban environments.