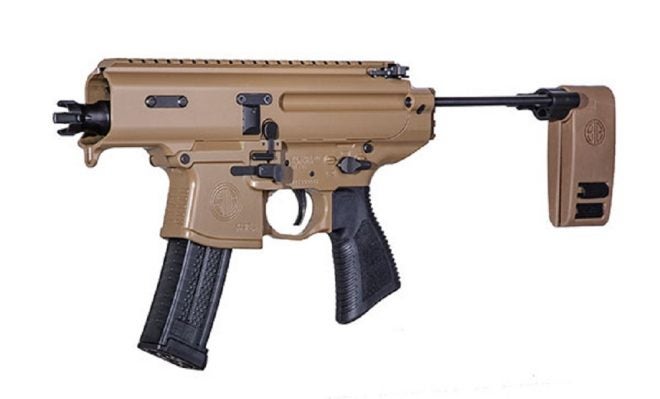 A copperhead snake is a vicious threat. If you don't live where copperheads are prevalent, then you are lucky. The whole concept of a creature like a snake that will actively seek and attack a human target gives an interesting impetus to naming a firearm a copperhead. For those of us in snake country, it certainly gets our attention.
SIG Sauer has been on the cutting edge of developing new firearms for a wide variety of applications. Their latest series of firearms have proven exceptional for uses including military, law enforcement, homeland security, personal defense, property protection, concealed carry, and just pure shooting enjoyment.
SIG has just recently announced another new firearm coming on the horizon soon. It will likely be shown at the annual SHOT Show next week. This new firearm is the Compact MPX Copperhead. The new model is another in the MPX product line. This new model is an ultra-compact firearm undoubtedly classified as a pistol.
The MPX Copperhead is only 14.5 inches in total length. The barrel is a mere 3.5 inches. The gun's weight is 4.5 pounds. Chambered for the ever defense popular 9mm with a multi-round magazine, the Copperhead is designed for easy handling, quick responses to common threats that military, law enforcement, and private citizens could use for counteraction against today's threats.
The MPX Copperhead is finished in a Cerakote E190 finish that is a subdued desert earth color. It can withstand hard use, harsh conditions, and maintain high reliability and function.
The platform of the MPX includes a buttstock that extends from the receiver on a stout rod that adds stability and enhances accuracy. This buttstock can be quickly collapsed to create a compact firearm. This system is called a Pivoting Contour Brace or PCB. This brace has a swivel operation that moves with the shooter's arm to be quickly deployed to assist in quick and accurate shooting.
The pistol grip offers great ergonomics and a firm grip. At the muzzle, there is a forward stop built into the frame structure to offer an extra manner for gripping the forward section of the gun. This prevents the offhand from slipping forward off the firearm. The integrated muzzle brake is a rakish design. The top of the receiver is lined with a Picatinny rail for mounting sights, open or electronic. Check out all the details at www.sigsauer.com.