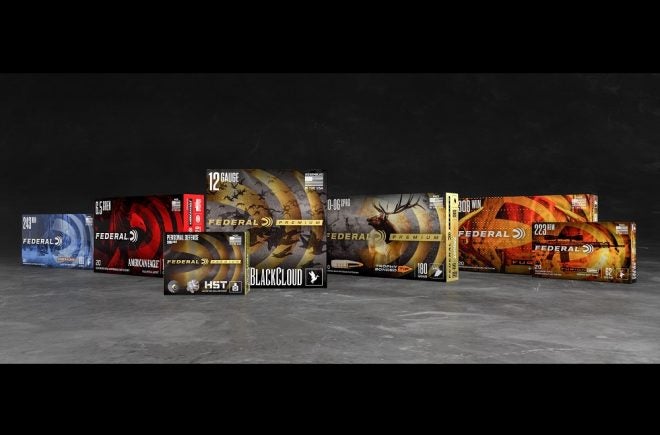 Pretty soon when you go to your local gun shop, outdoor store, gun show, or any retailer that stocks ammunition you are not going to be able to find Federal ammunition. What? Are they going out of the ammo production business? Hardly, in fact this year they are introducing an additional 25 or more new products for 2019. What they are changing up is the design of their ammunition packaging.
Federal's marketing gurus are labeling the new packaging scheme as "The New Look of Authority." This begins with a completely new ammunition product logo and an entirely new packaging redesign that is fresh, and quite attractive.
The new Federal ammo logo is going to be more contemporary and will be used throughout the complete comprehensive line of ammunition that Federal manufactures. Labeling includes new fonts, bold colors, and ideally better product recognition by the consumers. Federal attaches a number of marketing catch phrases to announce this ammo packaging change, which is what marketing people do. I think consumers will like what they will see on the shelves soon.
"All Federal products will now have an exciting new look on its packaging. Using bold eye-catching aesthetics, the design will make it easier for consumers and sales associates to quickly identify Federal products on the shelves. The Premium line is being reinvigorated with many exciting new products and a return to its iconic gold color", says Federal Ammunition President, Jason Vanderbrink.
"With so many ammunition options at retail, we made sure this packaging stands out and immediately communicates what we know consumers want to see," Vanderbrink stated.
Why should consumers care what ammunition packaging looks like? Have you shopped for ammo lately at a large retail operation or even the local mom and pop gunshop? Scanning down the ammunition aisles all the boxes create a blur. If you want a particular brand of ammunition, it takes a while to zero in on the brand you want to buy. Once you learn to recognize this new packaging, you can focus on the Federal ammunition you want.
I think you will be impressed with the bold colors and the new logo that creates a whole new look for a well-established ammunition product line. For more information, look at www.federalpremium.com.