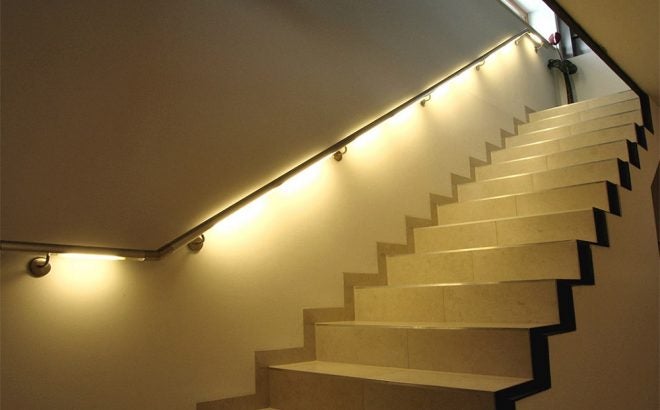 Defending or securing a building with stairwells is a tough proposition. Clearing bad elements from stairs going in either direction up or down is one of the toughest security tasks there is. Much training and practice by preppers and survivalists needs to be undertaken to acquire the knowledge, tactics and skills necessary to clear stairwells.
Negotiating a stairwell or series of stairs can take you either way, up or down, to the heavens of success or to the hells of failure. Do not take defense of stairways lightly as there are many traps to fault you and tricks to working them successfully.
Whether in an attack defensive posture from either above or below there are countless modes of exposure for you to work through. Stairways and long stairwells with many steps and gaps between floors offer many angles both protective and with dire exposure. You have to remain constantly vigilant in observation at all times. It may be that only small pieces, parts or portions of an adversary can be seen at any given time.
Do not rush into a defense of a stairwell. Rather maintain a steady momentum, but not a fast speed forward. Use the outside stair walls to press against to move forward or back. Stay away from open hand rails or gaps that open to floors above or below. Attackers will be looking up and down these openings ready to fire at any sight of movement.
Use extreme care in approaching entry/exit doors at every level especially if there are viewing panes of glass in the doors. If you have to open a door to exit or entry, be sure to fully check spaces that might hide someone lurking behind a doorway. Try to peer slowing at the corner of a glass window to see as much of the stairs up and down as possible. Having to defend a position in a doorway is another tactic altogether. Train for that, too.
When assaulting a stairwell, keep your constant checking vision in a 360 degree manner as much as possible. A threat could come from anywhere at any second. Stop, look, inspect and then move ahead. Remember the momentum idea. Also use all of your senses as you go. Besides sight, listening and even smell can assist you just as much as sight.
If you reside or work in a building with stairwells, then take a professional training course to help you be ready for such threats. Then you will be prepped for survival.