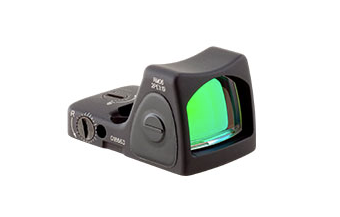 Since Trijicon's introduction of the revolutionary Ruggedized Miniature Reflex (RMR) in 2009 their name has become synonymous with red dot sights. It's sturdy and reliable design made it one of the most popular sights used in USPSA Carry Optics division. It's strength also made it the leading red dot pistol sight.
Then in 2017 Trijicon decided to up their game showcasing the RMR type 2.
In today's world a second-generation product means nothing more than a new paint job. Maybe they add one or two new features, but these can be unnecessary and even bring down the quality of the original unit.
That is not the case with this product.
What's Different?
The first thing that sets the RMR type 2 apart from its predecessor is the brightness settings. Previously, you had to purchase different versions of the RMR to suit your brightness needs like the LED model, adjustable LED or dual illuminated version.
Now with the type two the adjustments are built in. Or if you don't want the hassle of switching between the variations, you can simply turn on auto-adjust. This mode detects ambient light and gives you the red dot best suited for your current environment.
You will be further pleased with the new redesigned internal circuitry and ruggedized battery contacts that ensure increased performance and survivability in harsh environments.
The windage and elevation adjustments have also been improved with simplistic dials that give you audible clicks as you set and detents that are more resistant than before making sure your setting are maintained and do not drift during hard use.
Features
The standard RM06 Type 2 is a heavy-duty light sight weighing in at 1.17oz. The body is made from forged aluminum alloy and is powered by a standard CR2032 battery.
The reticle's brightness is adjustable to eight different settings and features a lockout mode to prevent adjustment slips.
The available mounting adapters mean that the RMR Type 2 can be mounted on any rifle, shotgun or handgun.
Its sight window is .87 x .63in and total dimensions are 1.8 x 1.2 x 1.0 in.
Who uses the RMR Type 2?
The original RMR was never really designed for handgun use. However, its ability to undertake the harsh recoil produced by handguns made it popular for these users. The only issue was that sometimes the battery contacts would lose their "spring" making the reticle unreliable.
The RMR Type 2 has fixed this problem, making it one of the most popular red dot pistol sights sold. This is due to the increased accuracy, improved precision and faster shooting people see at the range.
This item has been used by law enforcement, the United States Military Services and recently picked up a 5-year contract with the U.S Special Operations Command.
With those type of credits, you can easily see this is a top of the line product. You will be shelling out some decent cash to get your hands on one, with an average cost of about $500-$600, but it is an investment that will likely last a career. This unit won't break or need repair.
Multiple shooters have run thousands of rounds through the weapon and the Type 2 has performed flawlessly. This was with being continuously banged around, suffering harsh weather conditions and multiple one-handed reloads. The unit showed no signs of flicker, no loss of zero and the red dot continued to point straight.
This product continues to satisfy customers in all weapon realms, so if you are looking to upgrade your red dot sight consider spending a little extra money for the RMR Type 2.