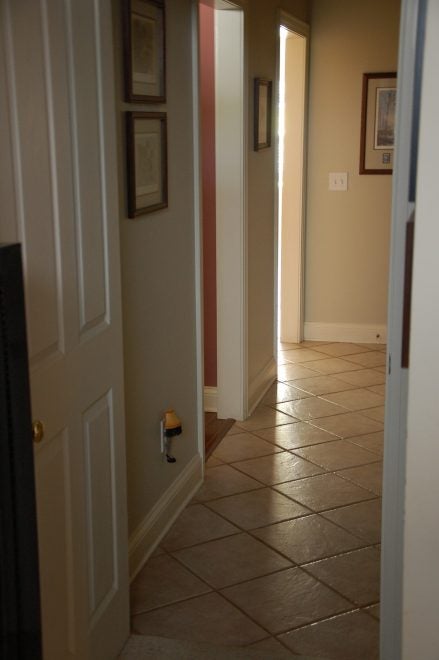 In this discussion, so there is no confusion, by "home defense" we mean inside the house, not outside. In defense of your home or property for threats outside then that would be different. By inside we mean a home invasion in which the active threat is already within the confines of your home.
Walk around your house a few times to consider again just how confined most of the spaces are. Hallways can be narrow, doorways can be more of an obstacle than a benefit, small rooms can be deadly, and big open areas like a great room can be difficult to defend, especially in the dark. Corners around rooms or spaces present unique issues, as do so many entries, exits or stairways as you pass through the house. Also, residences offer threats a lot of places to hide or block vision.
Now, consider trying to wield a long gun in this environment. If you think not, then take your AR or even the quail gun you have, walk around the house, the rooms, the corners, and try swiftly mounting that gun as a training exercise confronting a ghost threat. It's not easy is it? Did that long barrel strike a wall or scratch across a corner or something else? Were you able to obtain a clear view down the barrel or was it cumbersome? That's just part of the equation when using any long gun for self-defense inside a house.
The other major concern is penetration inside a dwelling. An AR-15 of any description chambered for the standard 5.56 Nato/.223 puts out an also standard 55 grain bullet, very often a full metal jacket (FMJ) design at around 3200 feet per second give or take 200 fps depending on the load. That bullet will slice through sheetrock, flimsy construction, faux brick, and other materials like a Jedi light saber through cream cheese. Who is on the other side?
Well, maybe you're home alone when the threat strikes or maybe your wife is in the kitchen cooking brownies for the kid's sleep over troupe in the playroom. It is simply too great a risk in house to use a 5.56 for defense. It can be argued too that at such close ranges, that 55 grain FMJ bullet might not produce the results on the threat you hoped. It might take multiple shots.
So, with manipulative issues using a long gun inside the house, and given a standard AR-15 round, this rifle simply is not the best choice for interior home self-defense.