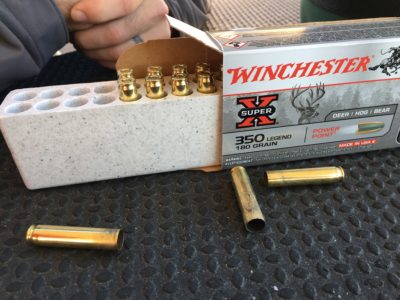 The shooting and hunting world for consumers is always stimulated by the announcement of something completely new in the gun or ammunition marketplace. Winchester has hit a home run with their new 350 Legend cartridge for hunting. It is already be touted at the range and in the field as the fastest straight walled cartridge ever.
The .350 Legend will handle bullets of .357 inch diameter with an overall case length of 1.71 inches. Among the six loads to be available some are polymer tipped. This load will yield optical accuracy, penetration, and energy transfer on the target.
Its 200 yard energy foot pounds of 903 exceeds the .300 Blackout at 790, and the 30-30 at 781. The recoil is especially mild rated at only 8.52 pounds as compared to the 30-30 at 9.64 and the .243 at 10.38. Both the 30-30 and the .243 have always been characterized as having mild recoil for sensitive shooters.
One of the features of the new Winchester .350 Legend ammo is its excellent penetration. Tests on ballistic get at 200 yards show that the .350 Legend will penetrate this gel target for 11.7 inches. That is impressive in anybody's book. For white-tailed deer and similar sized game, this new round should prove not only highly effective in the hunting fields, but also popular with hunters of mid-sized game.
The new .350 Legend ammunition will be delivered in six different loadings including (1) a 150 grain Extreme Point, (2) a 180 grain Power Point, (3) a 180 grain Power Point Hog Special, (4) a 145 grain FMJ flat nose, (5) a 160 grain Bonded JHP, and (6) a Super Suppressed 265 grain Open Top. These diverse bullet offerings in the .350 Legend allows for numerous game applications in the field including deer, hogs, and even bears.
So, what guns will the .350 Legend be chambered in? That is a good question, one which I have already queried Winchester about. I did get a clue though in doing some research on the matter. Photographs coming in from Range Day at this year's SHOT Show going on in Las Vegas this week show shooters trying out the new round in a Winchester bolt action rifle. That rifle appears to be an XPR model designed as one of Winchester's newest foundation hunting rifles. That choice would be excellent to match up with the new .350 Legend. Check out both www.winchester.com for ammo, and www.winchesterguns.com for the new rifles.