Review: Salomon XA Forces GTX Mid Boots
Cory Mince 03.11.19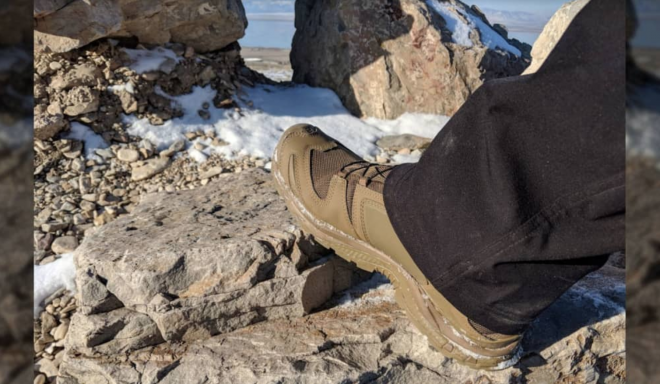 Salomon has a broad presence in the world of outdoor gear, and particularly in the area of functional footwear. If you have at least one foot, and do things with it, Salomon has a footwear option for you (likely a good one). Their options span from trail running shoes, to Nordic ski racing boots, to water shoes, and of course, tactical boots.
I was first introduced to Salomon some years ago when I picked up a pair of their GTX boots form a prize table at a match. A number of my friends had Salomon boots, and I saw numerous pairs sported by competitors at matches, but I never had any for my own until then. Only a couple weeks after the match I found myself, and my new boots, in the North Cascades in Washington state. There wasn't much rainfall on that particular trip but there were plenty of creek crossings, steep slippery slopes, and dew-wet vegetation. My feet stayed dry and comfortable the entire time. From then on, Salomon was my default brand for footwear.
Appearance
The Salomon XA Forces boot looks a lot like its sibling, the XA Pro 3D, but with a more robust design to handle the rigors of tactical or similarly demanding use. Design efforts toward durability are clear when looking at the XA Forces. It looks like a tough, business ready boot without appearing overbuilt and clunky. Because of the XA Forces' aesthetic, I don't think I'd wear them to the office on a daily basis (though I have worn them a few times). I do, however, love wearing them at the range, on the trail, or whenever the barometer drops.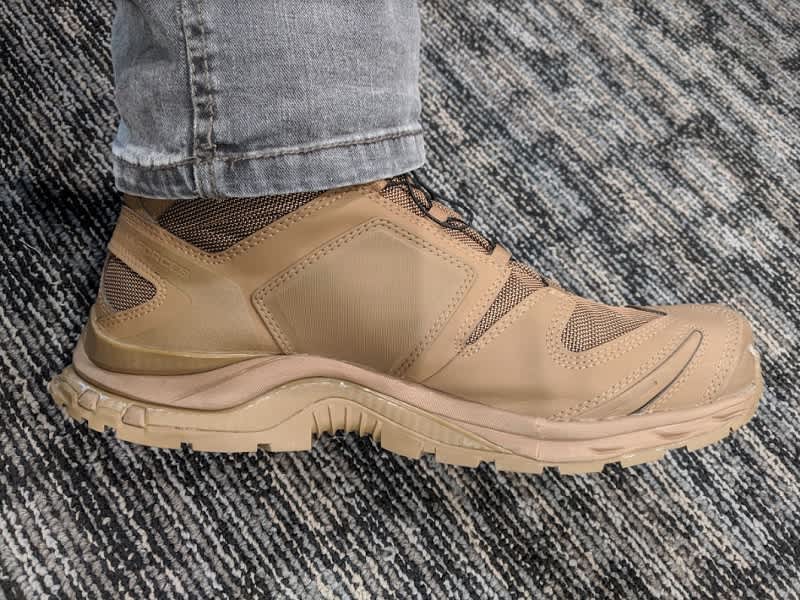 Lacing System
The XA forces is equipped with the Salomon Quicklace® system. I'm sure most of you are familiar with this system, and those similar to it, but for those who aren't:
Step 1: Put your foot in the shoe.
Step 2: Pull the laces evenly to a comfortable level of tightness.
Step 3: While maintaining tension on the laces, push the buckle down to your foot.
Step 4: Tuck the buckle and excess lace into the elastic pocket at the top of the tongue.
I've found the Quicklace® system to be incredibly convenient and easy to use. It is my favorite feature of the majority of the Salomon shoes I own. They never come untied (obviously) and loosen only in the rarest of circumstances. I have found the system particularly convenient when I have cold clumsy hands or while wearing gloves. If you haven't tried them yet, I'd highly recommend it.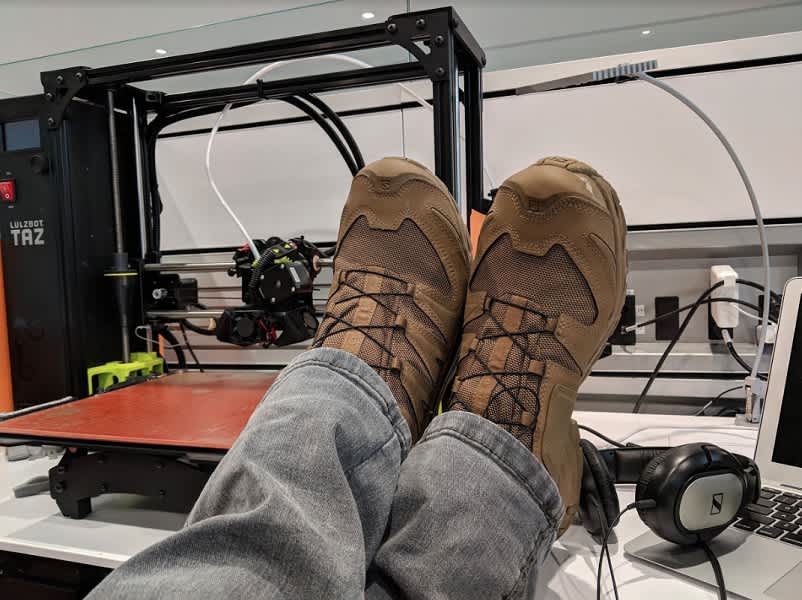 GTX Waterproofness
One of my favorite things to do with my gear is test it in inclimate weather. I feel almost invincible wearing a Gore-Tex jacket when the snow, sleet, or rain is coming down so hard that visibility is barely 100 feet, and yet, I remain dry and comfortable, defying the elements. I was excited to test the Salomon XA Forces and see how they'd perform.
The boot's first test was freezing rain in Ohio. It wasn't extended exposure, but I made sure to, like a child, step in every puddle I could find. I made it to every stop with warm dry feet. The feeling of invincibility started to grow..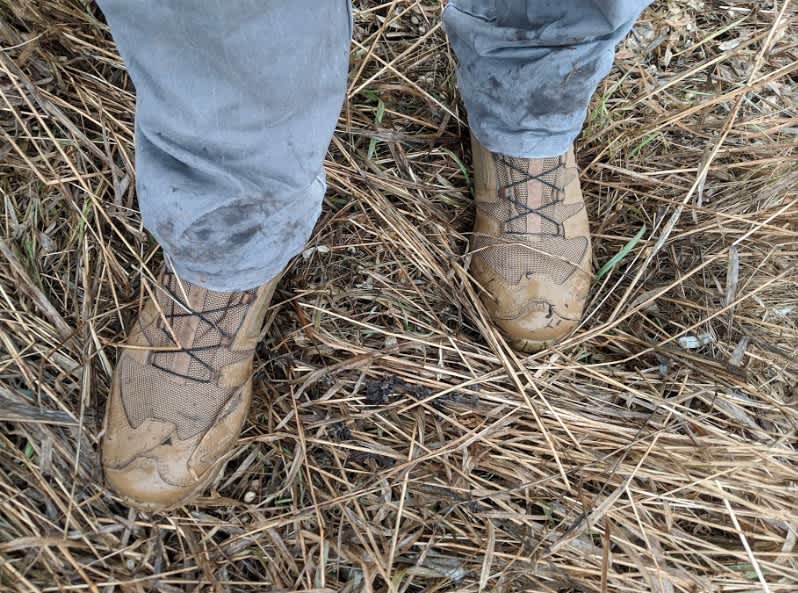 The next, much more challenging test took place a little over a week later in Utah. The rain switched to sleet, then back to rain again, as is typical in early March, so I decided to go on an extended walk to really put the Salomon XA Forces boots to through their paces. I set out along a trail system that meanders through some wetlands and wooded areas near my home. The paved path was clearly no challenge for the XA Forces boots and I soon made my way off trail. I walked through soaked long grass, stepping on and over fallen logs, cattails and other slick wet vegetation as the rain beat down in a consistent drum against my hooded head and shoulders. The boots maintained their grip and my feet maintained their comfort.
After an hour or so of walking, and still having completely dry feet, I decided to take the test one leap further. There is a small creek that runs along part of the trail. Instead of simply crossing the creek, exposing the XA Forces to only a couple of seconds under water, I decided to stand near the edge of the creek, with the majority of the boots completely submerged. There I stood for an entire minute with no water making it to my feet. I was impressed.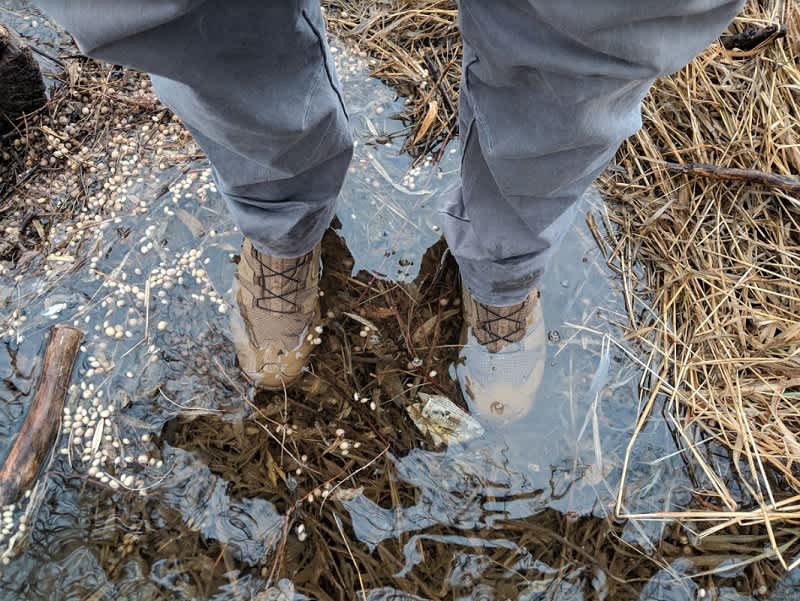 Breathability and Temperature Regulation
It's one thing to be waterproof, it's another thing entirely to be breathable. As a kid, I'd line the insulation of my snow boots with a plastic grocery bag and be baffled when I pulled my soaked feet out of what I thought were completely waterproof boots. It was much later in life that I realized the importance of breathability in footwear to not only keep my feet dry but regulate temperature as well.
Since I haven't worn the Salomon XA forces boots in warm weather, I can't really say how well they regulate high temperatures. Looking at them though, I see some thick paneling on the upper, above the inside arch. These boots are designed to be tough, durable, and withstand the use, abuse, and harsh treatment required of a tactical deployment. I suspect the robustness comes at the cost of some breathability.
In the time I've worn them I haven't noticed any excessive moisture accumulation, or that hot, stifling feeling of poorly designed footwear suffocating my feet. I'm glad to say that my feet have remained completely comfortable in every place and condition I've worn the XA Forces boots, including temperatures well below freezing for many hours on the range, and while walking for what seemed like 5 miles from one end of the Minneapolis/St. Paul airport to the other.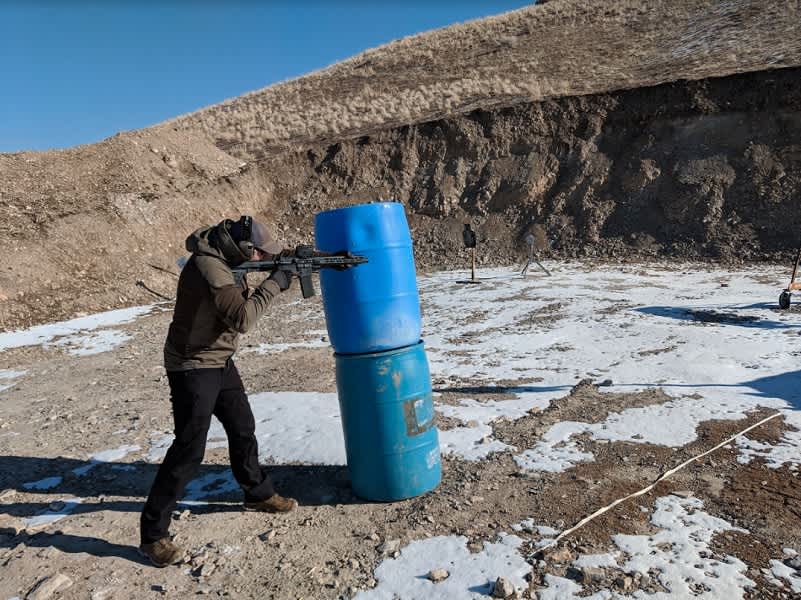 Durability
By all appearances, and all experiences thus far (about a month or so of consistent use), the XA Forces boots look nearly brand new. As mentioned previously, the boots have a new, thick rubber paneling on the upper that appears to be either for fast roping or super aggressive hacky sack play. In either event, you'll definitely be covered, and the boots will perform admirably.
Price
The Salomon XA Forces Mid GTX boots are priced at about $189, and if the boots are as durable as Salomon has intended them to be, they will be well worth it.
I'll admit, I have a clear preference for Salomon footwear. I wouldn't call it a bias per-se, as I  have no personal affiliation with the company, and I buy their boots and shoes with my own money, but I do very openly admit that I love their stuff. Their products look good, feel good, and perform as you would expect them to.
After what I would consider a very successful test, I plan on the Salomon XA Forces being my primary footwear throughout the summer while teaching courses, shooting matches, and archery hunting. I also plan on using them throughout the fall and maybe even into the early winter months for late season archery. These boots work well for me, and I think they will likely work for you too.