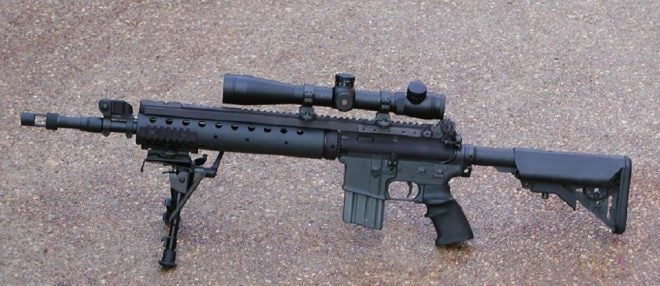 John J. Woods
Magnolia Outdoor Communications
BUILD A SPECIAL PURPOSE RIFLE
For any number of reasons a user of many weapons should construct an SPR type rifle. What for and what is one? Using the military model as a template, an SPR is a rifle built up or even accessorized from a basic or custom rifle to perform special tasks. Those tasks could be long range targeting of steel or hide, or even for precision shooting to execute an exact target.
One could create an SPR as a type of sniper rifle, but its application is much broader in its use at the range, or afield. It could be used for targeting adversaries at a non-typical range, or likewise for putting the crosshairs on a select deer, varmint, or other like game for the cartridge you elect to choose for the chamber of your SPR.
There are many scenarios for which an SPR rifle could be set to task. For preppers and survivalists, it could be for dispatching an adversary or their vehicle of conveyance from some distance apart from a bug in residence, or across a field or down a roadway from a bug out hideaway encampment. It is built for exact targeting not for laying down a broad range of fire.
For these purposes, an SPR could be built on an AR platform, or a precision bolt action rifle chassis. This may depend only on the shooters preference. The military and law enforcement have such rifles in stock and trade they label as sniper rifles. So be it, it does not matter the category name.
Many will I think choose to build such a rifle on an AR format. The concept of a quick repeated follow up shot is to the liking of many. Though it is but a campfire or gun shop counter argument about the same potential of a bolt operated SPR. You choose. What else about this rifle should equip it to be a suitable SPR?
Cartridge choice first. Keep it on the light side but big bores are viable, too. Choose your own level of recoil. Among the list of potentials would be the .223/5.56, .223 Wylde, .224 Valkyrie, .22 Nosler, .243 Winchester, 6mm Creedmoor, 6.5 Creedmoor, .260 Remington, 6.5 Grendel, 6.8 Remington SPC, 7mm-08, .300 Blackout, .308 Winchester, .300 Winchester Magnum, 338 Federal, and the .338 Lapua. Some of the later choices more suited to the bolt actions. Other potential rounds are out there including some still considered wildcats, but soon to enter the realm of mainstream use.
After picking the cartridge, then choose a high quality AR or bolt rifle so chambered. The higher the innate quality the better. This likely will be gauged by cost and value. Good rifles can be found and enhanced to fit the SPR format and purpose without having to mortgage the ranch. Be sure there is a good accessory driven fore arm equipped to handle MLOK or KeyMod attachment points. A long Picatinny rail on top is a must.
Besides the basic rifle, enhancements could or should include adding a precision trigger like a Geissele, a barrel of at least 20-inches of a medium profile to control heat, a solid muzzle brake not necessarily a flash hider, a hard, durable, matte exterior finish in a terrain enhanced coloration, ambi-safety controls and mag releases would be good. Have a sturdy, but adjustable buttstock with a cheek height suitable for comfort, but cheek placement for precision shooting. Some may prefer a high quality fixed buttstock and that is OK.
The choice of optics is critical. Combined with this is a really good scope mount to fit the rail to lock down solid. A one piece mount of any primary brand will provide the best foundation to place an optic on this rifle. Choosing an optimal optic can be more confusing than one might think. The optics marketplace is more stacked than a corned beef sandwich at New York's Katz's Deli.
Picking a suitable optic for an SPR takes a lot of shopping and product comparison. This rifle is going to demand a high quality, named brand traditional glass scope with exceptional multi-coated lenses with a crosshair option designed for precision targeting. I have often advocated paying more for a high end scope than paid for the rifle itself, but this is a thin line of recommendation. I believe there are very good scopes well under $2000 and few in my mind offer that much more when priced above that level. Same for rifles.
There are many high quality scopes including Leupold, Nikon, Zeiss, Schmidt and Bender, Kahles, Nightforce, Steiner, SIG, Vortex, and Trijicon. The difficulty is choosing a model. First, choose a variable scope with a power selection range of at least 3x to a high end, or better yet a 4.5 to an upper power of 12-20x. Don't overwhelm the rifle with a huge, heavy scope.
Pick an objective lens of at least 44mm, but 50mm is better for enhanced light gathering. A 30mm scope tube transmits more light and is a stronger scope, but you can get by with a traditional 1-inch tube. Be sure the exterior finish is a dark matte to reduce or eliminate glare.
What else? For precision shooting in the field or even off a range table or other platform, a really good bipod is a necessary accessory. From raw experience I like the GG&G XDS heavy duty bipod. I understand that Magpul now has a good, military grade bipod. Others are out there, just examine them carefully.
For field carry a good sling with solid attachment points is required. I prefer the push-button release type made by GG&G but others are available. This type of rifle is going to need two points of attachment for comfortable carry. Forget the single point for this gun.
Finally, use thoughtful care in adding other accessories to avoid cumbersome weight. I see no reason for a light or a laser on an SPR. Use quality magazines that work, ten or 20 round should do. Above everything else plan on plenty of range practice to get this rifle kit dialed in for precise shots out to 300 yards as necessary. Most cannot even see a man-sized target at 800-1000 yards, so don't be obsessed with that. Just make your special purpose rifle for special purposes.