(IWA 2019) Chiappa Black Rhino CBR-9 9mm PDW
Dickson 03.19.19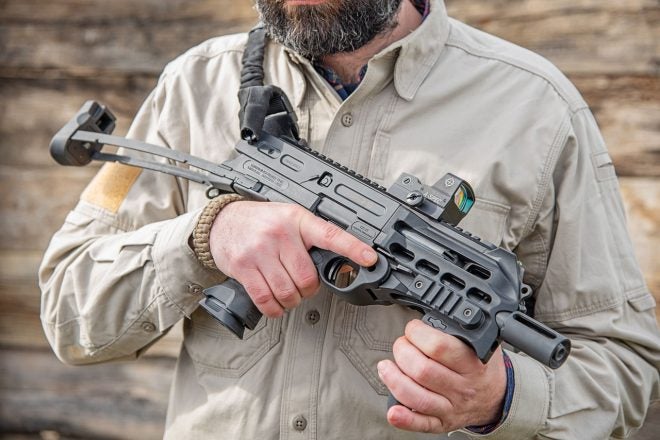 Chiappa Firearms, a small but rather interesting manufacturer situated in Brescia, Italy, have announced a brand new 9mm carbine or PDW called Black Rhino CBR-9.
It features low bore-axis similar to the Chiappa Rhino revolver (hence the name Black Rhino), as well it features patent-pending magazine design that merges the double-stack rounds into a single stack feeding that alleviates the pressure on the feed lips. Notice how close the person's index finger is to the barrel.
It has a hammer that sits above the barrel and swings downwards instead of going upwards like almost all traditional semi-auto carbines.
Handing the production units at their booth at IWA, it felt really nice in the hand. The receiver is quite wide to accommodate the big bolt carrier as this is a blow-back design. Take down only takes a few minutes via the removal of 2 pins. The muzzle device is locked by a tab can be unscrewed by hand by depressing the tab.
The collapsible stock can be quickly deployed with one hand. The only criticism is the lack of cheek weld especially when an optic is mounted. The gun features integrated fiber-optic sights sitting right on the same plane on the picatinny top rail.
I was told the full-auto version, strictly for military & law enforcement and marketed by Tangfolio, can be fired one handed with very little recoil.
Americans will have to hang tight as Chiappa is currently working with the ATF to get their final approval for this product to become commercially available in the US, either as a carbine with 16″ barrel, a pistol without a stock and/or via a use of a pistol brace. It will be slightly different to what you see in these press photos.
As an gun enthusiast, it's nice to see there are companies out there that are still innovating and trying to bring something unique to the industry. We can't wait to get our hands on one at the firing line soon.
Official press release is attached below:
Chiappa Firearms introduces the CBR-9 'Black Rhino' pistol, a brand-new weapon intended for personal defense and professional activities

With a substantial shift from its traditional production line, but following a logic started with the Rhino revolver, Chiappa Firearms introduces a new personal defense weapon: the CBR-9 Black Rhino. Not something "just like" anything else already seen around, the CBR-9 Black Rhino is an original project.

The Chiappa Firearms CBR-9 Black Rhino is a 9mm Luger semi-automatic pistol, built around a steel upper receiver hosting all mechanical components and a polymer lower receiver, hosting the ejector and the magazine, inside the grip, which provides a better balance in off-hand operation and shooting.

A blowback-operated pistol, the CBR-9 Black Rhino features a low-weight bolt and an inverted-operation, heavy hammer. This peculiar interlocking system between the hammer and the bolt provides an inertial increment for a superior reliability in all situations and with any load.

The CBR-9 Black Rhino feeds through double-stack, single-feeding proprietary magazines featuring a patented feed lip system that can withstand substantial use and undergo deformation without affecting negatively the overall reliability of the system. Magazines are available in 15, 18 and 30 rounds versions, depending from local laws and regulations.

Featuring a substantially lower barrel axis than many similar firearms on the market, the Chiappa Firearms CBR-9 Black Rhino provides superior controllability in rapid fire. A patented high-effectiveness flash hider drastically reduces muzzle blast for operation in low-light conditions when muzzle flash could impair the shooter's vision.

The CBR-9 weights 2,2 kilograms, but the barycenter is located in the area of the pistol grip, hosting the magazine, so offering a balanced off-hand operation also. The sliding (metal struts) stock e polymer buttstock, along with the front folding grip provide additional stability and precision shooting.

The Chiappa Firearms CBR-9 Black Rhino comes equipped with low-profile, high-visibility fiber-optic emergency sights. A full-length top MIL-STD 1913 Picatinny rail and two front rails at sides of the front grip offer plenty of room for flip-up open sights, red dot sights or other kind of accessories.

The Chiappa Firearms CBR-9 Black Rhino comes with a set of three safeties: an automatic safety against accidental hammer drop; a trigger safety; and a manual safety, to provide one of the highest levels of safety in a firearm of this class.

The Chiappa Firearms CBR-9 Black Rhino has been designed to allow both left-handed or right-handed operations: the slide stop release lever is ambidextrous, while the cocking handle, the magazine release catch and the manual safety are reversible.

The location of all key components within the upper receiver makes cleaning and maintenance a breeze. The weapon strips AR-15 style, easily and without tools, by simply removing the flash hider and the large passing pin located at the back of the receiver.

The Chiappa Firearms CBR-9 Black Rhino comes in a dedicated case with 4 magazines (two 15 or 18 rounds magazines, plus two 30 rounds magazines, depending on local laws and regulations), a magazine loader, a carry sling and a cleaning kit.

For further information, visit www.chiappafirearms.com