Top 5 Turkey Blinds for Gobbler Clobbering in 2019
Adam Scepaniak 03.25.19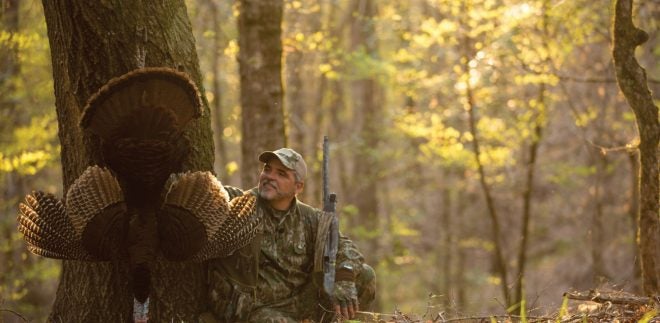 top 5 turkey blinds for gobbler clobbering
When it comes to hunting turkeys across the United States, most of us utilize a blind of some sort to stay concealed from our feathery prey. Whether you are chasing Eastern, Merriam, Osceola, or Rio Grande turkeys one of the best ways to hide is with a good ol' fashion turkey blind. The days of hard to see out of, bulky, and cumbersome blinds are nearly a thing of the past thankfully. Nowadays there are lots of options for lightweight, spacious, and even more creative blinds for hunters to pick from. We will walk you through a list of some of the hottest and most sought-after turkey blinds on the market and you can decide for yourself which one is best for you!
#5 – GhostBlind Predator Ground Hunting Mirror Blind
To kick off this list, we will start with the most unique and non-traditional blind you might not have heard of: a Ghostblind Mirror Blind. Kind of like the name implies, you essentially get a wall of durable mirrors that perfectly reflect back whatever type of surroundings you happen to be hunting in. It seems almost too simple to work and too rudimentary to be effective, but contrary to first impressions, it works great! The only downside to this type of blind is you are exposed to the elements (wind and rain). The luxury of enclosed blinds is you are likely willing to hunt longer if you are staying dry and hiding from the wind. An upshot though is the Ghostblind Predator Ground Hunting Mirror Blind only weighs 12 pounds. For the out-of-the-box thinking, lightweight nature, and an MSRP of $249, the Ghostblind claims our opening number five spot.
#4 – ameristep deadwood stump blind
This unique blind boasts a lot of the features everyone would hope for like a top-notch camo pattern, nearly silent opening doors, and quite a bit of space. The most intriguing characteristic though is its shape. In a world of square hub-style blinds the Ameristep Deadwood Stump blind has jutting edges, odd corners, and a generally weird overall shape – like a stump. For that reason, it might blend into nature better than anything else from the perspective of a turkey, but without knowing what is really going on inside a gobbler's noggin, we will truly never know.
At Ameristep, we like to build what should be impossible. Creating an authentic, lifelike tree stump blind was that kind of a mission. But after years of development, we got what we were after with the Deadwood™ kick-out blind. This is the most realistic portable tree stump blind you'll find on the market; its ability to mimic nature is undeniable.
The addition of kick-out technology not only adds room and maneuverability inside the blind, it also contributes to the Deadwood's realistic shape outside the blind. Further improving cover, all shooting windows display a natural, organic shape that blends with the environment. The windows have more than just the right shape – they have the right materials and functionality, too. Shoot directly through the replaceable shoot-through mesh, or adjust the silent window cover to customize your shot without making a sound. Finally, access the blind via the new hinged silent door for quick entry that retains your cover. All this combines to let you hunt your way without compromise.
This blind with its truly one-of-a-kind shape, spacious room, and unique camo pattern punches in at an MSRP of $459 for those who are interested. So what do you think? Is a deadwood stump blind clever enough to trick a turkey? Keep reading to see if this number four spot blind is your favorite or if others interest you!
#3 – BARRONETT BEAST BACKWOODS Blind
The Barronett BEAST Backwoods blind truly lives up to its name because it is without a doubt a beast! It is the clever marriage of two blinds in one giving you some of the most spacious room imaginable as far as blinds go. You can very comfortably seat up to 4 people in collapsible stadium chairs as well as extra gear. The trade off to this gargantuan size is weight. This blind weighs in at 33 pounds so it is definitely not light. So while it has an 80″ ceiling and over 68 square feet of room it is a bit much to haul around. At a full MSRP of $289 it claims our number three spot for blinds to get for turkey hunting this spring season!
#2 – HME (Hunting Made easy) Executioner Blind
The HME (Hunting Made Easy) Executioner Blind might not be the biggest name brand in hunting blinds, but they make one of the lightest ones on the market. When you are toting some decoys, a shotgun or bow, the blind, and potentially a backpack with more gear into the field pounds and ounces can begin to add up. The HME Executioner weighs only 16 pounds making it less of a chore to move around and merely an afterthought. With options of a 2-person or 3-person blind retailing between $129 – $169 it is not only light, but also affordable. Being lightweight and at a good price, this blind takes our number two spot.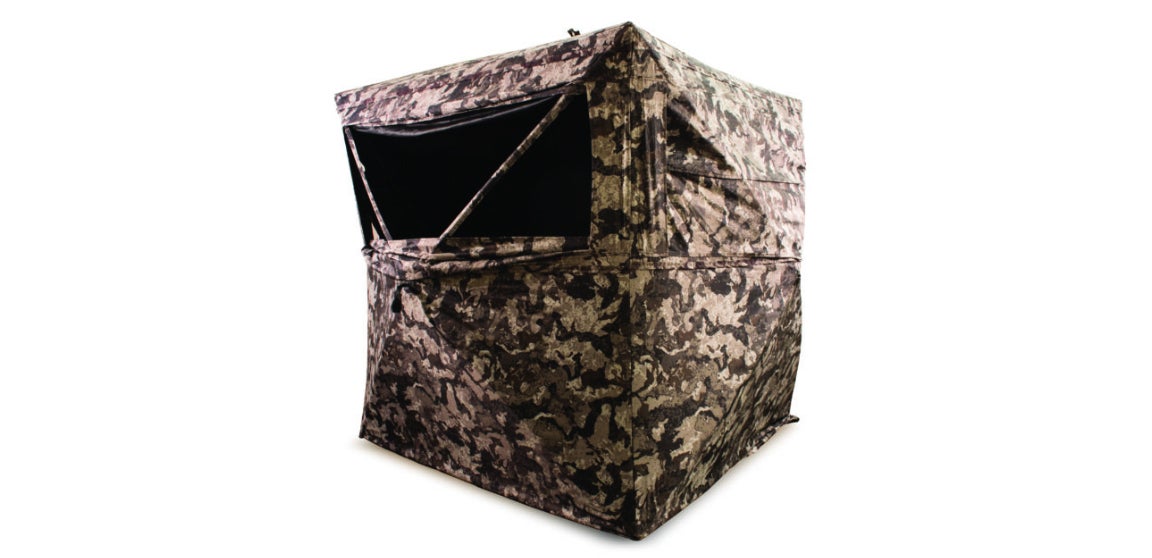 #1 – Primos Double Bull Surroundview 360° Blind
What has turned out to be one of the most heavily talked about and anticipated blinds in recent memory, the Primos Double Bull Surroundview 360° Blind is the talk of the hunting industry for 2019. It is being touted as the Blind Without A Blind Spot™ and it is holding up to that moniker perfectly. Whether you are new to blinds or a wiley veteran, there is one thing that typically is the achilles heel to every blind – a blind spot.
It's constructed with exclusive one-way see-through walls that let you see all of your surroundings without being seen. Now you can spot all the movement you miss with traditional blinds, yet remain just as concealed. The SurroundView 360° comes with four one-way see through walls with one movable black out wall to place on any wall you choose.
At an MSRP price of $499, it is on the spendy side for hunting blinds, but this one has already received the nod from hunters as likely the best blind ever. For that reason and all those previously mentioned, it holds down our number one spot.