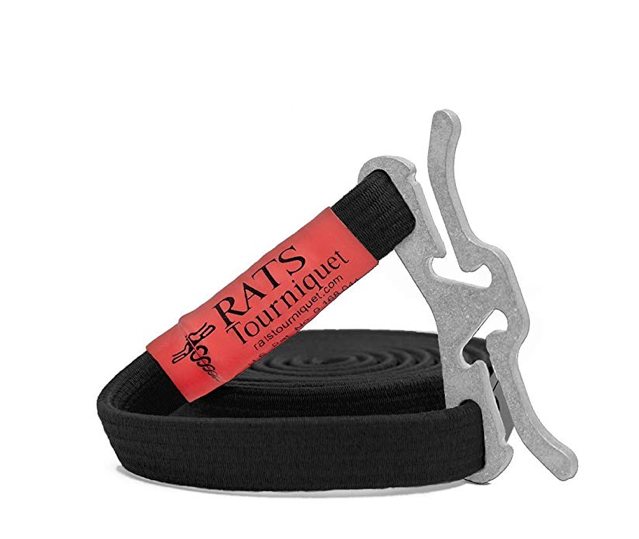 R.A.T.S.: Rapid Application Tourniquet System. This is one of the most awesome tourniquets on the market and tested in combat. It is invented and patented by a member of special forces, a doctor with multiple traumatic experiences under his belt. The R.A.T.S. Tourniquet uses a vulcanized solid rubber core with a nylon sheath, combined with a locking mechanism for swift application.
The R.A.T.S is:
Easy to learn and use
Simple design and allows use with one hand
Small and has a minimum space that will enable you to store them almost anywhere
The US Army Surgical Research Institute has proven its effectiveness in blocking blood flow to the upper and lower limbs.
Tourniquets were used in ancient Greece to prevent blood loss caused by traumatic injury. They always consisted of the tightened band to avoid the blood flow. A tourniquet can be composed of several common elements. However, when someone bleeds from a traumatic injury, building a rudimentary turnstile can be precarious and ineffective. If you are in a high-risk scenario, you should have the equipment tested with a professional turnstile and checked for effectiveness and safety.
Weighing just 2.8 ounces, the compact and lightweight R.A.T.S tourniquets can be packed up with a range of easily accessible methods, including elastic sleeves, bags, and even a R.A.T.S. sling. It can also be attached to the exterior of an EDC package and bounded with a simple rifle sling.
Tourniquets are an essential part of the first aid kit and first responder kits. Although they are rarely used, they can be a real remedy – all with minor consequences if they are appropriately used and where appropriate.  The most important thing when choosing a tourniquet is to pick the one that meets your needs and pass the proper security test.
R.A.T.S tourniquets are made from quality materials without complicated loops or belts. They offer a definite advantage in terms of flexibility, circulation of housing and swelling. Its unique and simplistic design makes application quick and comfortable when the number of seconds is taken into account, even in animals and young children. Its compact shape makes it ideal as a EDC option, first aid kit, and survival kit.
There are many tourniquets on the market, each with different characteristics and benefits. At just under $20, R.A.T.S tournaments are so accessible that you can choose to bring two.