Light Review: SureFire Sidekick Ultra-Compact Variable-Output LED Flightlight
AllOutdoor Staff 03.29.19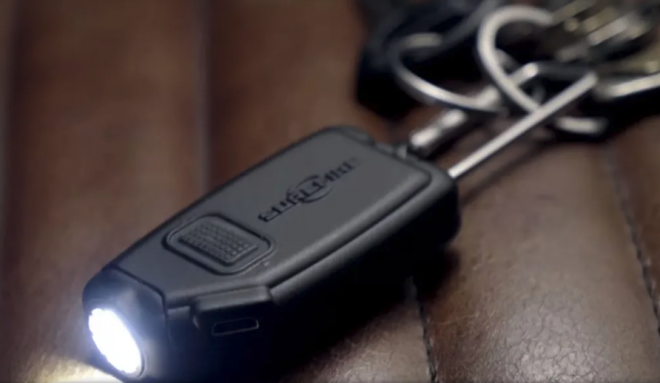 When you think of flashlight in the key chain, you might think of small and fragile products with poor performance, which are virtually not enough for daily activities. If you need something reliable with more power, the only option is usually a much larger and more intense light such as the SureFire Sidekick.
With SureFire Sidekick, you get high performance with a lightweight flashlight on the key chain. Its 2.5-inch ultra-portable size weighs just 2 ounces thanks to the construction of its polymer body, which makes Sidekick light enough to live on a key chain or rifle, but strong enough to withstand everyday wear and tear.
A high-end button interface provides easy access to all three levels: a low light duration of 5 lumens lasting 45 hours, an average usage average of 60 lumens and a maximum of 300 lumens unprecedented for a lantern. Considering these Specifications, Sidekick exceeds the lights that use much larger batteries and higher voltages. It uses a built-in micro-USB port to charge the built-in lithium-ion battery, making recharging easier, saving weight and preventing other cells from recharging. And while it may look like another key chain, Sidekick takes the key chain lamps to a new height. Get this portable Surefire pocket rocket at the next link.
Sidekick allows you to set the brightness sequence according to your favorite use cases. By default, the output sequence is reduced (5 lumens) – average (60 lumens) – high by 300 (lumens) by pressing the enable button. You can choose to set your sequence at a high level because, as a semi-defensive EDC element, you might immediately want maximum lumens to launch a threat. This sequence change can be made by following a few simple instructions provided with the SureFire product. Whatever your preferences are, the process only takes a few seconds.
Mode and User Interface:
Sidekick has three output levels: Low, Medium and High. From OFF, press the powerbutton to select Low, press again within 2 seconds to switch to Medium state, press again within 2 seconds after the last press to reach High, then close. If you use the Low or Medium function, if you wait more than 2 seconds before pressing again, Sidekick will stop (instead of going to the next mode and then OFF). There are no indicators on Sidekick lamps so whether it charging or not; it doesn't show rather Sidekick uses its main LED. For the discharged battery, the output drops considerably and begins to disappear. There is no sudden stop, so even if there is no real "warning," it is clear that it has very little energy.
For charging, the main led is used as an indicator. In USB mode, the LED blinks to indicate that the Sidekick is being loaded. During the charging process, the LED sometimes lightsup continuously for several seconds, then blinks in series. Finally, when fully charged, the main LED will always light up and stay lit as long as it is lit.
Surefire noted that the charge rate is set at around 450 mA, but it still seems to be faster than suggested in the instruction manual or indicates this information. In my experience (with a good charger), even exhausted, charging takes less than an hour.
There is parasitic drainage, but as the light is sealed, it cannot be measured. During normal use for more than six months, Sidekick has never been visibly drained.
For lightweight, Sidekick has fantastic performance. It is not completely regulated. However, the flow rate remains above 250 lm for 45 minutes, which is very impressive for the light of a key ring.
SureFire Sidekick Pros:
Excellent MaxVision range.
An output of 300lm for 45 minutes stable at the high.
Low-weight
Rechargeable via USB.
Comfort and stability.
Small and robust metal clip.
SureFire Sidekick Cons:
Easily mistaken for a car key
A built-in battery that cannot be replaced.
The main LED flashes and then continues to flash while charging.
Poorly visible in PWM
Bottom Line
Overall, given its small size, Sidekick is very convenient, comfortable and durable. The packages provided by each configuration are clean, bright and comprehensive enough to work as much as torches. Thanks to a convenient USB charging, combined with excellent operating life, Sidekick is a device that needs little thought from time to time to make sure it's ready when you need it.