Arc'teryx LEAF Assault Pack 45 Review
Cory Mince 04.01.19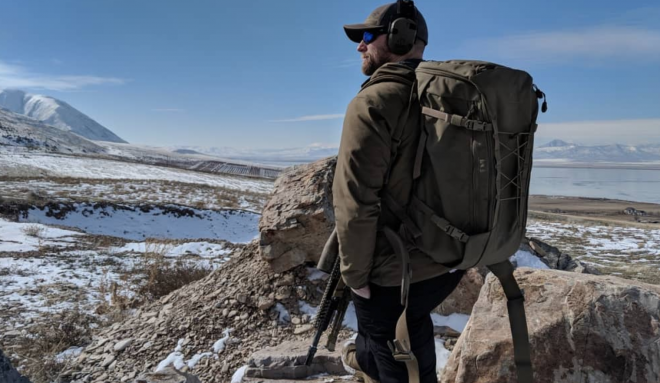 Arc'teryx has made a name for itself as a high-end, super high-quality brand of functional outdoor clothing and gear. They have a specific tactical line called Arc'teryx LEAF, which stands for: Law Enforcement Armed Forces. Arc'teryx is a pretty polarizing brand. It has become somewhat of a status symbol especially among the wealthy in mountain areas, regardless of their mountaineering prowess, and the same can be said for their LEAF line in the tactical arena. Because of the high price tag, and sometimes unskilled people wearing the gear simply for the look, some have come to associate the brand with people who have more money than competence. I have no strong opinion of Arc'teryx in that regard. My position with brands in general has nothing to do with who wears what label and has everything to do with the utility of the gear.
Since my time in the military has ended there has been a noticeable lack of assaulting in my life, but my utilization of assault style backpacks has remained constant. Whether I am hunting, shooting a match, making a day at the range, or storing emergency essentials in my vehicle, I have a middle capacity backpack with me, and usually a different one dedicated to each of these uses. Most of my backpacks are very obviously styled for hunting or tactical use, making them stand out anywhere other than the field or the range. I have been looking for a somewhat low-profile backpack that provides the same capacity (somewhere around 40L -50L), durability (high abrasion resistance), and overall functionality (store gear in an organized manner) as my other backpacks without being overtly tactical or otherwise stand out in polite society.
Appearance
Enter the Arc'teryx LEAF Assault Pack 45: a light weight, durable, comfortable and logically configured backpack. When first looking at the AAP (Arc'teryx Assault Pack) I noticed a conspicuous lack of PALS webbing. I wasn't immediately struck with the "tacticalness" of the AAP, which was a big plus. In fact, if I had received the AAP in the "wolf" color option, it would bear practically no resemblance to what is commonly seen as a tactical or hunting backpack.
I took this backpack along on a business trip that spanned numerous states, and through a variety of airports. I never got the feeling that the AAP did anything other than blend in with the crowd of skiers and other such winter sports enthusiasts on their way to and from a snowy vacation, and I was very happy about that.
Materials/Composition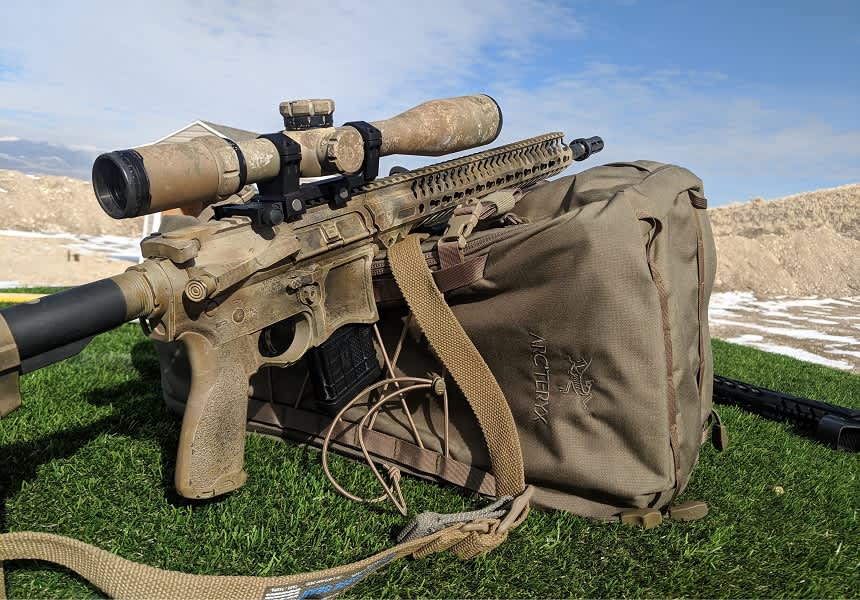 The AAP is primarily composed of 500d HT Cordura® in a plain weave. I'm sure most readers are intimately familiar with Cordura® products and likely have numerous pieces of gear made with the fabric. It is durable, and in 500d, is reasonably lightweight. The interior of the main pouch is lined on all sides with Velcro® for reasons that will be discussed later in the review.
Size & Weight
As stated previously, I own a number of packs in this volume category. I also own a number of larger and smaller backpacks, but none of them see as much use as my 40L – 50L backpacks. I find it a good compromise: it's large enough that I'm able to fit the essentials in addition to a number of niceties, but not so large that I'm tempted to over pack for most outings. If you want to go a more conservative rout, Arc'teryx has a 30L option as well.
The AAP weighs in at just over 4 pounds with all straps attached and falls right in the middle in terms of weight with mid-size packs I currently have. It would probably be a bit heavy if you intended on employing the AAP as a minimalist backpacking backpack, but it would be just fine if you were going to use it within the realm of its intended use.
Shoulder Straps / Waist Belt
When I first saw the narrow shoulder straps and tiny hip pads, I thought the AAP would be very uncomfortable especially if worn with any kind of load over any extended duration. After a number of range trips, intentionally wearing the pack almost the entire time, shooting and moving, donning and doffing, I found the AAP to be remarkably comfortable. I was particularly impressed with the hip belt. The minimalist style hip pads, which Arc'teryx calls "hip pods", are concave pieces of foam that conformed very nicely and boreweight very well.
Pockets/Organization
The features I liked the most about the AAP had to do with organization. It has a small zippered top pocket with a retention lanyard which I use to retain my keys, a main pouch, and 2 side pockets that can accommodate a 3L water bladder. None of these features are super impressive or unique; It's what is inside the main pouch that sets the AAP apart from the rest of the backpacks I have.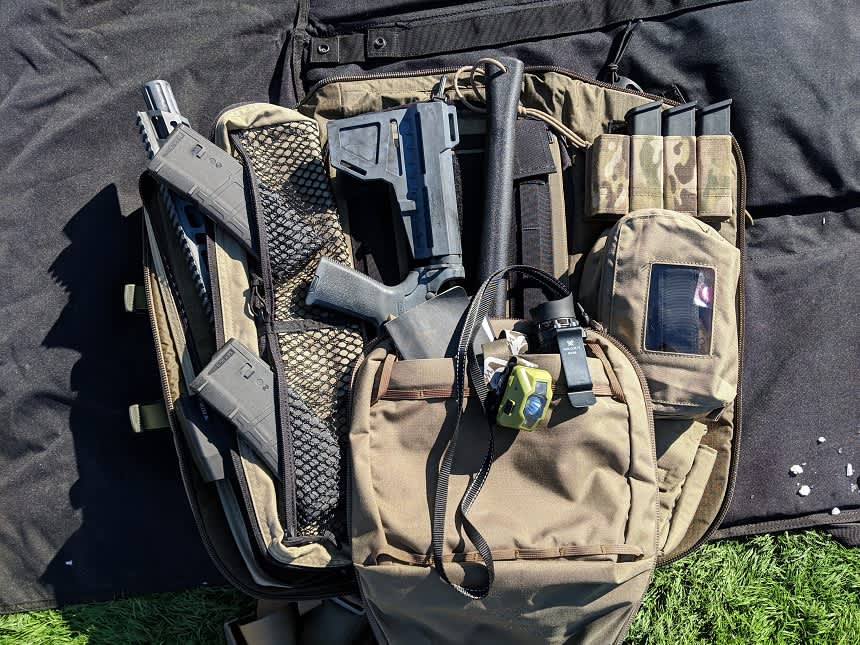 The main pouch double zipper allows access to any location within the main compartment, and can, when unzipped along its entire path, completely expose the inside of the main pouch on all sides. This concept could spell disaster if not for the addition of Velcro® along almost every square inch of the interior of the main compartment, and no, it's not for your morale patches. The Velcro® allows you to attach any number of Velcro® adorned pouches, in nearly any size and shape you like, to the inside of the main compartment, keeping your gear neat and organized, and easy to access at the same time.
I'm sure many readers have had the experience of trying to locate one small piece of gear and having to dump nearly your entire pack to find it, then repack everything. This is particularly frustrating and even dangerous during periods of inclement weather or at times when speed of movement is required.
The AAP addresses this common issue extremely well and provides efficiency where efficiency is needed most.
Price
The MSRP for the Arc'teryx Leaf Assault Pack is $499.00. That's quite a chunk of change for a piece of gear that isn't magazine fed. I do feel, for my needs anyway, that it's worth it, which is why I am buying one for myself with my own hard earned money.
Conclusion
If you're after a mid capacity backpack that is a solid 10 in the categories of fit, comfort, efficiency and organization, then I would strongly suggest considering the Arc'teryx LEAF Assault Pack. It would be an excellent option for a day pack, get-home-bag, carry-on, and of course, assaulting.