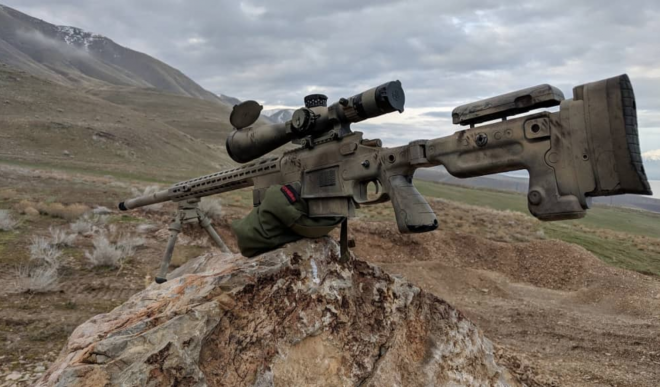 When I started shooting matches about a decade ago, the Leupold Mark 4 was the gold standard in long-range precision rifle scopes. This was before the majority of opticscompanies bought into the idea that reticles should speak the same language as turrets and the reticle should also reside within the first focal plane. The most common configuration was a second focal plane Mil/MOA scope in the the 4-16x power range. There was the occasional Schmidt & Bender or USO FFP scope, but the majority of opticson the gunline were either Leupold Mark 4s or Nightforce NSXs.
At that time I wanted a Leupold Mark 4 more than just about anything, but I was a poor college student fresh out of the Marine Corps, and could only afford a Mil/MOA SWFA Super Sniper to put on top of my Remington 700 PSS. That setup worked well enough until I had the means to upgrade, and by that time I was able to pick up a used Premier Heritage 3-15, which was an FFP Mil/Mil scope. From that point forward I couldn't see myself using any scope that wasn't FFP and didn't at least have a reticle that spoke the same language as the turrets, which eliminated the Mark 4 from the list of desired optics. In fact, it wasn't until Leupold released the Mark 5 series that I was interested in any of their long range offerings.
Leupold Mark 5HD Specs:
Below is a quick overview of the most pertinent specs for the Leupold Mark 5HD:
Magnification: 5x-25x
Objective Lense Diameter: 56mm
Weight: 30oz
Length 15.67"
Eye Relief (high/low): 3.58" – 3.82"
Adjustments: 0.1 Mil / 0.25 MOA
Scope Body Diameter: 35mm
Total Elevation Adjustment: 120 MOA
Total Windage Adjustment: 60 MOA
Focal Plane: First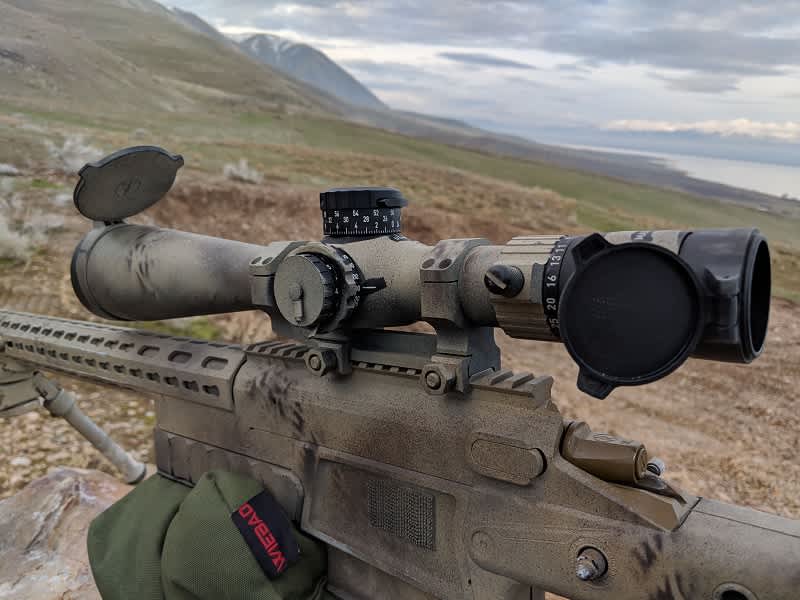 For the most part the specs are right on track with what precision rifle shooters are looking for; plenty of elevation adjustment, reasonably light weight (especially for its size), reticle and turrets that agree, and so on. There is a point of confusion for me, however, and that is the scope body diameter. For a number of years the standard scope body diameters were 1 inch, 30mm, and 34mm. There was a period where a few scope makers built 35mm scopes, and some oddballs that were even 40mm (IOR), but that has mostly gone away in favor of a 34mm body for most long-range precision scopes. Even a number of low power variable scopes are built with a 34mm body. I'm sure there is a good reason for it, but I can't figure out why Leupold decided to go with a 35mm scope body. It seems a bit odd, and is certainly inconvenient to have to buy a pair of rings specifically for the Mark 5 that probably won't fit any of your future scopes.
Reticle Options:
The Mark 5HD comes with a good variety of reticle options in both Mil and MOA, which include some Horus offerings (for those of you who are into that sort of thing), and one of my personal favorites, the TMR reticle. Whether you want a super clean and simple reticle, or one with more grid space than 6 halves of a waffle iron, the Mark 5HD likely has a solution for you.
Turrets: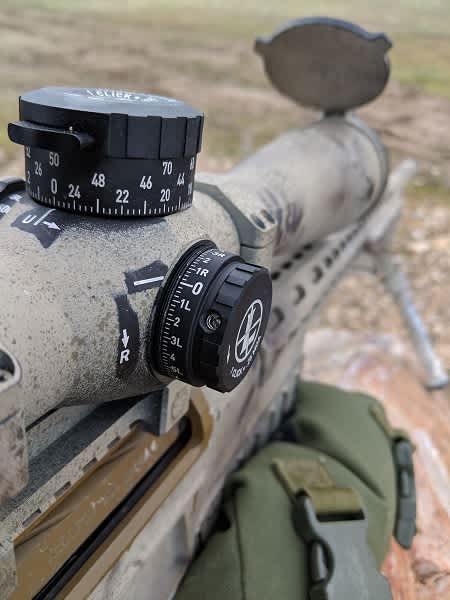 The MOA turrets have 25 minutes per revolution, and the Mil turrets have a very odd 10.5 Mils per revolution. The only reason I can think to have a fractional amount per revolution on the Mil turrets is to be able to stagger the numbers per revolution printed on the turrets.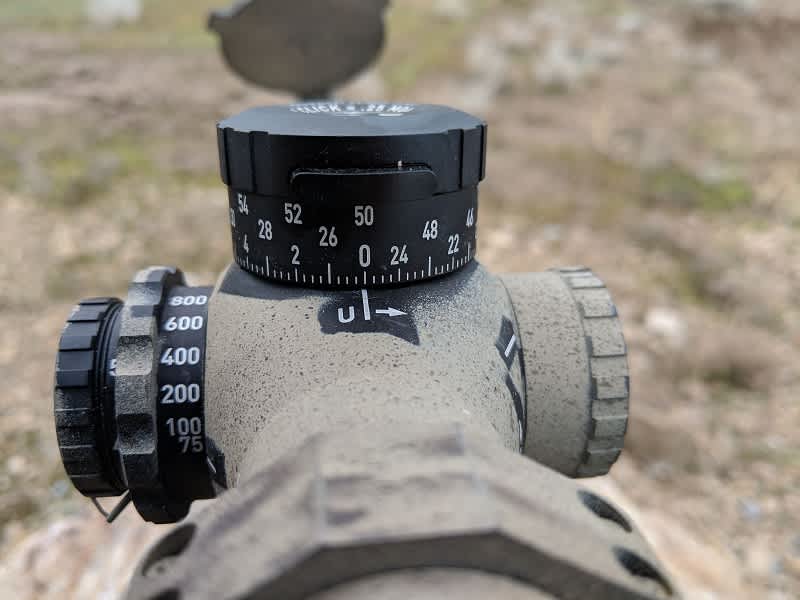 The clicks are just fine: reasonably tactile and audible. The elevation turret has a lockingbutton that, once depressed and started turning, remains unlocked until the turret is returned to zero. The windage turret is capped and has somewhat softer clicks, which is fine by me. I rarely dial wind at the range or in a match except in conditions of sustained high winds requiring me to hold 1.5 Mils or more. Having a capped turret just provides that much more stability to the system.
Magnification:
Just about every long-range scope manufacturer has a 5-25 power scope somewhere in their lineup, and they do for a reason. Rare are the times when a precision shooter needs more or less magnification. Adjusting the magnification on the Mark 5HDs I've handled has been nothing but pleasant. The adjustment ring includes a somewhat abbreviated throw lever with nice rounded edges that allow the shooter to span the entirety of the magnification range without having to reset their hand. The round edges of the throw lever are a particularly nice touch as I have often chewed up the thumb on my right hand while quickly cycling the bolt. In fact, I have removed the throw lever on one of my high end scopes for that very reason. No such issue with the Mark 5 HD.
Conclusion:
I like the Mark 5HD quite a bit. I find it difficult to find fault in this scope for anything other than the body diameter, and I believe that most precision shooters would be making a wise choice in dropping one on their primary rifle, or any other rifle for that matter. With prices ranging from about $2,000 – $2,800 depending on reticle options, it makes purchasing a more expensive scope much more difficult to justify.