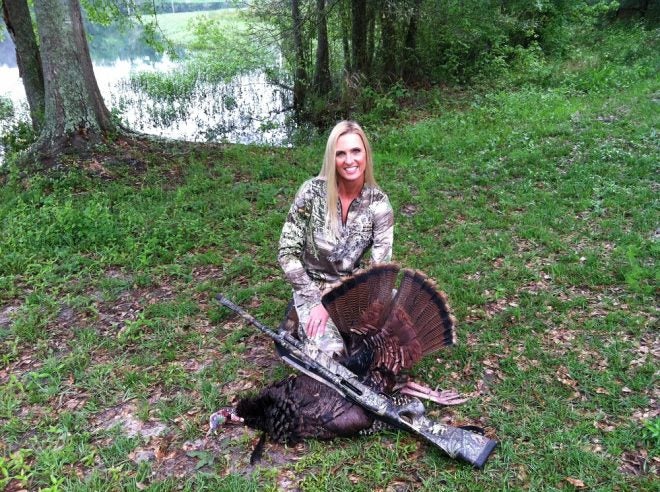 Admittedly this is not so much about the best weather conditions for hunting turkeys, but a discussion of what types of weather turkey's hate. Anytime you hunt or go outside you are subject to the whims of Mother Nature. Sometimes she is in a good mood, but many times she can turn the table on you. If these environmental conditions prevail, you might want to sleep in.
The wild turkey is a finicky bird. The old saying about turkeys is that "turkeys think every stump is a man" so they walk around in the woods scared all the time. I say turkeys are not smart, they are just paranoid. When it comes to weather, they are pretty selective on when they like to gobble, come out of the woods, strut, and chase hens. Knowing these factors helps hunters to be more successful.
A good weather day for hunting turkeys is a classic bluebird day. Cool, crisp air, no wind, no rain, no thunder, no noise and no human movement. Of course, you'd think that would be pretty limiting and sometimes it can be. Naturally though, you can't challenge a gobbler sitting at the house in the recliner, but some weather can really make it difficult to take a gobbler.
Turkeys hate wind. When they come off the roost at daylight, a stiff wind worries them to death. Turkeys worry every second about be attacked by a predator. If they cannot hear, they don't gobble or move around. They sit tight. A whipping wind also makes it more difficult to get a call to penetrate a leaved out spring turkey woods. In these cases use a box call and really crank it up.
Besides wind, gobblers rarely call when a rain is pouring. Now, just before a rain front or just after can be a good time to be in the woods. I have heard gobblers gobble at thunder, but it really isn't a secure time to be in the woods. If the rain is just a mist, then go hunt. Set up on the edge of an open field and keep a keen eye out.
A cold morning, and I am talking a spring freeze almost always shuts down the gobblers. I've hunted in falling snow, but nothing moved. When the snow stopped, the birds started moving.
Turkeys are strange. They like pretty spring days, but get shy when weather turns nasty. So, monitor the weather reports and be ready to react to it. If the rain and wind stops, better get into the woods.