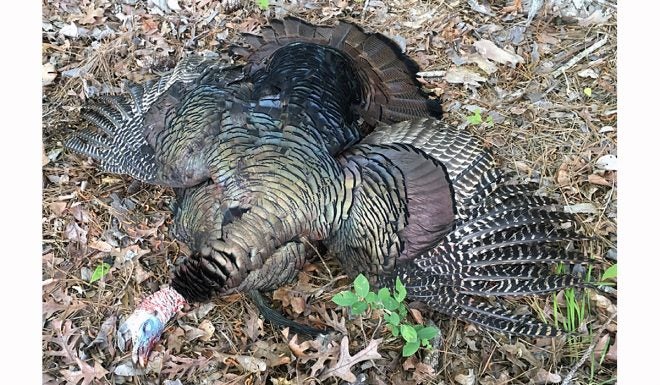 It was a heck of a turkey hunt. Uncle Jimmy had just passed away — the same uncle to whom I'd dedicated the gobbler I'd bagged on an earlier hunt — and I was trying to get my mind right. Losing a loved one is tough and requires adjustment… and in my experience, there's no better place to do that than in the woods hunting. So I'd grabbed my gear and headed for the hills.
Just Missed Him
On my first morning, I set up and heard a lot of turkey calls, and 40 minutes after I typed in my notes, "I think it's coming." I failed to take a gobbler when it popped out at the end of the trail I was set up to watch. I blew it on two fronts: didn't have my gun in my hand, and I wasted a few seconds looking for his beard. A couple hours later, I missed a strutting longbeard that turned out to be out of range.
After hearing some more birds, I headed in for lunch and spent that afternoon and the next day working on a roofing project.
Success!
The next morning found me back in the same neighborhood where I'd blown it a couple days earlier, drawn there irresistibly by some daybreak gobbles that originally seemed closer than they really were. This time, I slipped down through the creek bottom I'd stopped short of before, and set up within easy earshot of two or three gobblers that were hollering their heads off. I got settled there at 6:55 and commenced trying to call in one of those toms.
I'd been hearing a passel of yelps and gobbles, naturally adding my own plaintive calls to the mix from time to time. I sat on my little folding stool with my shotgun shouldered, savoring the excitement and anticipation. And then one of those cute little tree-sweeping birds landed on my gun barrel and eyeballed me for a few seconds, worm in beak, before moving on.
That was pretty great. My late father loved those little birds, and the shotgun was his own well-worn 1930s Browning over/under. It was a really nice moment that couldn't have happened anywhere else.
I'd just about decided that the pair of loud gobblers I'd been hearing northwest were henpecked by the loudmouth yelping hen I kept hearing, when I heard a gobble from the west, a little louder than before, at 7:27. Another gobble quickly followed from the same place.
I got ready for the bird to come, and stayed quiet. As you may know, time moves differently when you're hunting, and it seemed like I'd been sitting there for quite a while. I reached down with one hand and yelped a little with my Quaker Boy Double Easy Yelper, and a louder gobble sounded to my west. He was getting closer! I readied myself, shotgun shouldered, and waited.
He didn't come. And then he gobbled and sounded farther away. Still, I waited. And then I slipped that Quaker Boy call between my knees so it would be right at hand and made a few yelps with it. The answering gobble dang near blew my hair back!
Seconds later, he was suddenly in sight, strutting like a king! I could see the large mature gobbler through a screen of brush, and turkey fever almost made me shoot too soon. I had to talk myself down and make myself wait. He's coming closer! Take your time! Wait for it! So I let him come a ways.
Then he posed in the open and stuck his head up and I had to take the shot. I covered his head with the old shotgun's bead and let him have it! He fell like a sack of potatoes — beautiful, wonderful, colorful, shimmering potatoes — and I quickly hustled over to him. The stricken tom didn't even flop until I got there, paused to thank God, and grabbed him by the feet. Then he went nuts.
His mad reflexive wing-flapping pulled his feet from my grasp and I had to run him down and stand on his head while he flopped, breaking a wing feather and losing a few others in the process. It was rough, but SO worth it.
I'd dropped the hammer at 7:38, so the wait hadn't been so long after all. The fine old bird weighed just shy of 22 pounds and wore inch-and-a-quarter spurs and an 11-inch beard.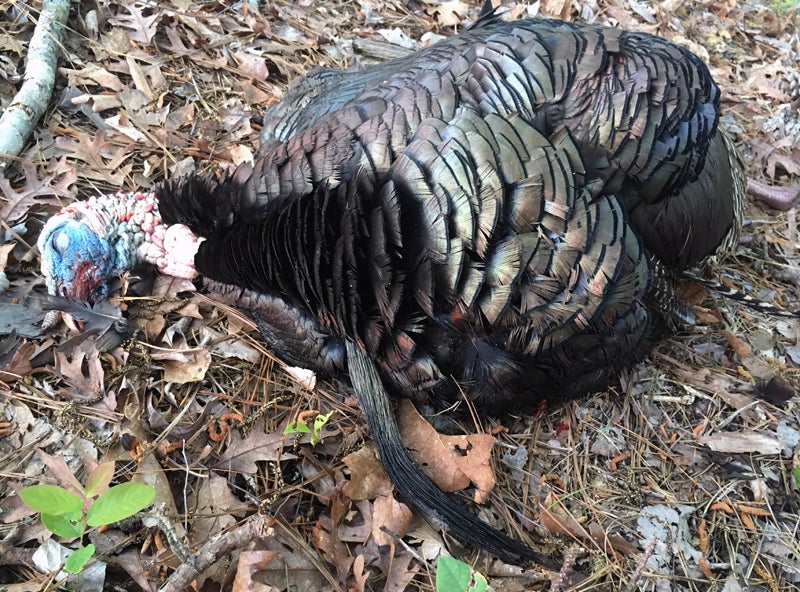 It was an excellent moment and I savored every bit of it, but I sure did miss being able to text Uncle Jimmy to tell him about it.
Can't Stop
I hit the woods again that evening, but nothing was going on. The following morning was typical in that I heard several gobbling birds, all distant and hard to locate, and even managed to spot one at long range, but just couldn't get anything to go my way. After making a run to town, I took the afternoon off from hunting.
The following morning began with numerous loud gobbles within reasonable distance of my starting point. I decided to try the one that sounded like it was already in the dove field, so I slipped that way. I soon glimpsed him through the brush strutting like a champ, so I hunkered next to the trail, called, and got ready to shoot him when he came running.
Instead, he promptly evaporated.
In reality, he'd simply ignored my calls and changed direction. I carefully slipped up closer and saw a hen fly down off her roost into the field. I eased even closer, keeping behind a goodly screen of leafy brush, and there was the gobbler! As before, he was strutting like he owned the world. I waited until he was turned the other way, then I slipped up behind a sweet gum tree for cover. I gave a few soft yelps and he started coming my way.
He would come a bit and stop, then repeat, mostly while strutting. Finally I thought he was close enough, but I guess he wasn't. When I dropped the hammer, he and at least one hen hightailed it into the woods. The shot hurt my cheekbone, so I must have been holding the gun wrong also. Turkey fever had stricken me again.
After finding no sign of a hit, I heard yet another gobbler and headed that way, but never even laid eyes on it. I then worked my way through the woods until I was hearing a loudmouth gobbler who refused to shut up or even move — until he did. Shut up, that is 45 minutes later.
So I moved on and scared a big silent blue-headed gobbler out of a field as I approached it. I heard some more birds, but failed to get any results or even lay eyes on them, so three hours after I'd missed that easy shot, I headed back to camp. The rest of the day was spent doing chores and trying some Liberty Ammo at the range.
The Waiting Game
The next morning dawned with a loud chorus of gobbles from the same place I'd screwed up the day before. At least two and maybe three gobblers just yelling their heads off. I eased up close and finally determined it was at least two gobblers, both still roosted up in a tree just off the edge of the field. I eventually worked my way as close as I dared and hunkered down to wait. And wait. And wait.
They just stayed up there, gobbling every now and then for more than two and a half hours. In the meantime, I'd tried everything I could think of. I had even entertained the brief hope that a passing hen would lure them down into the field, but no such luck.
I'd completely stopped calling after texting an experienced turkey hunter friend who said they'd stay in the tree as long as I kept calling. Thirty minutes later, one of the birds flew down into the field. I heard the flydown and got ready. Finally, all the waiting and anticipation was about to pay off!
I caught a slight movement in the field, then a big red head popped up! And I should have fired at that instant. But it took a step towards me, passing behind an 8" tree. I got ready for it to emerge, stoked to drop the hammer and take a limit of gobblers for the first time ever!
That. Bird. Never. Stepped. Out.
It must have turned and walked straight away from me, because I sure never saw it again.
So there went 2.5 hours of my life. Kinda rough, but it sure beat going to work. I didn't have the heart to try it again that afternoon.
Last Chance
The next day would be my last turkey hunt of the year, and it started slowly. Oh, there were plenty of gobbles, just nothing close. And it was tough to zero in on any. I finally chose a direction and began working that way, covering a good half-mile before finally focusing on a single gobbler. A half-mile later, I was more or less in that bird's neighborhood, and it was most likely the same gobbler I'd given up on a few days before, when it remained anchored in one spot and refused to move.
My first setup was a good ways short of him, and he refused to fly down. So after 30 minutes of trying, I began creeping through the woods towards him. It was a grueling stalk, and for an hour and a half, I eased and stopped, eased and stopped, slowly closing the distance until I knew I'd be spotted if I moved any closer. I settled down, waited a few minutes, and yelped. As usual, he gobbled. Then two minutes later I heard him fly down!
He gobbled numerous times from the same place. He was just as solidly anchored as he'd been before, just on the ground instead of in a tree. And he refused to come any closer. Instead, he loitered and gobbled and drove me mad.
After 20 minutes, I made a short move as if I was leaving the area and called. He gobbled once and that was the end.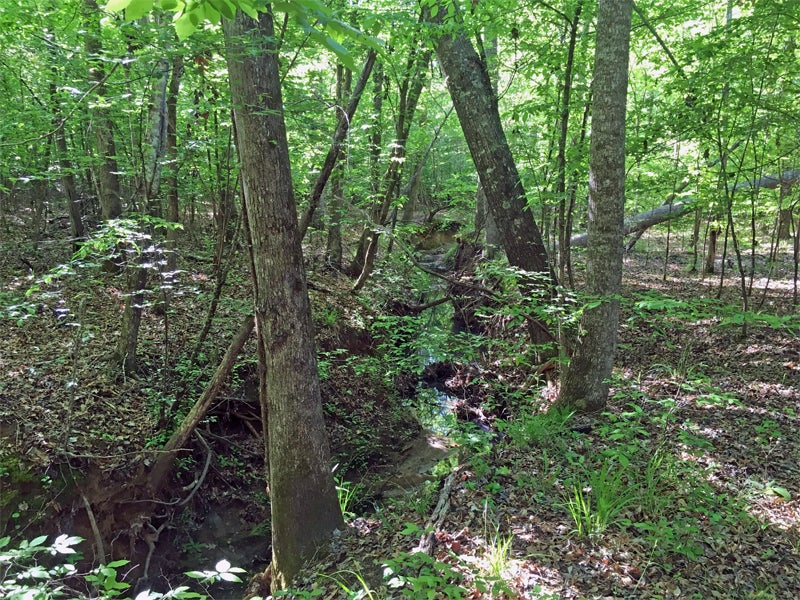 It was probably the most tedious stalk I'd ever attempted, and in the end it was unsuccessful, but it had taken me through some of the most beautiful woods in the world.
It'd Been a Great Hunt
It was time to pack up hunt camp until deer season and head on back to real life, including Uncle Jimmy's funeral. It had been about as good a hunt as I could have hoped for, and I'd bagged a nice big gobbler and enjoyed several exciting mornings while working my way through the grieving process.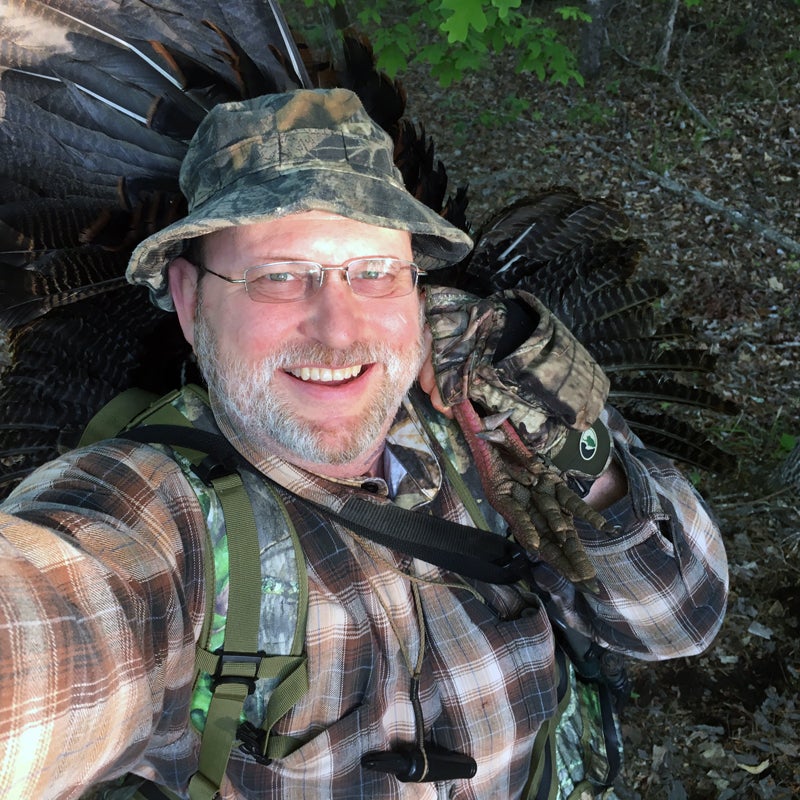 When you need to heal up and recharge, there's just no better place than the woods and no better time than hunting season. I felt somehow lighter as I pointed my old truck towards home, silently thanking the birds that had provided me with so many ups and downs.