Pair of Drunk Guys Shoot Each Other in Bulletproof Vest
Russ Chastain 04.08.19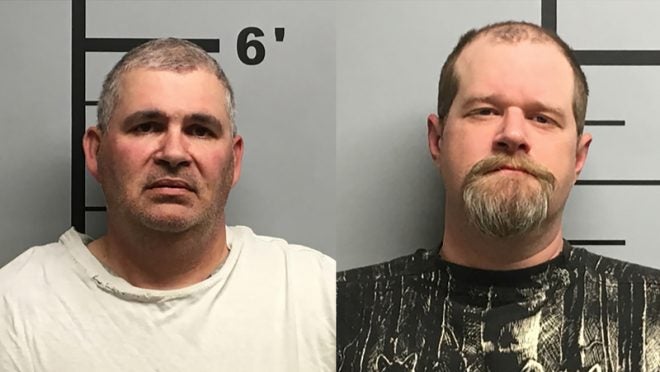 In yet another example of what not to do, we find two humans who were reportedly arrested in Benton County, Arkansas after deciding to shoot one another while wearing a bulletproof vest. While this is quite stupid, it was undertaken voluntarily so I don't understand why it's illegal.
Not surprisingly, the two geniuses (50-year-old Hicks and his neighbor 36-year-old Ferris) had been drinking when the fun began.
Ferris was wearing a bulletproof vest and told Hicks to shoot him with the vest on.

Hicks shot Ferris in the chest one time with a .22-caliber semi-automatic rifle, according to the report.

The bullet hit Ferris in the top left corner of his chest, and the vest stopped the bullet. The shot still hurt Ferris and left him with a red mark on the chest.

Ferris then took the vest off and Hicks put it on.

Ferris was angry about getting shot and how much it hurt, so he "unloaded the [magazine] into [Hicks]'s back," according to the report.

None of the rounds penetrated the vest, but Hicks suffered bruises.
Ferris went to a hospital for his "red mark on the chest" and someone there called the police. When they arrived, Ferris conjured up a silly lie.
Ferris initially told deputies a story about being paid $200 to protect an "asset" and that he was shot [while] guarding the "asset" from a man wearing a white suit near a bicycle/walking trail.

Ferris later told deputies about drinking with Hicks and how they shot each other with bulletproof vests on after deputies spoke with Ferris' wife.
It's clear that both of these guys are less-than-brilliant, but it makes no sense to arrest them. All the same, the article says, "Both Ferris and Hicks were arrested on suspicion of aggravated assault. A court hearing is planned for May 13."
What kind of country is this where two drunken guys can't fake-shoot one another?