Smith & Wesson Donates $32,000 to Pioneer Valley USO
Adam Scepaniak 04.09.19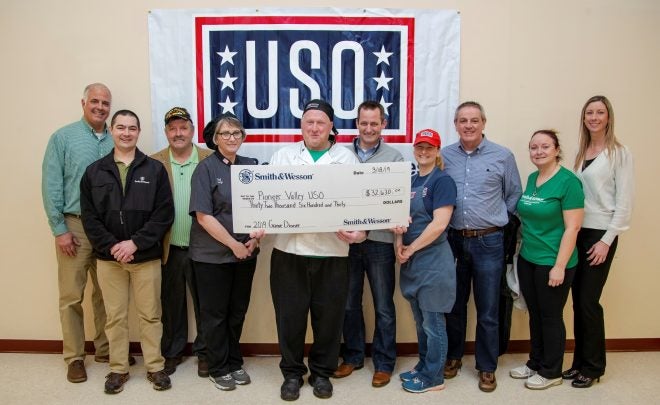 Every year Smith & Wesson hosts a big-game dinner to benefit a local chapter of the non-profit USO (United Services Organizations) to support our military. This year, like many in the past, was a tremendous success for the Pioneer Valley USO! Smith & Wesson had this Press Release to share outlining the entire event as well as some quotes from the USO and their own staff:
SPRINGFIELD, Mass., March 28, 2019 – Smith & Wesson Corp. today announced that it has contributed over $32,000 to the Pioneer Valley USO.  Proceeds raised from the company's annual Game Dinner have benefitted the Pioneer Valley USO and its programs supporting American military personnel and their families for over a decade. Armed forces members and families access the USO for social, recreational, educational, and entertainment programs and services.

David Mendoza, Pioneer Valley USO Board President, said, 'We always appreciate the tremendous support this event receives. We are honored to be the recipient of the funds raised from the annual Smith & Wesson Game Dinner. This event is a wonderful opportunity for the USO to raise awareness of our presence in the Pioneer Valley and provide needed support to our military personnel and their families in Western Massachusetts.'

At the annual event, Smith & Wesson Game Dinner attendees enjoy a variety of wild game dishes prepared by a team of dedicated volunteers.  One of the most popular events of its kind, the Game Dinner hosts nearly 500 guests and this year featured menu items including pheasant, elk, bear, boar, moose and venison. Led by Chef Norm Boucher from the Chicopee Comprehensive High School's culinary department, volunteers created dishes like Antelope Meatballs Marinara, Southern-Style Pulled Boar, Pot Roast of Maine Black Bear, and Wild Bird Pot Pie. In addition to the food preparation team, Smith & Wesson volunteers donated over 500 personal hours to make the event a success.  The game meat was donated by hunters affiliated with Smith & Wesson, Foggy Mountain Guide Service, and Linx Wildlife Management, among others.  This year's event included a limited number of sponsorships giving local businesses the opportunity to show their support. Big Game Sponsor, Thorn Industries of Three Rivers MA, as well as other area businesses provided additional support for the USO.

Mark Smith, President of Smith & Wesson's Manufacturing Services Division, said, 'It is always wonderful to see such a dedicated team of volunteers come together for this event year after year. We want to thank our volunteers and generous contributors who support this event and the Pioneer Valley USO, which offers critical aid to American service personnel and their families.'
Those interested in supporting next year's dinner should contact Elaine Stellato, Smith & Wesson Community Relations Manager at (413) 747-3371 or at [email protected].