This Cannon Uses Shotgun Primers and Nothing Else
Russ Chastain 04.12.19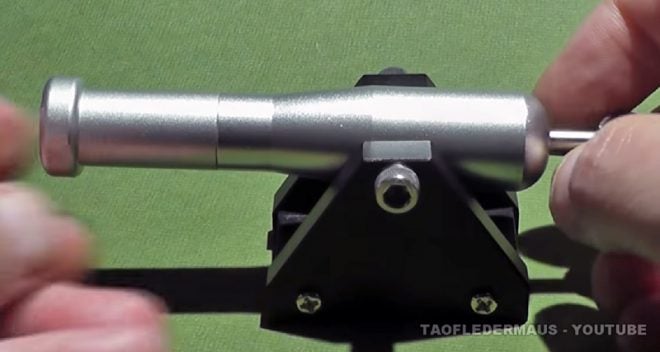 Taofledermaus has been on YouTube for ages, and comes up with some interesting stuff. Here we have a tiny cannon, dubbed the "3 IN 1" by seller (manufacturer?) Pyro Creations. It comes standard with a .22-cal barrel — that's sized for .22-caliber airgun pellets, not bullets — and you can buy their optional .17- and .30-caliber barrels to make it live up to its name.
Unlike the little black powder cannons I always wanted but was too poor/cheap to purchase or feed, this little rascal is fueled by nothing more than 209 shotgun primers. These primers are readily available for reloading shotgun shells or for use with modern muzzleloading rifles, and it shouldn't be too hard to find them. As he says in the video, you can find them "at any real sporting good store (not Dick's)."
The 17 barrel works great for BBs and .177″ pellets, the 22 for .22″ pellets, and the 30 works with .30-cal lead balls. In the video they even fire a .308-cal rifle bullet, which does plow through a tactical lemon but begins to tumble in short order.
You cock it, unscrew barrel and add a primer, screw the barrel back on, then seat a bullet or some other projectile in the barrel against the primer using a ramrod. After that, you're ready to rock!
All in all, this is super powerful for something that's just fueled by primers. Sadly, I probably wouldn't have gotten one of these to play with when I was a kid, and that may be why I'm still alive now. It's really more of a grown-up's toy.
He even tests velocities:
.30-cal ball: 330 FPS
.22-cal pellet: 472 FPS
.17-cal pellet: 702 FPS
Cool.
So if you're wondering what to get me for my birthday (or whatever!), one of these with a full set of barrels would do just fine. Please and thank you!