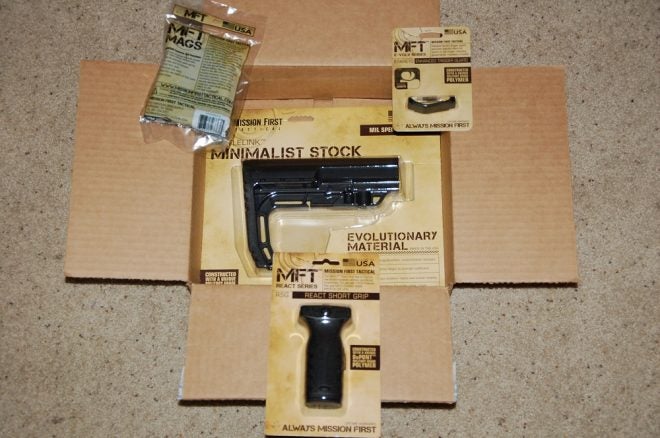 This is a little like the monthly wine club or the once a month delivery of custom cigars, or other subscriptions that brings stuff right to your door. The difference here is that the TacPack Box by TacPack of Columbus, Ohio is a monthly service that brings all kinds of cool gun and tactical gear on a regular subscription basis. They call it a "Tactical Gear Subscription Box."
The TacPack guys are shooters. In fact they are competitive shooters that have a sense of what kinds of gear and tactical equipment other shooters want. So, each month they package a grab bag of goodies and send them out. Though you never know what you might get in the box, all the items far exceed the street value of the enclosed items. It truly is a good value.
All of the items put into the TacPacks are geared toward shooters, survivalists, preppers, EDC (Every Day Carry) and related supplies. Every piece is useful, practical, and professional grade gear. There is no simple, cheap, swag. All the gear is top notch.
For example, this year the February TacPack Box included gear with a value of $150, but only costs the subscriber $49. The TacPack people choose very carefully the gear items they include in their boxes. They want the subscription participants to feel confident that they will get good value in the items placed in the boxes.
TacPack picks a number of top product brands including CRKT, 5.11 Tactical, Magpul, Readyman, Kershaw, X Tech, Mission First Tactical, Armaspec, Gerber, Design Hex and many more. As you can see, they choose some of the best brands of gear available today.
Each month the box contains a mix of products, though the box could have a common theme for that month as well. The sample box we received to check out included items to dress or enhance an AR-15. The Mission First Tactical gear included a vertical forend grip, a 10-round 5.56 poly magazine, an enhanced trigger guard, and a Battlelink Minimalist Stock with mil spec buffer tube. A nice set of AR-15 accessories that any rifle owner would love to have.
The March box contained an AR-15 Gunblocker lock, a ReadyMan Training Lock, 8" Bullseye Splatter Targets, and a MFT M-Lok Quick Detach Sling Mount. All quality items and useful to any AR shooter.
So, if you are a shooter, survivalist, prepper, or adventurer that would love a surprise gear box to come to your house every month, then check out TacPack. You can study their site and subscription program at www.tacpack.com.