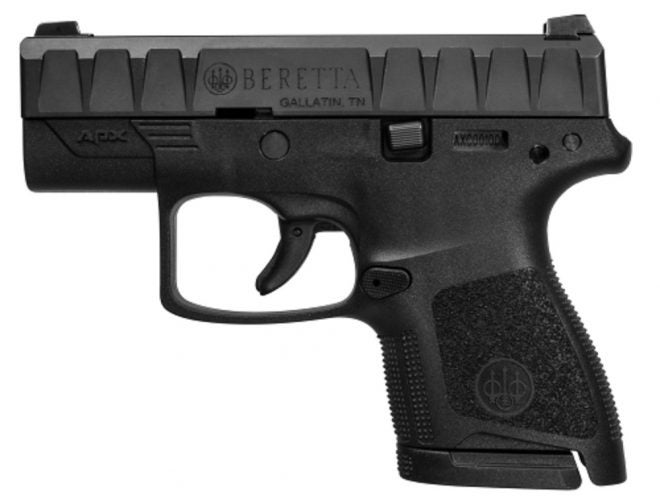 Long live Beretta I guess is highly appropriate for the longest existing gun manufacturing company in the world. Renowned for premium shotguns, hunting rifles, and the pistol that armed the American military for years, not to mention many models for civilian consumption, Beretta is bringing out a new line of pistols to augment their Model 92s.
The APX series features a family of handguns sized for various missions and applications. All are striker fired guns in the popular and easy to find 9mm chambering. Their latest version is the "Carry" model designed in size and weight specifically for concealed carry. This handgun is a single stack which Beretta classifies as a sub-compact model.
The APX Carry will be delivered with a standard 6+1 magazine that has a flush fit to the grip. An 8+1 extended profile magazine will also be included with the pistol. The overall design of the APX is focused on its ergonomic styling to fit the vast majority of military or law enforcement shooters as well as the general public.
The removable chassis is serial numbered so that the unit can be changed out with replaceable grip frame housings. This allows a measure of user customization so the handgun fit can be maximized for each individual shooter. The low-bore axis adds to easy, controllable shooting by producing a lower felt recoil and an ideal point of aim. Pistol controls are within easy reach including the slide catch, and magazine release.
In appearance the APX Carry and series has a very rakish look with very aggressive slide serrations for easy slide charging of the pistol. These serrations are positioned on the slide both front and rear. Upon handling the APX Carry, shooters will quickly enjoy the grip able slide design and find that cycling the pistol quite easy and comfortable. A smooth DAO trigger also enhances ease of shooting and high accuracy results at the range or on the street.
The Beretta APX Carry will be available in color variations of flat dark earth, wolf grey, which is quickly growing in pistol color popularity, as well as an OD green. One presumes the Carry will also come in black, but pistol specifications do not point this out specifically. Combat type sights are standard.
Retailing for an MSRP of $450, the Beretta APX Carry offers a good price point for a high quality pistol. To be debuted at the annual NRA meeting this month, dealers should be getting these pistols in stock now.