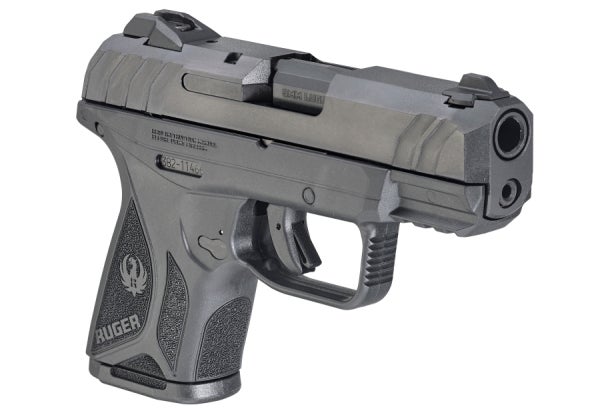 Ruger has been paving the way for the development of compact pistols for some time now. Their LCP I and II as well as the Security-9s have been top sellers for people wanting an easy to handle, easy to conceal personal protection firearm.
Ruger is now offering their popular Security-9 in a compact version. The little brother to the full-sized Security-9 is not only smaller, but also lighter even more concealable either on person, at home or in a vehicle. The "9" compact remains chambered for the ever universal 9mm so it will certainly attract a large number of interested handgun consumers.
Coming in on the scale at just under 22 ounces, one could slip this handgun into a pocket and nearly forget it was there. Best to be carried in a pocket sleeve holster so it can be easily drawn for use without creating a large print in the pants or coat. The overall length of just 6.5 inches so it would fit easily in a carry purse or handbag.
The Security-9 comes with two magazines, each holding ten rounds. These mags fit flush to the bottom of the grip. The factory also includes one finger grip extension for a magazine for those shooters desiring a bit more control on the handgun grip. There are also 15-round extended magazines available as an accessory from Ruger.
Shooters will find the Security-9 Compact easy to handle due in big part to the textured grip sections. These textured grip zones are situated on the front and rear of the grip, plus an added section on the side of the grip. The slide comes with front cocking serrations which make it easy for all shooters to cycle the slide for loading or clearing the chamber. Shooters with small or weaker hands will find this feature useful.
The open combat type sights on this pistol are easy to align on target and extremely robust. The trigger and fire control system are similar to the LCP models giving the pistol a smooth pull and rapid reset of the trigger. This makes for accurate controlled shooting.
The Security Nine has both a trigger safety as well as an external manual safety, which shooters highly prefer on a concealable handgun. Built on a hard-coated anodized aluminum frame with an alloy steel slide, the dark blued finish reduces glare, too. A short rail section is built in forward of the trigger guard to attach a light or laser. Check out all the specifications at www.ruger.com.