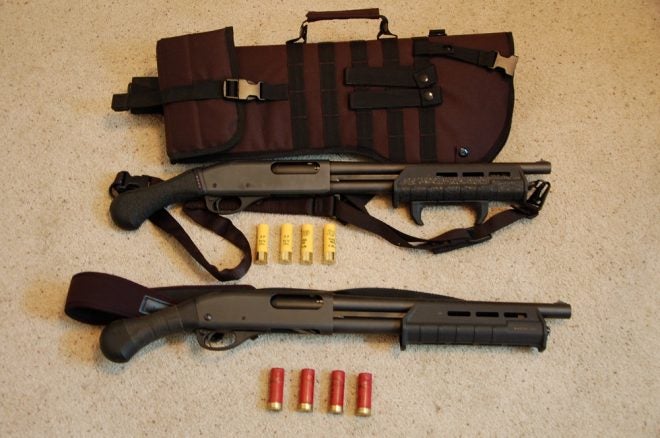 The makers of aftermarket add-on accessories for firearms must know from experience how owners of certain guns just love to customize their guns with accessories for them. Long known for accessorizing to fit the needs of personal shooters, the AR-15 is perhaps the most flexible gun ever made for adding rail mounted accessories.
Sometimes though there is a fine line between tacticool and function along with realistic practicality. Some AR owners go to extremes to overload their rifles with so many tech goodies, that the rifle turns into a burden to carry and shoot. AR shooters are often urged to consider first the need for a particular accessory before just slapping it on to look cool.
Now, with the introduction of the short personal defense Raptor gripped Remington 870 shotguns tagged the Tac-14 in 12 gauge and now in 20 gauge, the rush to supply add-on accessories is in full production. I have to admit though, some of these accessories are certainly useful if you intend to engage this gun as a self-defense shotgun for home or vehicle.
These 870s are equipped with Magpul forends that have M-Lok slots for adding accessories that mount via the slots. An M-Lok accessory has a turn key plate that fits into the slot and is rotated to lock in place. In this manner one can add many accessories.
For the two Tac-14s tooled out for this review, we first added sling attachments. Some may simply want to hand carry these shotguns, but for many uses, a sling over the shoulder frees up both hands for other purposes. A sling can also assist to steady the aim if set up right.
GG&G is already well down the trail on Tac-14 accessories. We added a clip on sling attachment mount behind the receiver on the 20 gauge, and a QD pushbutton attachment replacing a trigger pin on the 12 gauge. We added Remington magazine caps with a sling loop installed. This set up allows a one or two point attachment by choice.
To enhance the handling characteristics we added Talon Grips rubber stick on grip panels for the Raptor pistol grip and the forend. This significantly improves the hand grip on these surfaces.
Finally on the Tac-14/20 we installed Magpul M-Lok Hand Stop Kits to allow a no-slide grip on the bottom of the pump forend. Two kits were used, one in reverse position permitting two hand stops to keep the hand from sliding along the forend as the 870 is pumped.
These Tac-14 accessories enhance the use and control of these short length pump shotguns. With better grip capacity and sling options these Tac-14 shotguns are even more tactical.