Primos Wing Man Turkey Hunting Chair Review
Russ Chastain 05.02.19

The Primos Wing Man turkey hunting chair grew on me — quickly.
During my first turkey hunt of 2019, I used my old tried-and-true turkey hunting seat. You know the one I mean. A tubing frame with webbing and 4 legs, two of which are longer than the others to — hopefully — allow it to sit level when you place the seat next a tree. Then you sit on the tiny platform, lean on a tree, and try to remain stock-still for hours at a time. It's totally doable for a younger person, but since I'm knocking on the door of the ol' half-century mark, that can get old in a hurry. And I always have to carry a separate cushion.
My nephew joined me for a couple days, and had to sit on the ground. He had barely gotten home before he started sending me links to turkey hunting chairs, and one of the best-looking was the Primos Wing Man. So, even though my old turkey seat has been good to me and I'm not always a fan of change, I placed an order for a Wing Man.
Thank goodness I did.
Wing Man Specs
Weight of mine: 6.25 pounds
Capacity: 300 pounds
Mesh back & seat
Padded arm rests so you don't beat up your gun
Puts your butt about 4 inches above the ground
20 inches between arm rests
Mossy Oak camo pattern
MSRP: $60.99
Getting Started
When I got the Wing Man, I was hesitant. It's pretty heavy at more than 6 pounds, and bulkier to carry through the woods. But I grabbed it and went hunting on the same day I got to camp, and haven't used my old hunting seat again. It's not perfect, but I reached for it every time I headed to the woods, and was able to sit still longer using the Wing Man — and I didn't have to carry a cushion.
Best of all, I never had an aching tailbone after sitting for hours on the Wing Man, and that happens often when I use my other seat.
On that first afternoon, I wrote this in my notes:
This Primos Wing Man hunting chair is not bad but I have to be reclined. Feet are going to sleep.
I experienced the same problem with numbing feet & legs a number of times during the following week, and at times I wished the Wing Man had a different angle on the back rest so I could sit up straighter. But if that's a real problem, one can always find a tree to lean against. And that brings me to my next point…
No Tree Necessary
Using my handy-dandy little turkey hunting seat means I have to lean against something, and that something is usually a tree. Leaning on a tree is not a bad idea, because a large tree helps hide you, but it can also be a real hassle. Then when you find a tree with decent cover around it, the ground usually slopes away from the tree, and my little seat's uneven legs usually don't have enough difference in length to make up for it.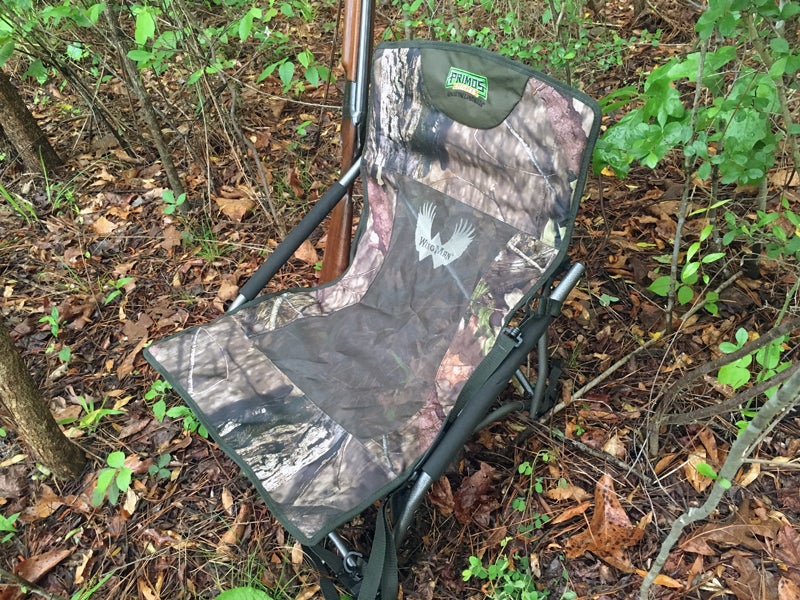 Enter the Wing Man; a self-supporting chair that doesn't require a tree! Suddenly I can hide in many places where I couldn't before. And that, my friends, allowed me to clobber a gobbler.
The second day of the hunt was pretty bad in terms of weather, but I went out in the afternoon anyhow. Cold wind was blowing in gusts and it was raining about half the time. Between showers, I walked back to an open area to eyeball for birds. None were present, but it wasn't raining at the moment so I decided to sit down and hunt a while. I spotted a viny thicket of young saplings, shoved my way into it, and sat down on the Wing man.
Lacking any tree more than an inch or two in diameter, it was a place I never would have hunted without a chair… and just over an hour later, I dropped the hammer on a gobbler! Gotta love that.
'Bad' Stuff
The first "bad" thing on my list is relative; in some weather it would be a bonus. I'm talking about the large area of mesh fabric that makes up much of the seat and back of the Wing Man turkey hunting chair. On a cold and windy morning, that mesh kinda sucks because your legs and backside can get right chilly. Then again, in warm weather the mesh is mighty nice.
I had some doubts about the long-term durability of the mesh fabric, but it's really tough stuff and seems to be holding up well.
Next, it can be a bit noisy. A few times when I got out of the chair by kind of rolling over to one side onto my knees, I heard what sounded like fabric loudly ripping! Turns out, it was the black foam padding rotating on the arm rest — it simply makes that sound when that happens. But again, this is a minor detail compared with the comfort it provides.
But this one might be more serious: After several days of hunting with the Wing Man, I noticed some bent rivets and deformation of the frame.
I kept right on hunting with the Wing Man and I plan to keep on doing so… but this does give me pause. At first I wondered whether the rivets were bent on purpose during manufacture, but a look back at earlier photos showed they were straight when the chair was new — and they had already begun to bend less than 24 hours after I first hunted with it.
For the record, the chair is rated for 300 pounds and I weigh in at about 230.
Helpful Hint
When deploying the chair on the second morning of the hunt, I noticed the side rails of the seat were not sitting properly in the plastic cradles that are intended to support them near the front of the chair. I have no idea whether this has anything to do with the bent rivets, but I hadn't noticed it before.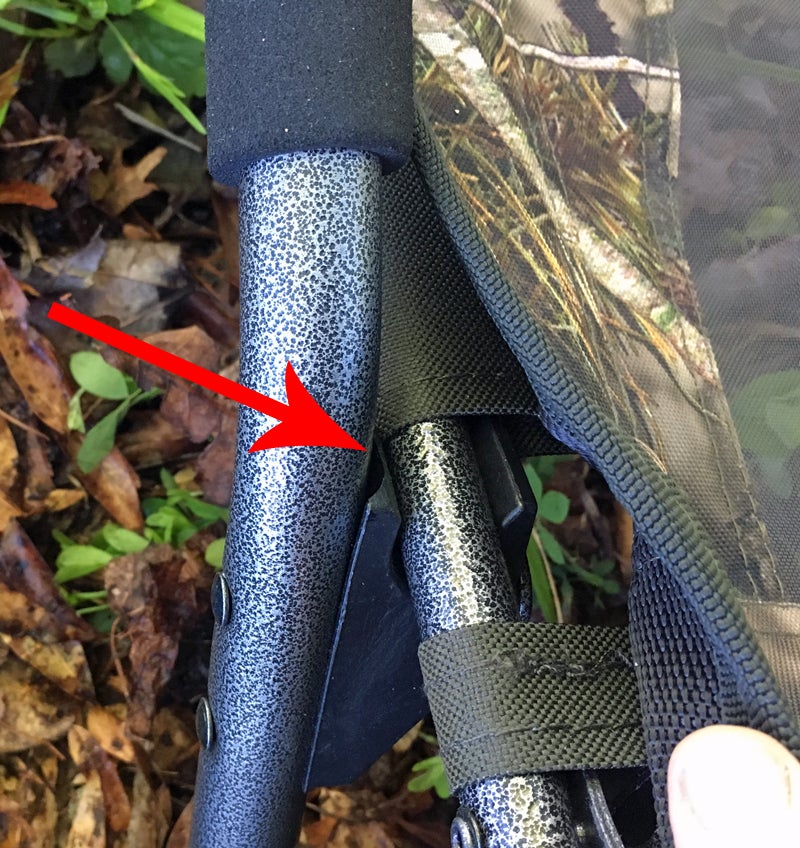 Thereafter, every time I opened the chair I had to manually align the rail — the round tubing that's to the right in the photo above — with the cradle, on both sides of the chair. If I didn't there was nothing holding up the front of the seat. So, keep an eye out for that.
Toting the Wing Man
Although I'd worried about carrying the Wing Man through the woods, I had very little trouble with it. By the end of the week, I'd settled for a diagonal carry with the chair behind me and the strap across my chest diagonally.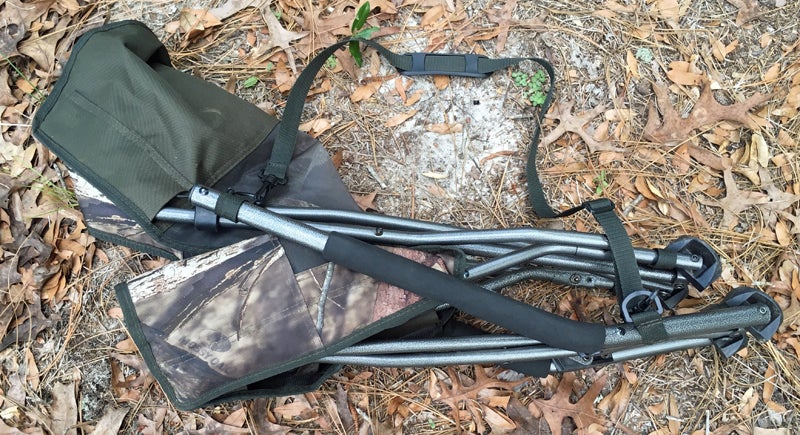 There's a short strap with a plastic clip for keeping the Wing Man folded up, so there's no need to fuss with a bag. Sweet!
Conclusion
The Primos Wing Man is more than just a place to put your butt. It gives you freedom from hunting for trees to lean against, allowing you to hunt in places previously out of bounds… and it provides a lot more comfort in the process. I certainly plan to reach for it next time I go turkey hunting, and I think it's going to see some use in the deer woods as well.
The fact that even my bony backside was able to endure hours on this chair says a lot about its comfort. I usually have to use a cushion — a thick and forgiving cushion — to sit anywhere for hours at a time. But I never needed one with the Wing Man.
If you want one of these handy hunting seats for your very own, it's currently priced at $60.99 plus shipping at the Primos website.