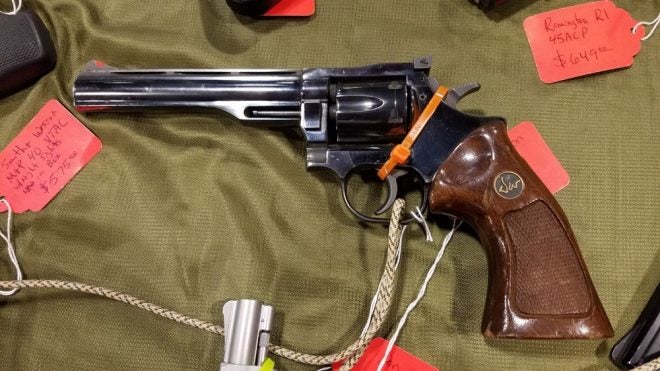 In all the years that Daniel Wesson worked for the Smith and Wesson gun manufacturing company in Massachusetts he learned a tremendous amount. However, for Daniel it was not enough, not near enough. Even though Daniel was the great grandson of the original Daniel B. Wesson founders of Smith and Wesson, young Daniel had his own ideas.
In the late 1960's Daniel left as Superintendent of the Smith factory to start his own company, Dan Wesson Firearms. What he took with him were his ideas for a whole new revolver platform. It was to be something nobody had ever seen before and in its own small way, it started a new revolution in the ways of thinking about making revolvers.
Wesson's revolver design used a frame that would accept consumer installed barrels and shrouds of various lengths, styles and weights. The grip was attached onto a stud that protruded from the bottom of the frame and was screwed on tight via a screw through the wood grip into the stud. All DW handgun revolvers were six-shot, double action models.
The screw in barrels were spaced at the revolver's cylinder by using a factory supplied feeler gauge. Then the barrel was screwed tight to the frame by using a special nut and wrench at the muzzle end. The owner of a single frame could then convert their own Dan Wesson handgun into barrel lengths of 2.5, 4, 6, and 8 inches as standard.
A more advanced Model 15 revolver with fully adjustable sights also accepted barrel lengths of 10, 12, and even 15 inches. The front sight blade was also interchangeable with different styles including a red insert for easy recognition and target alignment. This model ran in production from 1975 until 1995.
Dan Wesson revolvers were chambered for the .357 Magnum (most popular), the .22 Long Rifle, .32-20, and .32 Magnum. A larger frame version was made to handle the .41 and .44 Magnums as well as the .45 Colt. Sometime later a stretched frame model was made to shoot the Super-Mag cartridges of .357, .375, .414, and .445. Other models and versions are also noted in the history of the company. All guns were of blued steel and later stainless steel.
Dan Wesson eventually had to close his gun company, but all assets were obtained by CZ-USA. They now manufacture excellent 1911 pistols under the DW name and are once again beginning to manufacture the original DW revolvers.