This Wild Turkey Had Bone and Feathers Growing From its Head
Russ Chastain 05.10.19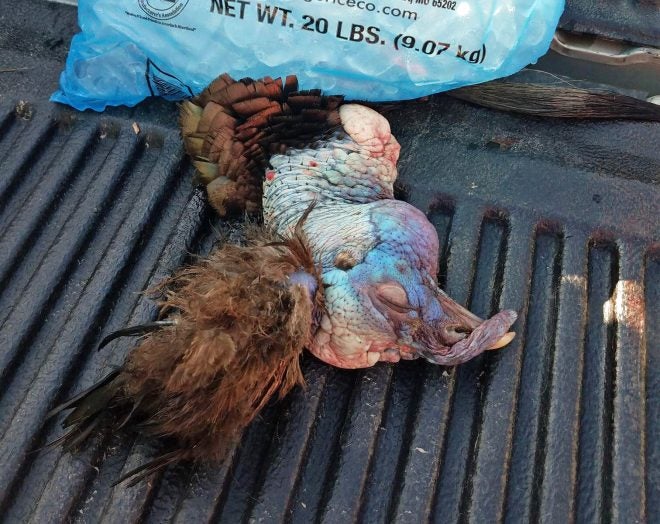 When Missouri hunter Colby Brown shot a wild turkey on Sunday, May 5, 2019, he knew there was something odd about it. Even from 300 yards away, he and his buddy could tell it was different. It was only after the shot was fired and the bird was recovered that they realized just how weird it really was.
Fortunately, I was able to get in touch with Colby via social media to get his side of the story.
Colby and his friend Hunter Leeper were hunting turkeys in a river bottom near Jefferson City, Missouri when Hunter spotted something a long way out. It was a turkey, so the duo got behind a levee to hide from the bird and closed the distance. When they stopped to eyeball the turkey again, the binoculars revealed something really unusual.
Hunter said, 'Look at him. He's got something on his head.'

I looked through and at first I didn't think it was a turkey. I didn't know what the hell it was to be honest, but then he turned and I saw his beard.
The hunters then ducked back behind the levee and moved on down until they were opposite the gobbler, which was out of range about 60 yards away.
He strutted and hung around 60 yards for an hour and a half. Hunter would give him a little call and he'd gobble like crazy but not cut the distance. Finally he come in around 40 yards and I popped up from the top of the levee and smoked him.
They wasted no time getting to the downed bird.
When we got down there we looked at him and kinda laughed at how goofy he looked. I think that's when Hunter said he'd never seen anything like it, adding, 'I think you might've just become famous.'
Back at Hunter's house, they contacted a local game warden about the oddball bird. Like them, he had never seen anything like it.
Colby Brown is 25 years old, and although he hunted in his early teens he hasn't been back in the woods until the last three years.
This was the second time I went and hunted with Hunter at his place. Two years ago I shot a gobbler and this year shot one Saturday and then the crazy one Sunday, to tag out in Missouri.
It's unlikely he will ever shoot another turkey like this one, and he tells me it's in the freezer waiting to be mounted. As for the oddness on its head, here's how he describes it:
Where the feathers on its head were, there was a bone coming out of its skull like an inch long. This bone had a knot on the end almost like a ball joint like you have in your shoulder — and that's where the feathers were coming from.
Wow.
As for fame, Colby's not looking for that. He just wanted to share this unique bird and the experience with others.
Aside from the funky topknot, the gobbler was typical for an adult Tom, weighing in at 21 pounds 2 ounces with spurs more than an inch long, and Colby estimates the beard to be about 10 inches long.
All successful turkey hunts are memorable, but I'm sure this is one particular hunt that will go into Colby's Big Book of Great Hunting Memories, and I bet that mounted bird will make a great reminder for years to come. I can't wait to see how it turns out.