Many of us hunters and sportsmen chase more than just one game animal throughout the year. We usually chase many! Whether that is ducks, walleye, turkeys, elk, deer, or something else. As a Minnesotan, there are tons of things to hunt and fill your freezer with throughout the year, but even I can get a little low on sustenance between spring and fall. For that very reason I have been making a pilgrimage south to Big Oak Elk Ranch in Iowa, a phenomenal game farm, to tide me over until the fall when my calendar is covered with hunting seasons. Usually I shoot a delicious pig and call it day, but this year I added a rambouillet sheep they offer to my tab as well.
I have hunted almost every type of game animal you legally can in the US except for sheep so I was excited for the challenge! We'll take a look at the firearm and gear I used for this hunt as well as give you a better look at Big Oak Elk Ranch in West Union, Iowa.
gear for the hunt: Hunting Rambouillet Sheep
For this hunt, I knew I would be hunting in some very hilly terrain with a lot of ravines. Even though the fenced-in area for the sheep was a manageable 100 acres, there would be opportunities to potentially shoot 400 yards. So a lot of my gear I chose believing a long shot could be possible even with the up-and-down terrain that Iowa can offer.

For this hunt I did not want to carry around any unnecessary or extra bulk so I did not outfit the rifle with a bi-pod or a sling. My shooting options would be laying down prone or if I would be in a more wooded area, I would potentially kneel or stand with my off-hand bracing against a tree. Even with this being a game farm hunt, I took my preparation very seriously because like hunting in the wild, I am providing sustenance for my family and myself; failure is not an option.
preparation for the hunt: Hunting Rambouillet Sheep
To get ready for the rambouillet sheep hunt at Big Oak Elk Ranch I mounted up my Bergara HMR Pro with the Bushnell Nitro 6-24x50mm FFP, and began testing different ammunition for accuracy. I was given three different flavors to shoot from Federal Premium for testing of the Bushnell optic and whatever ended up being most accurate I would be taking on my hunt. I shot multiple 3-Shot groups for every ammo and these were the best groups I achieved for each: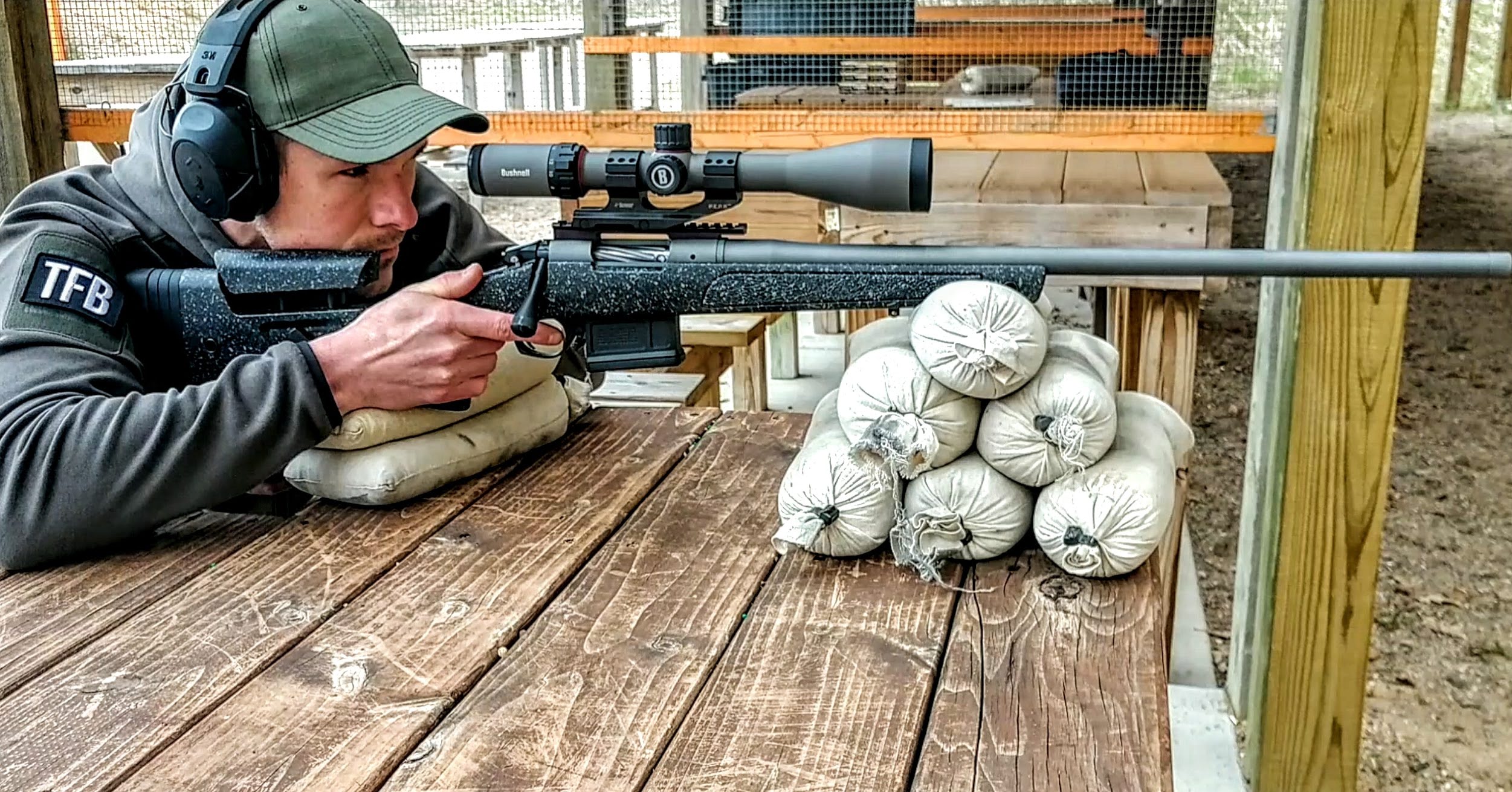 It is a pretty well known fact that the 6.5 Creedmoor cartridge tends to shoot more accurately (in most firearms) with heavier grain weight ammunition so these results were not surprising to me. After this was completed, it was essentially a no-brainer. I packed up all of my hunting clothes and gear heading south to Big Oak Elk Ranch with some Federal Premium Gold Medal 140 Grain Sierra Matchking.
big oak elk ranch: Hunting Rambouillet Sheep
A little background on Big Oak Elk Ranch and why visiting them for the past 6 years has been a staple for our family. For one, the meat you harvest tastes second to none. Whether it is a pig, rambouillet sheep, or whatever it may be the meat you get tastes better than what you can buy in a grocery store. The reason being is all of the animals harvested are field-dressed outside their fenced-in area. The pigs, elk, deer, rams, and everything on the property are foraging and eating natural foods.
Also, once the hunt is over and all the victorious photos are done being taken, your game is field-dressed, quartered, washed, and chilled in a walk-in cooler immediately. There is no strapping your game to the bed of a trailer and driving down dirt county roads. It is not hung in a tree and aging in the worst possible way. Your game is treated like the meal it will eventually be for yourself and your family.
A typical hunt begins some time after noon with you hunting and moving at your own pace being guided (if you choose). Once you successfully complete your hunt, whether that is in the early afternoon or closer to late in the evening, you can retreat to 1 of 3 cabins where there are beds, a TV, shower, and a quaint kitchen to make yourself supper if you do not drive into town for a fast-food joint.
After regaling your friends of your hunt all night long and getting some sleep, by the next morning before you leave your entire animal is cut into butcher cuts of meat and given back to you neatly in white freezer paper. The price of any hunt includes:
Hunt of your chosen Game Animal (Elk, Whitetail Deer, Hogs, Fallow Deer, Rams)
Field-Dressing & Processing of your Game
Lodging Accommodations in one of their Cabins
When you factor in everything you are getting… the sport of the hunt, lodging accommodations, processing… it is one heck of a deal! This is the most recent price list Big Oak Elk Ranch has published on their Facebook which should be correct, but it never hurts to give them a call with your questions.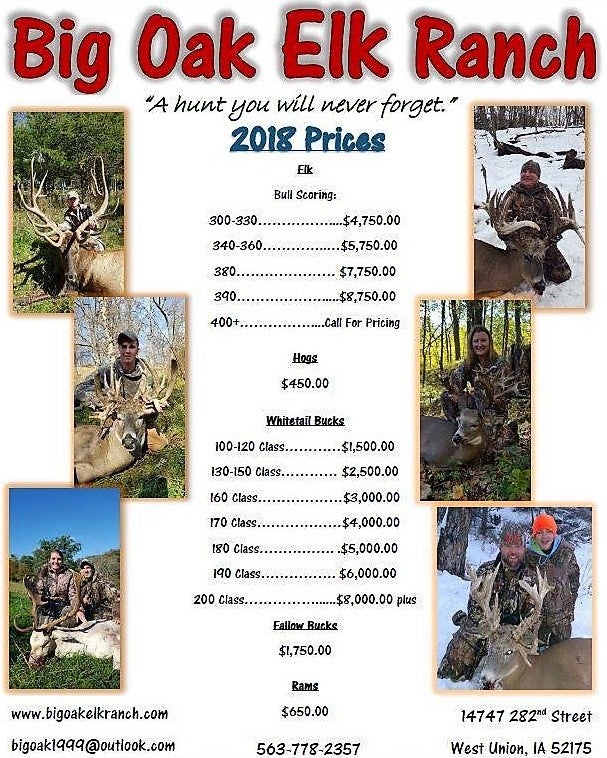 moment of truth: Hunting Rambouillet Sheep
Once I arrived down in Iowa for my hunt and dropped off my extra gear in my cabin it was GO time! We jumped into a UTV and jetted off to the area where the rambouillet sheep were to set off on foot. Within a short amount of time we were able to glass and spot some sheep. They were roughly 200 yards below us in a creek bottom feeding. This would be an easy shot for a 6.5 Creedmoor, but there were trees currently in the way so we needed to re-position ourselves above them on a ridge. While trying to do that they busted us and ran.
We saw where they were headed and the guide knew where they were likely wanting to end up at. So we took to the creek bottom, worked our way around to where the guide believed they would be, and he was exactly right. It was almost a mirrored role-reversal. We were now at the creek bottom staring up at a small herd of sheep above us on a different location on the ridge roughly 125 yards away.
I laid out prone, flipped my safety off, and aimed at the largest one in the group. Gently pressing on the trigger and controlling my breathing I gazed through my Bushnell scope awaiting the sound… BANG!!! The sheep tipped over instantly and perished. A clean kill shot on my part and a terrific job of my guide re-positioning us to exactly where we needed to be.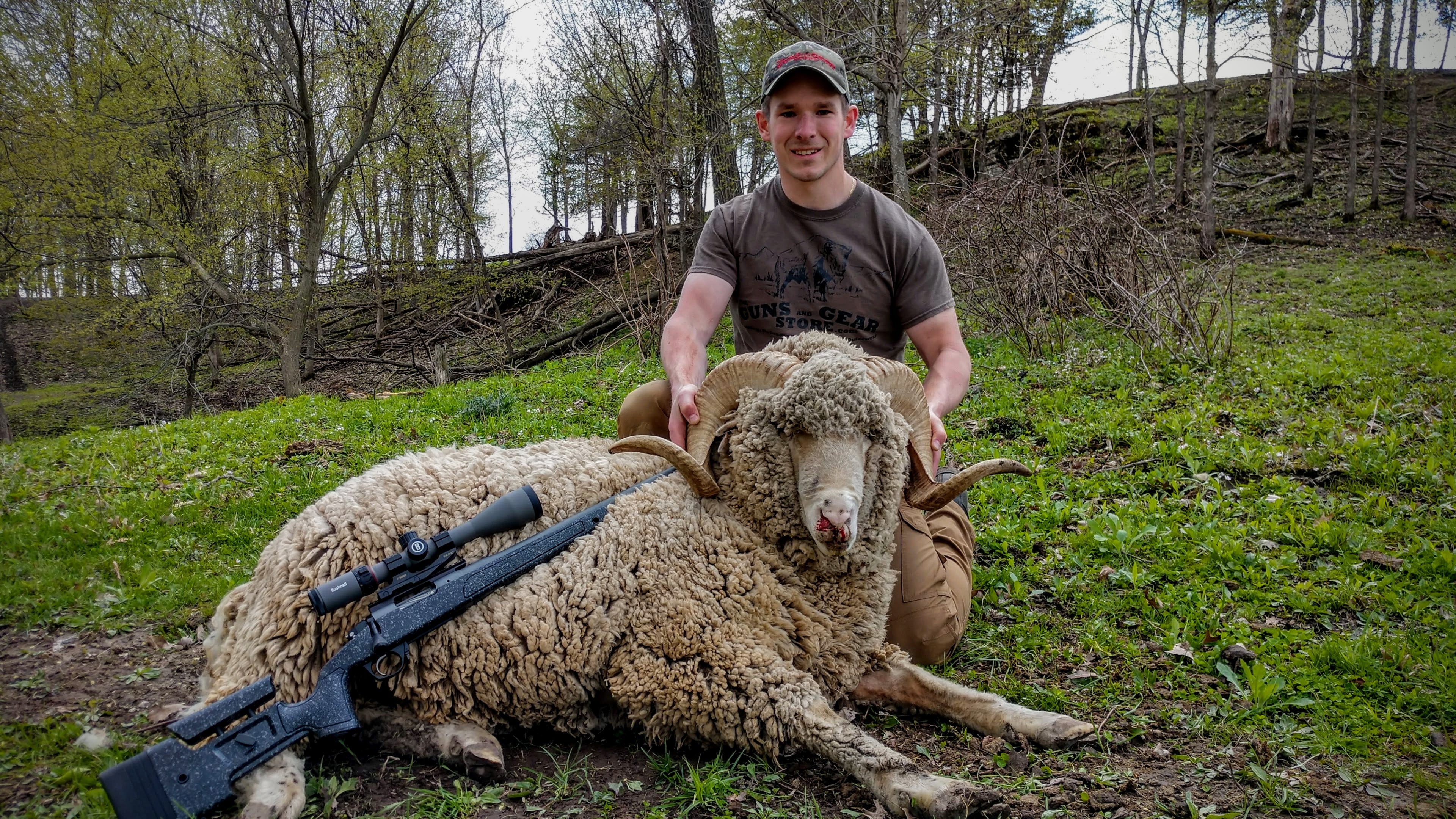 The guide exclaimed that he has seen a lot of rifles used on his sheep, but never has he seen a sheep knocked over so quickly with so little fuss. Once the sheep was later field-dressed we learned I was able to connect on a perfect heart shot. With the paired accuracy of the Bergara rifle and the Bushnell scope plus the energy of the 6.5 Creedmoor we got a quick, humane harvest.
final thoughts: hunting rambouillet sheep
Earlier on this day I also harvested a hog with a Springfield Armory XD(M) Competition 10mm, but that is a story for another day. All in all, I was able to bring home a lot of pork and sheep meat that will keep me eating happy all summer long until fall rolls around.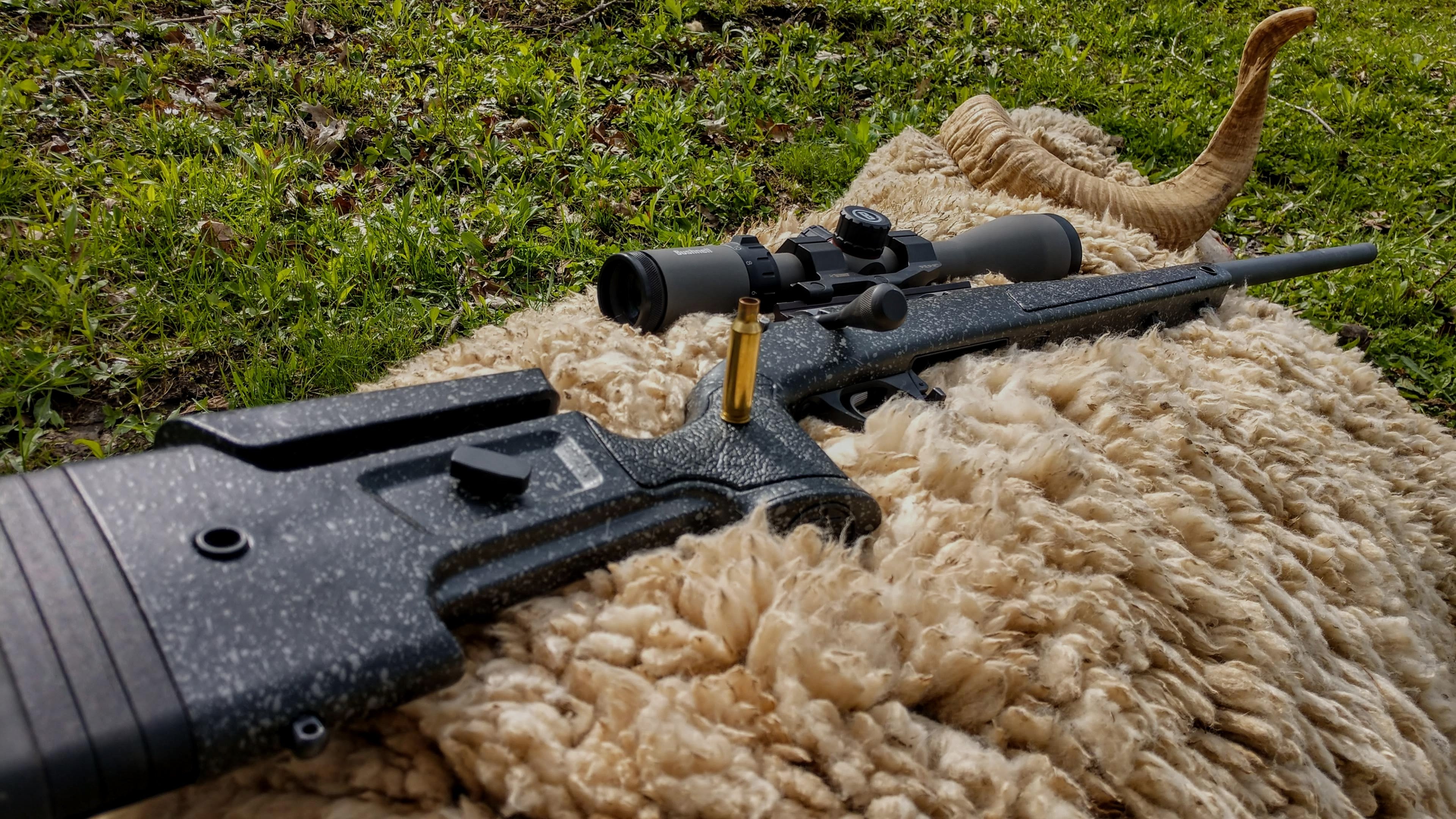 As always, the accomodations were fantastic at Big Oak Elk Ranch, and I would HIGHLY recommend anyone interested in this style of hunt to reach out to them. Also, there is a lot of thanks to go around because I was afforded the opportunity to use a lot of top-notch gear for this hunt. A huge THANK YOU goes out to Bergara rifles for lending me one of their HMR Pro 6.5 Creedmoor rifles because it shoots like an absolute dream! A huge THANK YOU to Bushnell for the use of their Nitro 6-24x50mm FFP with Deploy MOA reticle making it easy to zero my rifle and connect on my sheep! A huge THANK YOU to Federal Premium ammunition for giving myself so much ammo to use towards testing the Bushnell scope and use on this hunt!
For any of our readers out there, have you shot or do you own a Bergara rifle? Are you currently running a Bushnell Nitro scope on any of your firearms? What is your go-to ammunition when it comes to medium- or big-game hunts? Have you gone on a sheep hunt recently? Let us know all of your thoughts in the Comments below! We always appreciate your feedback.