Paul Harrell on the Hi-Point Model JHP 45 ACP Pistol
Russ Chastain 06.10.19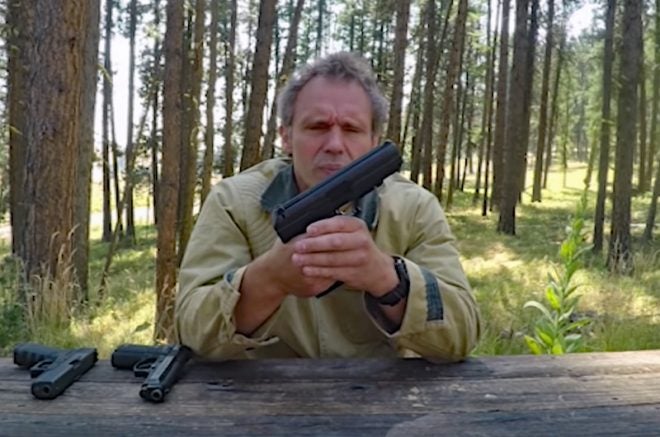 Hi-Point makes cheap guns. We all know that. We also know they back their guns with a no-questions-asked lifetime warranty. Heck, they gave one guy a new barrel after he clogged up his Hi-Point carbine barrel with 35 bullets! Providing "free repairs for the life of the gun" is a great selling point, but many people don't own Hi-Point guns and don't really want one.
Why not? In this video, Paul Harrell takes a look at one of their 45 ACP pistols in hopes of answering that question.
He begins by comparing the Hi-Point behemoth with another full-size 45 ACP single-action single-stack pistol: a Colt 1911 Government Model. Unfair comparison? You be the judge.
In the first test, the Hi-Point's 25-yard group is roughly twice as large as the 1911's group, but it's still plenty tight enough for effective self-defense.
The second test was done from a rest at 25 yards, and both groups were about the same size.
The third test was rapid-fire at 7 yards. The Hi-Point's group was pretty bad, which he attributes mainly to its poor trigger pull and sub-par sights.
From there, he demonstrates how tough it can be to find a holster to fit the huge Hi-Point 45.
Next is perhaps the biggest hangup about the Hi-Point JHP 45: Takedown and assembly. It's a real hassle, can be pretty tricky, and it would be easy to lose the little takedown pin you have to drive in and out.
There's also the magazine "safety" feature which requires you to have a magazine inserted into the Hi-Point in order to make it function.
Keep watching and you will get to see Paul shooting a super-shiny 1911 pistol while wearing plenty of bling plus a pimp hat & jacket!
Naturally, there's more to it than that, and PH offers some helpful advice to anyone who buys a new Hi-Point… such as, "Sit down and work the slide back and forth a thousand times… literally, a thousand times."
Check out the video and let us know your Hi-Point experiences/opinions in the comments below.