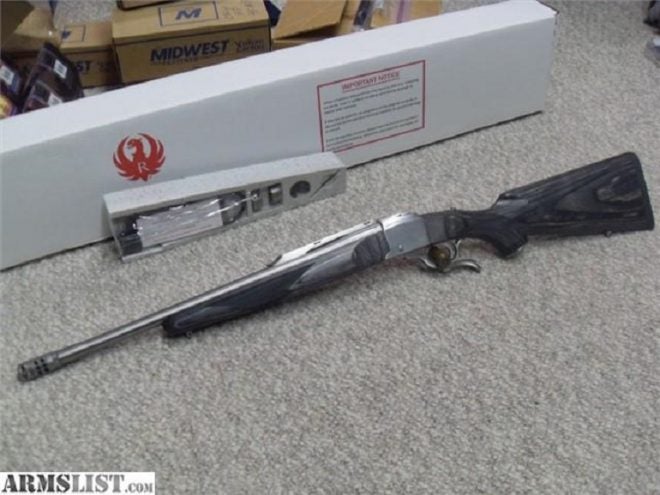 Though some gun and cartridge combinations may seem a little quizzical, few major gun manufacturers make production decisions by accident. So when your eyebrows raise on this one, remember that Sturm, Ruger and Company has been one of the most successful gun companies in the world. They rarely, if ever, miss the mark on a new product.
I'm talking about the super-fine Ruger No. 1 single-shot rifle that has been recently introduced by Ruger chambered for the 450 Bushmaster. The Ruger No. 1 stands entirely on its own as one of the company's premier rifle designs. The sleek melting of metal to wood has always intrigued gun buyers. However, many shooters and hunters have shied away from the one-shot concept.
However, in practice, single-shot rifles such as the Ruger No. 1 can be reloaded very quickly in the field with some practice. Some big game hunters using wrist ammo carriers have demonstrated remarkably fast reloading even under the stress of a potential dangerous game charge. Perhaps it is not for the faint of heart, but lowering the Ruger No. 1 action lever takes little more time than recharging a bolt action rifle or even a double rifle.
This Ruger No.1 is 36.5 inches long and is housed in a black laminate stock against its stainless steel action and barrel. It is one handsome rig, but all business. The barrel is 20 inches with 5 grooves in a 1:10 right hand twist housing a special muzzle brake. The safety is a sliding tang. There are no open sights, but a bridge on top is cut with Ruger scope mounting dovetails.
The stock has a nice rubber recoil pad and a grip cap plus sling mount attachment points front and rear. The ejector mechanism can be set to eject the spent round or simply to extract it so it can be plucked out with fingers. That is one sweet feature. The rig weighs 7.5 pounds without a scope.
So, what about the 450 Bushmaster? Slowly but surely the 450 Bushmaster has been growing in popularity in both AR platforms and bolt actions. This round was developed by Tim LeGendre of LeMag Firearms. Such a round was long touted and popularized by 1911 guru Jeff Cooper.
Its origin is from 284 Winchester brass. Currently you can buy 250 grain Hornady FTX loads. It is considered adequate for moose or elk out to 225 yards. Now chambered in the Ruger No. 1, it should prove to be a major thumper combo.