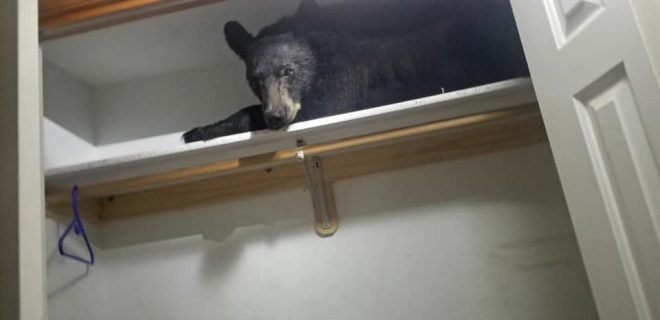 Don't you just hate it when a bear comes into your house, locks itself in, tears up the room, then naps on a shelf?
Me, too.
It happened recently in Missoula County, Montana, according to a Facebook post by the local sheriff's office. The bear came on in to a mud room and locked itself in. Went a little nuts tearing the place up, then decided violence was not the answer and laid down for a nap.
WOW!!! WHAT A DAY! Today at approximately 5:45am deputies responded to a call up Butler Creek for a bear stuck inside a home. When deputies arrived, they discovered this black bear had opened the door to the mudroom of this residence and somehow managed to deadbolt the door from inside. After being unable to leave, the bear began ripping the room apart but then decided he was tired and climbed up into the closet for a nap.

When deputies knocked on the window, the bear was not the least bit impressed. He slowly stretched, yawned and, unamused, looked toward the door. Eventually, deputies were able to unlock the door in hopes he would hop down and leave. However, their attempts were only met with more big bear yawns.

Montana Fish, Wildlife and Parks showed up to assist and tranquilized the bear so he could be relocated. The homeowners were glad he was removed in good health, but won't soon forget when this intruder came looking for the bear necessities!

Sidenote: This is another good reason to lock up, as we also have unconfirmed reports that he tried two other closets before he decided this one was juuuuuust right (kidding)! But seriously, lock up!
Locking your doors isn't just about keeping out people. Do it, folks! Bears should be AllOutdoor animals. Er, something like that anyhow.
Thanks for reading.