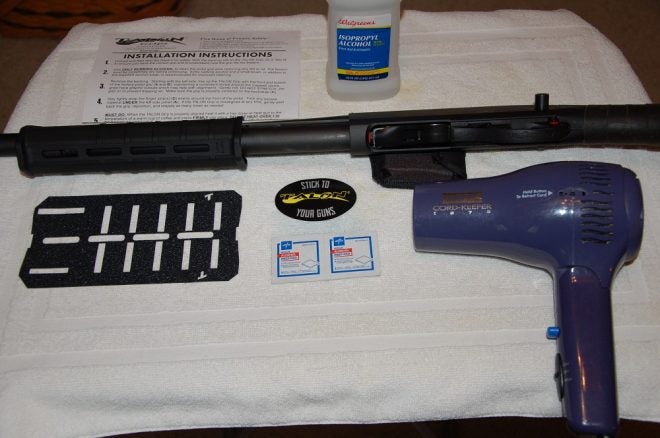 Talon Grips out of Steamboat Springs, Colorado manufacturers die-cut adhesive grip panels for numerous firearms.Their grip overlays are made for more than 200 firearms including the most popular pistol models and several other applications.
As you may know from reading here, the Remington Tac-14 shotgun based on the proven 870 is taking the market by storm. The Tac-14 is an ideal self-defense shotgun for home security in both 12- and 20-gauge versions. Preppers, survivalists, homeowners, campers, and travelers are taking to the Tac-14 for its reliability, ease of handling, and portability.
Due to its overall short profile of 26 inches utilizing a specialized rounded Raptor pistol grip, the Tac-14 is handy for point-and-shoot style targeting. It is great for tight quarters and vehicle carry.
The forend on these shotguns is the well-made and functional Magpul accessory furniture. This Magpul forend is made with M-Lok slots for adding essential accessories as desired, but also these slots aid in barrel cooling. If there is any downside to this Magpul forend, its material tends to be a bit slick especially when damp. Gripper gloves can help maintain control.
The problem of slickness is easily solved with the simple application of a Talon Grip. The Talon Grip is precisely cut to fit over the bottom and sides of the Magpul forend. Before applying the grip, lay it over the forend as a test-fit to orient yourself to how it fits end to end correctly.
Following simple procedures outlined in the instructions (even though they were written mainly for installing Talon Grips on handguns), first use the supplied alcohol wipes to thoroughly clean the entire surface of the forend. If you need more, use gun patches and rubbing alcohol. Let dry completely before applying the grip panel.
Once ready, peel off the backing material of the grip panel and slowly lay it into proper position. I stabilized the gun in a cleaning vise to hold it still, giving me two hands for the work. I laid the panel first down the middle, aligning the panel slots with the M-Lok slots. Then I slowly pressed down the sides into the forend finger grooves. Press everything down firmly.
Next, using a hair dryer or heat gun, heat the Talon Grip per instructions. While it's warm, press it firmly to ensure the panel adheres. Be sure to press down all the edges for a solid fit.
That's it. You'll appreciate immediately the gripping power and firm control a Talon Grip offers.