Meteorite Pistols Expected to Bring $1.5 Million
Russ Chastain 07.08.19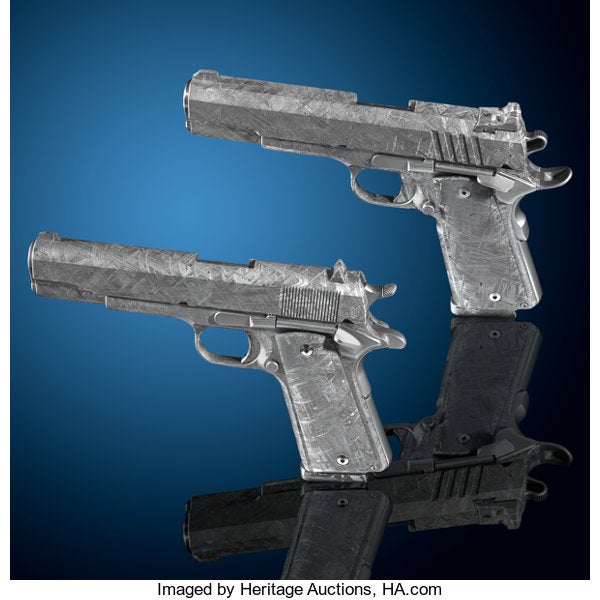 Some guy got the bright idea to build a pair of 1911 pistols from a metal meteorite, and he seems likely to make a pile of money when they sell at auction this month, where they're reportedly expected to bring about 1.5 million bucks. Gunsmith Lou Biondo of Business End Customs was hired to do the job.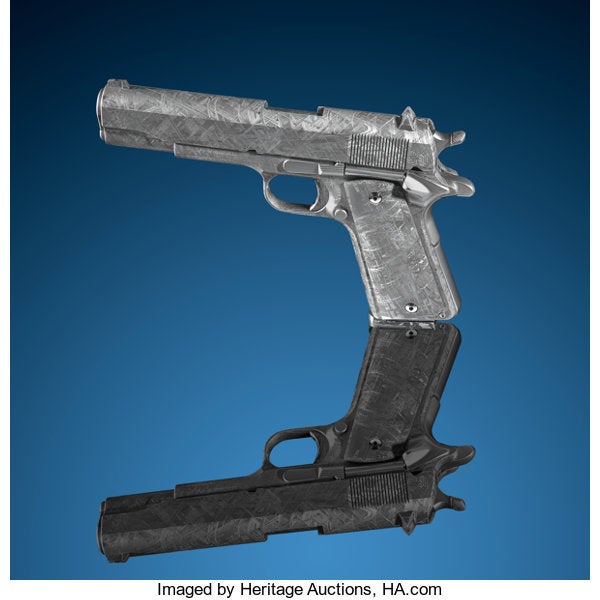 This pair of poppers is made from part of the "Muonionalusta Meteorite," which was found in Sweden back in 1906 — five years BEFORE the 1911 was adopted by the USA's military. But a century is a drop in the bucket for the meteorite, which is supposedly 4.5 billion years of age.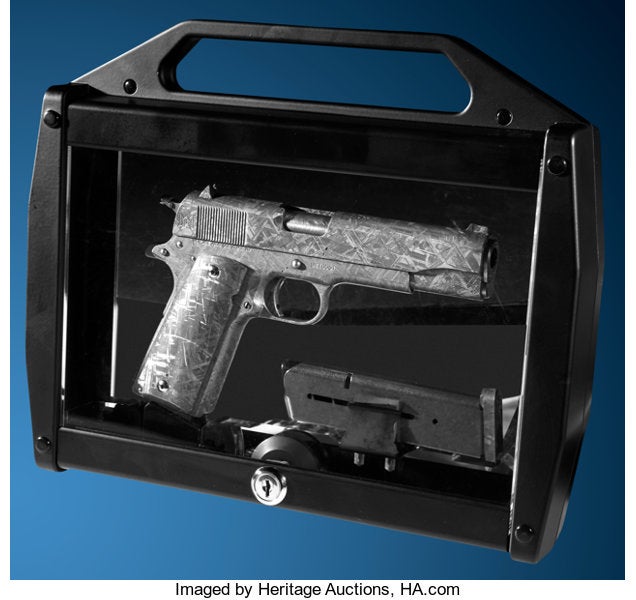 Biondo explained that he had to be extremely careful when he was cutting through the chunk of meteorite. "It was definitely one of those jobs where you had to go by feel and sound," he said. "If you mix carbon steel, aluminum, stainless steel and throw in some diamonds, that's what it felt like.

The gunsmith added that, while there are no actual diamonds in the meteorite, there are "diamond-like inclusions," in the material the guns were fashioned from. While the cutter went through some parts of the meteorite fairly easily, there were other parts that were more difficult. "I actually broke a couple of cutters," he told Fox News.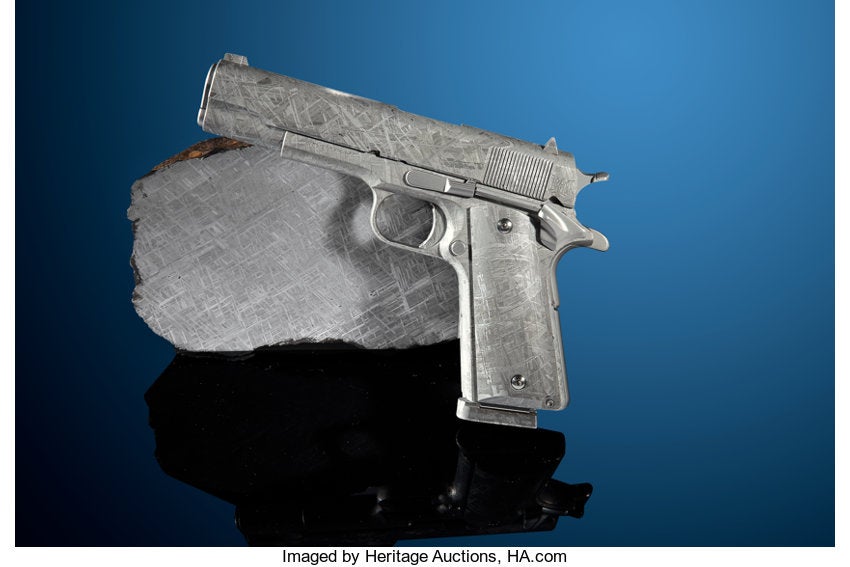 The guns are fully functional and are not identical. One is made in the "government model" configuration while the other has custom features such as beavertail grip safety, skeletonized hammer, extended thumb safety, etc.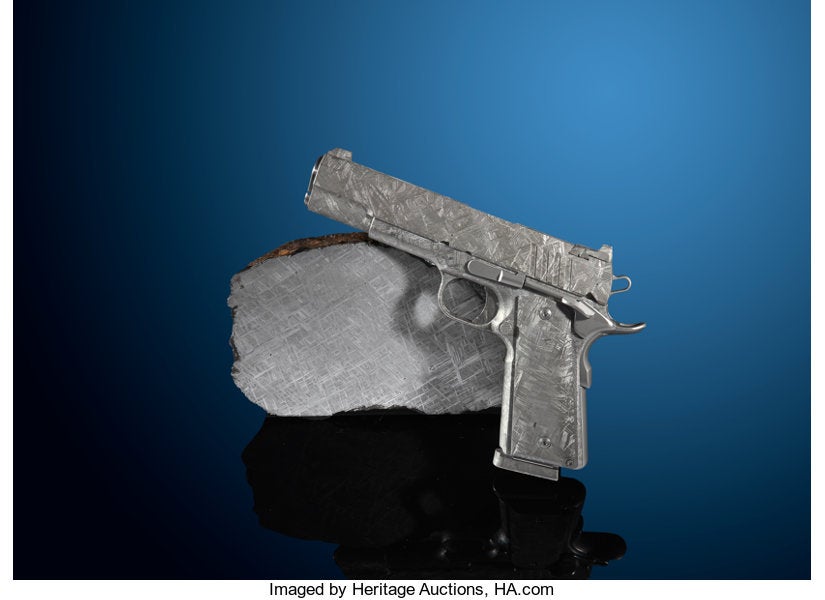 Both pistols have been fired by the maker, but only 35 rounds apiece. The majority of the metal in these guns is from the meteorite.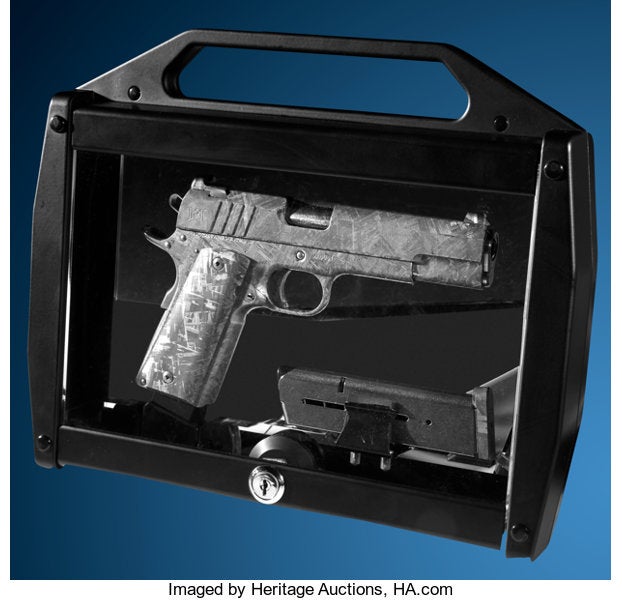 Heritage Auctions has three auction listings on their website, featuring the government model and custom model as individual items, or both together as a pair. I assume they will only sell as a pair if the bids on that auction exceed the bids on the other two auctions combined.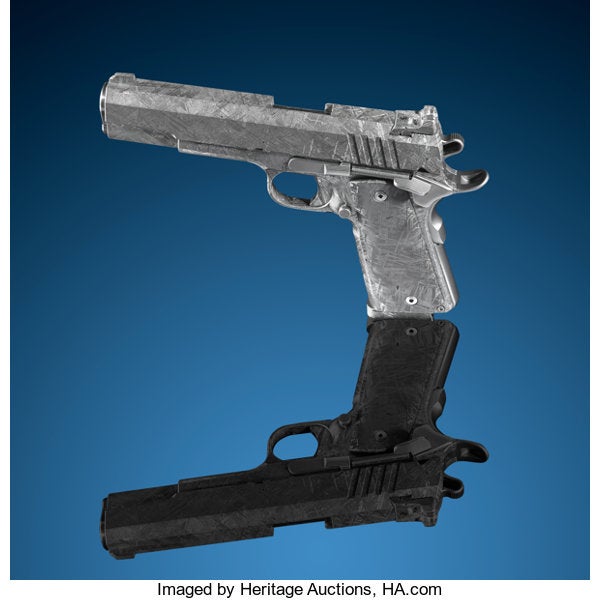 The auction will take place on July 20, 2019, the 50th anniversary of the Apollo 11 moon landing.