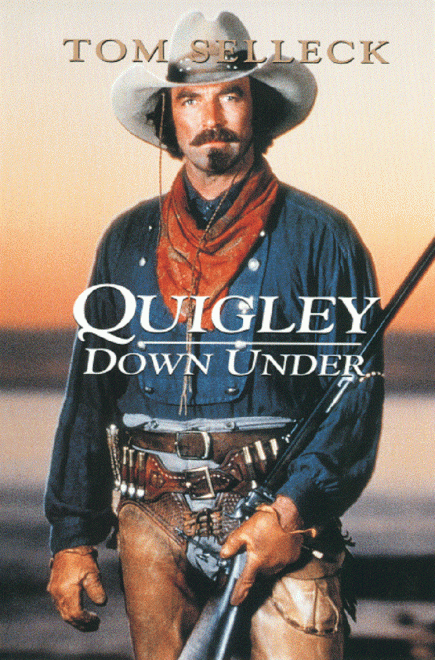 A recent television show on defensive combat shooting dispelled the likely success of performing a "Quigley Shot." That was a new term to me. A few things get by me at my age, but I am usually up on shooting terminology, and this one escaped me somehow.
So, what is a "Quigley Shot?" Apparently it was derived from a scene in the movie "Quigley Down Under," staring Tom Selleck. As you may recall from the movie, Quigley arrived in Australia "Down Under" to secure a position as a predator shooter for a large rancher. He used an 1874 Sharps single-shot rifle with an "experimental" cartridge, the 45-110, paper patched bullet. This round used 110 grains of black powder. You know the rest.
Though I don't recall it, I guess at one point Quigley made a shot with his Sharps taking out two ranch desperados with one shot. This has become known among military snipers as the "Quigley Shot." To which I say, that is cool as hell.
However, movie or not, or exceptionally-trained military snipers fully capable of performing such shots, such a shot is not to be counted on by us average gunners, preppers, hunters, or survivalists. It is best to concentrate active-shooter pistol work on hitting a single intended target with accuracy to quell the threat.
In the field of hunting, I have twice witnessed two kills with one shot. One was an accidental harvesting of two turkey gobblers with one shot, not figuring the second bird to be inside the shot pattern. During a deer hunt back in the 1970s in Missouri, I saw another hunter take down a large doe well downhill of my standing position. Upon examination and lifting up the sizeable doe, we discovered a yearling doe, dead, underneath the first doe. I am still amazed by that shot, but it was anything but planned.
In the realm of defensive shooting though, especially in the heat of the moment, it is unreasonable to expect to execute a "Quigley Shot" by actually trying to line up two targets one behind the other. It is also unreasonable to expect a typical handgun round (or even some rifles) to penetrate two targets with equally lethal results.
While you may be a fan of the "double tap" or putting two quick rounds into a single target, it is not the same as the Quigley. So, for purely defensive purposes, concentrate on hitting one target at a time with terminal results.