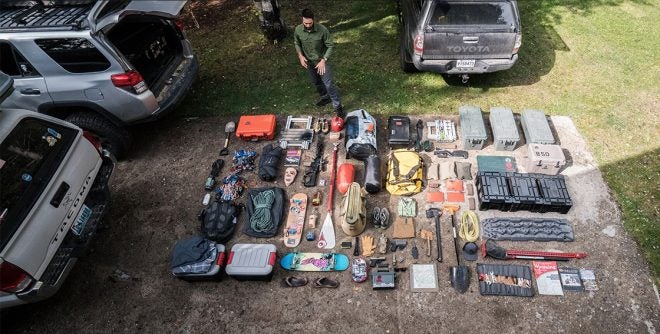 This phrase should be embroidered on a tapestry to be hung over every mantle in every prepper's home, and should be memorized by every prepper. It comes from the movie The Mechanic, but that is a moot point; it is the message that teaches the lesson.
When a SHTF incident or any other type of disaster happens, we all want to live through it. That obviously does not happen by accident, and though luck may play a role sometimes, it is not a factor to be counted on. Being prepared is the single most important factor to rely upon no matter the threat or the event that might befall us.
Without preparation we would surely be lost, but with an earnest effort at planning and preparation we at least stand a chance. You simply cannot sit and hunker down without any means to survive and expect to outlast a disaster, storm, wildfire, volcano, hurricane, chemical explosion, or other similar accident.
It would be the same for a societal meltdown, a delay in delivery of entitled benefits, a shortage of food caused by a truck driver strike, or a fuel stoppage. Any such event would precipitate a chain reaction of other events with rioters taking to the streets in search of anything they could steal. Maybe the government would step in with the military or national guard — or maybe not.
In terms of classic prepper philosophy, preparation is the foundation upon which to build any chance of survival. Experienced preppers well into their plans have known exactly what to do and planning has long been executed. For those just now waking up to the realities of prepping, start now with the basic elements, then continue to build, step by step.
First up, make a plan to hunker down where you live. If a SHTF prevents that, then consider a safe haven elsewhere or an alternative bugout location. At home, secure every element of your household, doors, windows, garage doors, etc. in an attempt to curtail a home invasion. Prepare for security by arming yourself and family with suitable defensive weapons, ammo, and training. You may be required to defend yourself under the most dire straits.
Begin to supply yourself for a minimum of three months. This not easy or cheap. You'll need a water supply, a variety of foods, medical and first aid supplies, and everything else you need to prevail until hopefully calm is restored.
Prepping is a lifelong endeavor waiting for something that may never happen. But what if it does?