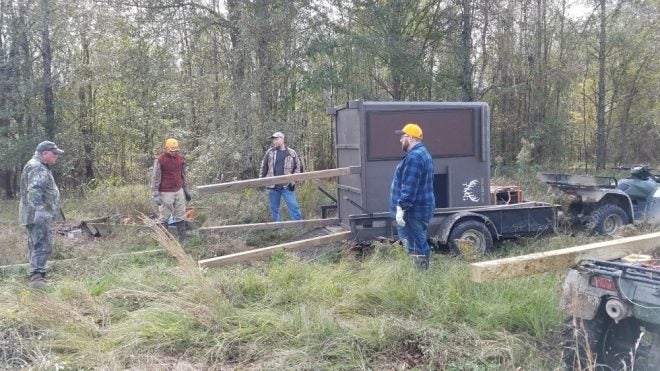 As long as I can remember, I do not recall so much interest in the upcoming deer hunting season so early in the year. All of the media outlets, blogs, web sites, outdoors radio programming and such, the wires are hot with deer hunting information. After all, it is July, and many states will have archery seasons opening in October, only three months away.
Across the country, many states were hit with terrible destructive storms that surely impacted deer hunting camps and properties. Our own camp in Mississippi has been under a foot or more of water since January and is still holding water in places. The Delta region has 500,000 acres under water, and deer have been pushed to limited high grounds. The state wildlife department has approved permits for feeding the devastated deer herds.
So, it is definitely not too late to start planning, and to initiate work days to get everything back in order and prepped for hunting. Plan now for outlining what fall wildlife food plots you want to plant. It might be a good idea to secure plenty of seed and fertilizer now. If you have not put out lime in a number of years, consider that, too. Liming will really make your wildlife food plots pop. Try some new seed mixes just to see what works for a change.
Check all your trails, camp roads, and common areas for mowing, clean-up of downed tree limbs, trees, and other obstructions. If you have a camp house or trailer, then surely that will need some maintenance work.
Next, focus on hunting stands and shooting houses. Open doors cautiously in case of wasp nests or other surprises. One year we found an owl had taken up residence, and it was nasty. Oil all the door and window hinges, check roofs, support braces and such. Tree stands may need new attachment straps, bolt tightening, painting, and general maintenance. Climber or lock-on stands will need attention, too. Drag all this stuff out to see what work is needed.
At some point, turn to your own personal gear, bows, guns, arrows, ammo, optics, and all your hunting equipment. Assess your hunting clothing, shoes and boots. Prep them all. Repair or replace what is worn out. Take advantage of any early sales.
It's July. It's hot. But blink your eyes a few times and deer season will be here. Trust me, get head of the curve now, so you are not way behind later.