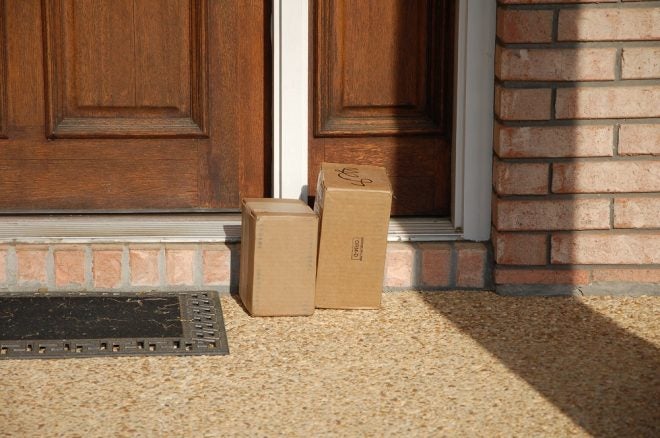 The ever-vigilant prepper is always thinking and planning ahead on a vast array of safety issues. These days, especially during holidays, home package theft is rampant. You have probably seen security videos of strangers walking right up to the front porch of a house and carrying away packages left by shipping delivery services. There are steps to take to reduce such theft potential.
It used to be the habit for mail order or online package delivery services to require a signature upon delivery, but those days are over. Whether USPS, UPS, FedEx, or whatever, the delivery personnel now just puts the package at the door and drives off. The custom of ringing the door bell is no longer a standard practice either.
First, monitor and track all of your expected deliveries so that arrival times are known. When a package is expected, especially something critical or important like medicines, desired prepper gear, or even items like shooting supplies, ammo, and the like, plan to be home to accept them. Check your front door or other delivery spot regularly. We have had packages left around the corner by the garage, where we least expect to find a package.
Most online businesses now provide information for tracking a delivery on your computer or cell phone. Again, know when a package is going to arrive. If one area is too visible, post a small sign by the door asking that packages be taken to the rear door or another safe place. Drivers may or may not heed such requests, as they are usually on tight schedules themselves.
Check your mailbox daily, as many small and soft packages are now delivered by the postal service and may not be left at your door. Thieves now hit mail boxes too, though that "ups the ante" for a federal offense. But since when did thieves obey the law?
Install a security camera with a recorder focused on your front door or wherever deliveries are most often left. This way you can monitor any deliveries or strangers coming and going. You'll then have a record and a way to I.D. potential thieves.
If you plan to be away on a trip, ask a good neighbor to collect your mail, newspapers, and packages. This way thieves won't see evidence of an absence. If you order products to be delivered to your house, keep track of them and watch for their delivery.